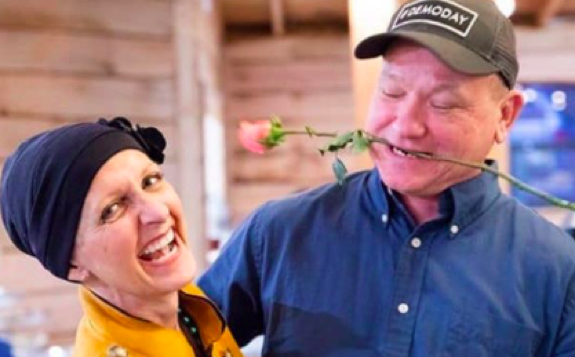 As many begin to focus on New Year's resolutions, Brad Douthit, father of Teen Mom OG star Mackenzie McKee, continues to grieve the loss of his wife Angie and reflect on their time together.
After a two-year battle with Stage 4 cancer, Angie's family announced on December 9 that she had "finished her race," surrounded by family and friends. The family shared the news on Angie's Instagram—a place where Angie posted inspirational messages and updates everyday with her followers. Since her death, various family members have kept the daily messages going and on Thursday Brad took over to provide an update on how he's been doing in the weeks since Angie's death. .
" … Everyone keeps telling me that it gets easier as time goes on, but I ain't experienced that yet. It seems to get harder every day," Brad wrote. "I keep thinking of things that I should have done for Angie and with her. So all I can do is thank God for allowing me to be her husband and thank Him for all the things He taught me through watching her live her life.
"It was so amazing just to hear her heart for God and His people," he continued. "Her love and kindness caught me by surprise a lot of times, but after a while I came to expect it."
Brad— who has appeared on 'Teen Mom OG' as well as Teen Mom 3 and 16 and Pregnant— went on to say at times he wanted Angie to "get mad and holler or blame" their situation on something, but Angie always told him that "God had been preparing her for this her whole life" and that he just had to enjoy what moments he had with her.
"She forever changed my life," Brad said. "I love and miss her, but what she has done in this world and for this world makes me smile when I'm not crying. Angie always ran to the Lord for strength and refuge. Please pray that I can do the same."
Brad signed off from his post with "Brad Douthit, husband and best friend of Angie Douthit."
Earlier this week, Mackenzie wrote about how hard it is to watch her dad live without her mom, who was his high school sweetheart.
2020 is a year I have to learn to live without my mom,' she wrote on Instagram. "The one who helped me through everything. The one who always believed in me. The year us kids have to watch our dad live without his sweet heart. I do not want to ring in the new year AT ALL."
Angie's cancer battle will be a topic covered during the upcoming season of 'Teen Mom OG.'
RELATED STORY: Angie Douthit— Mother of 'Teen Mom OG' Star Mackenzie McKee— Dies After Nearly Two-Year Cancer Battle
(Photos: Instagram)