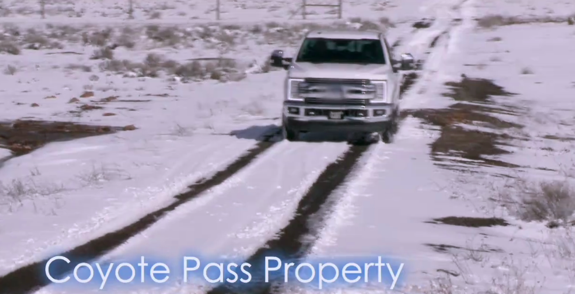 Throw on your favorite pair of neon polkadot leggings and consult your vision board — it's time for another episode of Sister Wives!
Despite being put through yet another round of Dream House presentations last week, we assessed our list of "whys" and "why nots" and ultimately chose to keep watching this trainwreck. That's right, like the four women on this show who willingly entered into marriage with Kody, we make bad decisions from time to time, too.
This week's episode kicks off at the Brown family's undeveloped Coyote Pass property, where Kody (sporting his Lil' Orphan Annie blond moptop 'do) meets his friend Kyle, who we learn is a "dirt mover." Like Kyle, Kody also likes to move (as we've seen time and time again this season), though Kody's moves are undoubtedly more messy.
Kody explains that Kyle is also a polygamist; however, his first wife wasn't on the TLC payroll left him, so now he's just married to one person. What a rebel!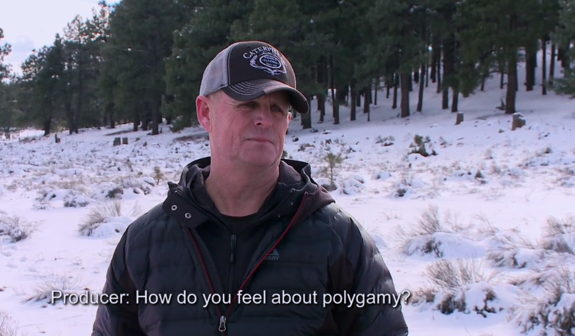 "Everybody thinks about leaving plural marriage," Kody tells us.
We then cut to Kody's wives as Janelle regales viewers with a (probably fond) memory of when her children were little and she considered leaving the plural marriage life. However, in the end she (obviously) "worked it out" with Kody and remains just as stuck in this mess as the other three wives are today.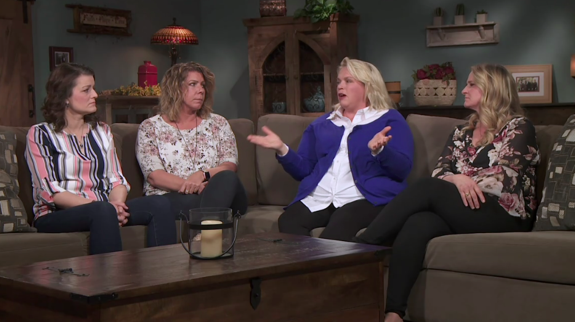 Back at Coyote Pass, Kody tries to convince Kyle to purchase some of the family's property and become his neighbor, while breaking the news that the plans for the Brown family Polygamist Barbie Dream House have been pretty much shot down by his four wives.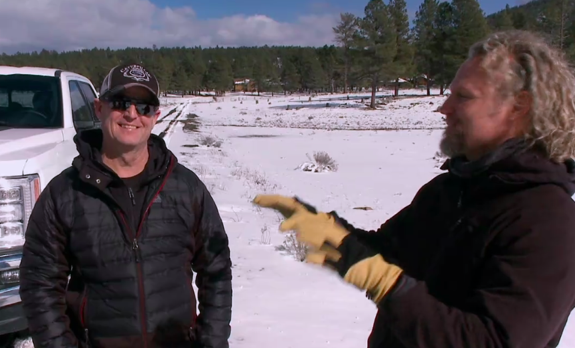 Kody is still pouting that he wasn't able to force four women and all their kids into living in the exact manner most of them said they would never live.
He asks Kyle for his input — because Kyle's track record on keeping multiple wives happy is so stellar, after all — and Kyle tells Kody the one house idea likely didn't go over well with the wives because of their concern over having a lack of privacy… you know, one of the exact "why nots" the wives had Kody scribble onto his poster board.
Ironically, Kody takes what Kyle is saying about wives wanting privacy to heart…even though he basically poo-poo'd on his wives' statements about it.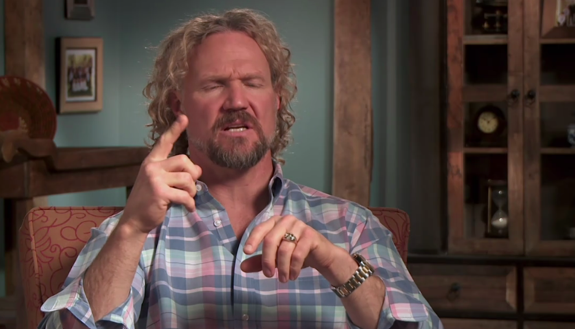 Kody then admits that "plural marriage can harm intimacy." (Although, let's be real, Kody's personality probably does a pretty good job on its own of killing the sex drive of his wives.)
Kody then basically blames Christine for rallying the troops to shoot down his Polygamy Barbie Dream House idea. He thinks she influenced Robyn by telling her the horror stories of the times in which the whole family lived together. Christine tells her Sister Wives that she suspects that Kody is not done fighting to get what he wants…and that they'll likely see that damn posterboard again in the near future.
They also collectively agree that Kody shouldn't be wasting his time talking to Kyle about house plans because Kyle doesn't have the misfortune of being married to Kody.
As per usual, Robyn is insecure at the choice she made, but Meri's there to slap some sense into her.
"Let's put it this way…can I move in with you?" Meri asks Robyn.
Robyn looks horrified (where will all those leggings go?!) and say she can if she needs to. Meri says, "But do you want me to?"
Robyn's face says it all; She looks like she'd rather icepick her own eyes out than have Meri (and her dark raincloud of a personality) take up residence in Casa de Robyn.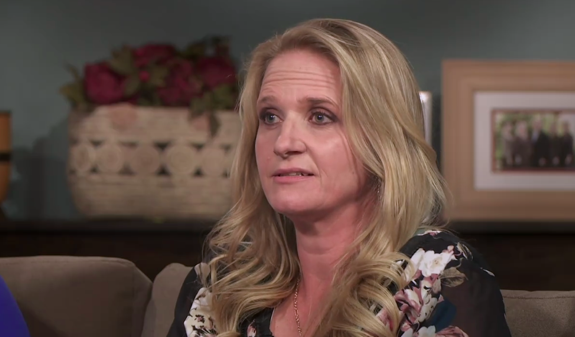 The Sister Wives arrive at the property, hoofing it in the snow to where Kody is talking crap on them to Kyle.
Kody shows the wives (and Kyle, the one-wifed polygamist) an idea of where each of the individual houses could go on the property. Naturally, he proposes that Meri be shoved off into the woods, on the other side of a gas line easement.
Meri says she's not sure living in woods is a great idea, because her house would be really dark (not to mention a great setting for a horror movie).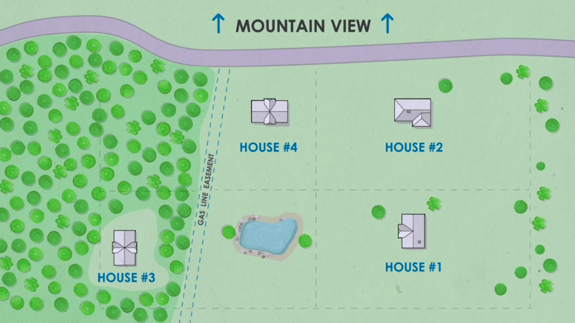 Kody tries to convince Meri that living in the trees was her idea, but Meri sets him straight. Kody seems shocked that Meri doesn't want to live like a hermit away from the other wives' homes.
He frantically tells the wives they need to figure everything out soon because he has to do "a lot plan pretty soon."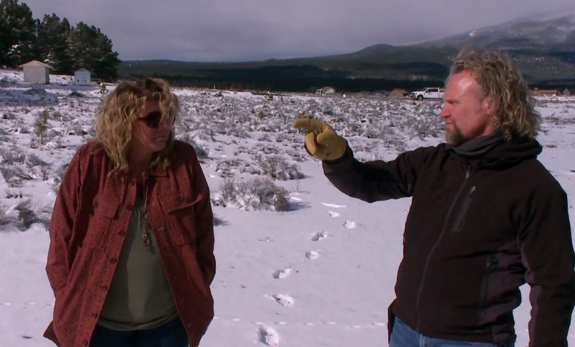 Kody then decides to take Kyle for a stroll around the Coyote Pass pond…so he can once again try to unload some of the property on Kyle and his last-standing wife. Kyle giggles nervously. Robyn tells us that Kody has tried to get rid of those two end lots to basically everyone he knows, but (shockingly) no one wants to live within a mile of Kody, his narcissistic attitude, brooding Meri, crying Robyn & the rest of the Bummer Brown clan.
Kody explains how hard this whole thing is for HIM…because his stupid wives keep insisting on having their damn privacy.
While this is going on, the wives take an opportunity to stomp around the property, throw snow at each other and talk about their relationship. We then learn from Kody that the wives tend to treat him like a little brother (umm… ) and pick on him in these particular situations.
"We turn into four obnoxious sisters and he's the brother," Robyn says.
Nope…nothing creepy about this at all…
"If it wasn't for just pure masculine confidence, I would just wither!" Kody adds.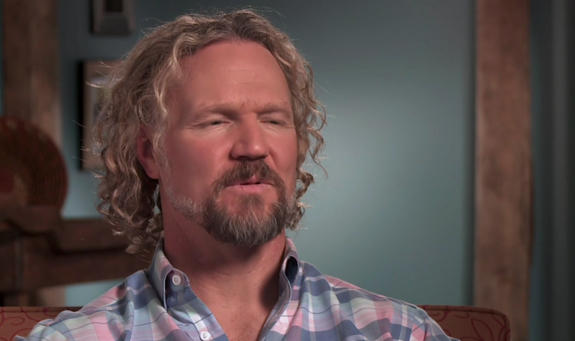 The wives then plop their polygamists asses down to make snow angels, which the producer assumes would be a scene that would make Kody happy. However, Kody says he's grown cynical and jaded and seeing his wives having a good time together no longer brings him joy.
He seems to ensure that there will be no fun of any kind on his watch…unless it involves posterboard and talking about his Polygamy Dream House, of course!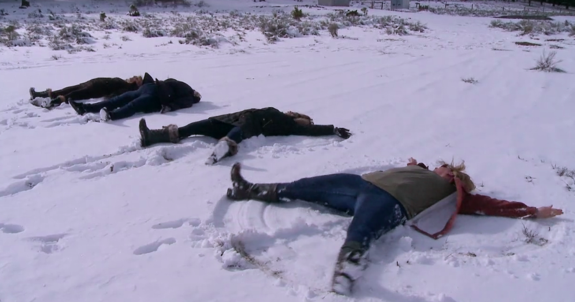 Kody "reveals" that he's still harboring resentment over his house idea being vetoed. He says that he's struggling with plural marriage and struggling with the fact that his darn wives won't just bow down and do what he wants!
"I feel like my idea never got a chance!" he cries. "It was a snowball in Hell!"
He then he attempts to place the blame solely on some of the wives… but he won't tell us which ones.
"I think plural marriage fits well with the personality of one of my wives," Kody says. "I'm not going to tell you which wives do better and which wives don't do well with plural marriage because I don't want the world judging them."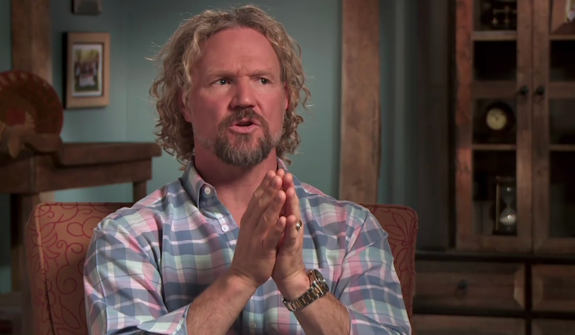 Kody admits that their journey to get to the place they are today (which is obviously sooo happy) "pretty much broke four womens' hearts."
Still, the women insists that plural marriage is worth it.
Um…?
Kody is starting to panic that their Vegas homes have still not sold, and that he won't be able to recreate what they had in Vegas on the new land in Flagstaff.
"That pressure to create that is all on me!" Kody wails.
OK…I'll just go ahead and ask it…
WHY DIDN'T YOU JUST STAY IN VEGAS, YOU CLOWN?!
Fortunately, we get a distraction from all this Coyote Creek/Live in the Forest/Polygamy crap. Janelle has flown to North Carolina, where her daughter Maddie, son-in-law Caleb and grandson Axel are now living. Caleb explains they moved to North Carolina because he got "a fantastic job"…as an elevator mechanic's assistant.
OK….moving right along…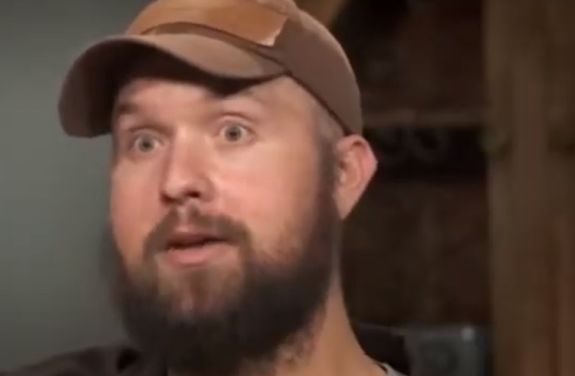 "Axel is my first and only grandchild, and I keep telling the rest of my children that they need to get busy but they're not havin' it," Janelle says.
Again, nope….nothing creepy about that!
Christine says that her married daughters– Aspyn and Mykelti— aren't ready to start crankin' out the youngins.
Maddie is pregnant with their second child, so she and Caleb head to the doctor's office, where they find out they're having a girl.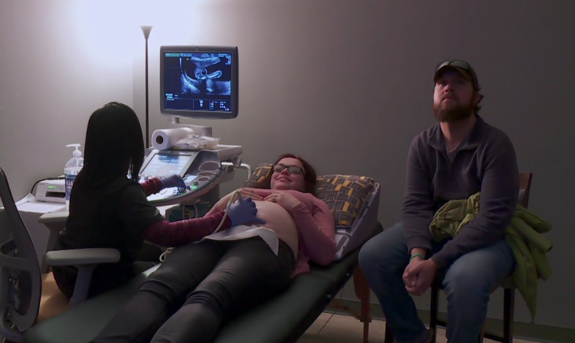 After the appointment, Janelle and Axel meet Maddie and Caleb for lunch and Janelle starts pushing hard to get some answers on her grandbaby's gender before the rest of the Brown family gets to hear the announcement.
Maddie is reluctant, telling Janelle, "Isn't this what this family's about? Doing everything together?"
Um…has Kody been talking to Maddie again?
Janelle ultimately convinces Maddie to spill the beans and she's more excited than Kody in a posterboard shop to hear the news that it's a girl.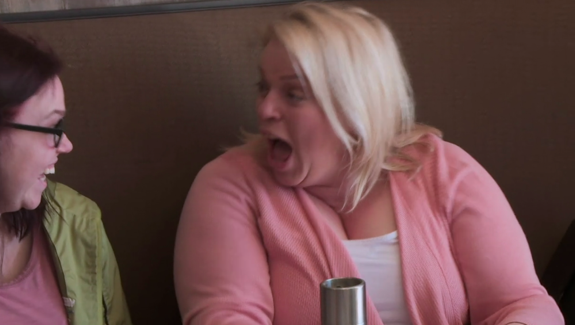 In less-exciting developments, Maddie reveals that she plans to have another bathtub baby this time around, only this time she'll be popping out her kid in a birthing center bathtub rather than a bathtub inside her mom's Las Vegas home. (No word yet on if the Sister Wives will legit set up rows of folding chairs to watch as Maddie shoots the spawn from her loins, as they did with Axel's birth.)
#NeverForget
Janelle is scared that Maddie will go into labor while Caleb's away from home, and she'll be all alone in North Carolina, in labor and lugging Axel. Janelle is worried about Maddie being so far away from the rest of the family.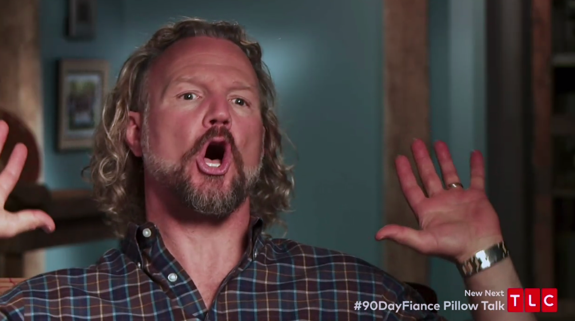 Back in Arizona, Kody and the wives gather at Janelle's still-unpacked second rental home for a meeting to share some news and family updates. Kody shares that he and Robyn have some bad news, so he's hoping some of the other family members will deliver some good news.
Janelle says she already knows the gender of Maddie's baby and the rest of them will find out in a week or so — including Kody, who is not thrilled about being out of the loop. Of course, he's all butthurt about being left out and is not doing a good job of hiding his feelings.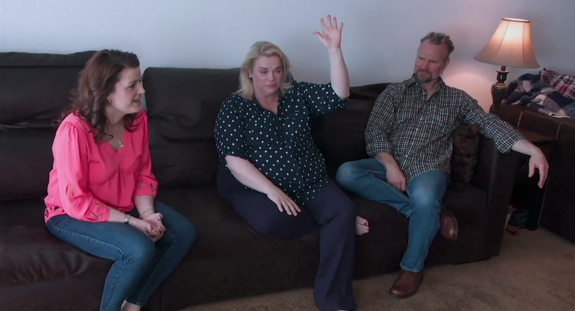 Janelle also announces that her wet bar-less Las Vegas home is under contract, and will soon no longer be a drain on the family's finances.
Kody then announces to the group that he and Robyn have some bad news: the owners of Robyn's rental want to sell her home, which means Robyn has to move. Everyone is devastated because Robyn's house is where the family has gathered since moving to Flagstaff.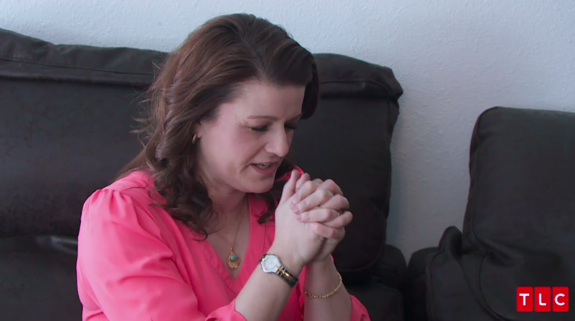 Meri suggests the family use her Mountain Mansion as a gathering place while Robyn looks for a new place; however, her offer is seemingly ignored and the room gets awkwardly quiet.
Like…uncomfortably awkwardly quiet…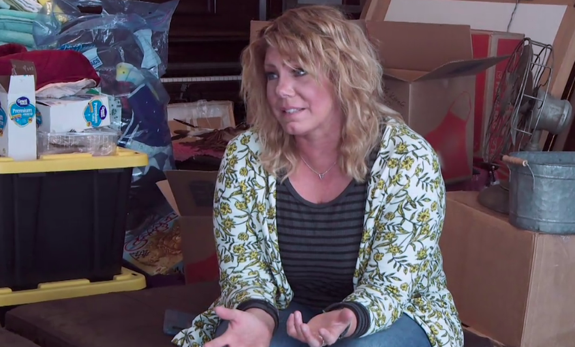 Kody tells the wives if they ever feel discouraged about the current situation, they should drive out to the Coyote Pass property to cheer themselves up. He also says if the county would allow it, he'd slam down a double-wide and make everyone live in it until they can all agree on what the hell to live in permanently.
Living in a double-wide with Kody and the Sister Wives in the middle of nowhere? That idea gives me shivers.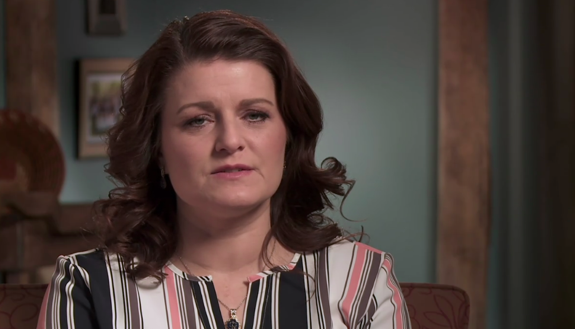 Meri even offers to plop down some of her leggings money and buy him an RV, so that he could live out is trailering Coyote Pass dreams. Kody is mad that the wives aren't considering his random terrible idea, and proclaims it's because they don't have open minds.
Then he throws out the idea of living on the Coyote Pass land…in a tent.
He's kidding…we think?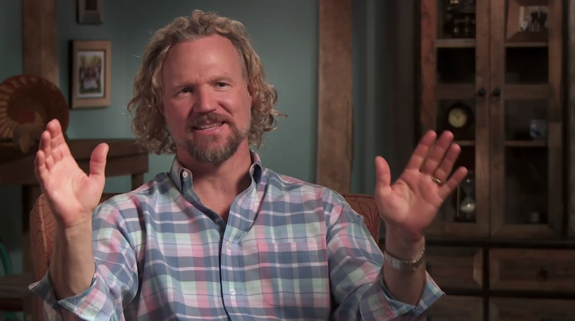 That's all for this week!
On the next episode of 'Sister Wives,' Kody and the wives argue over the future of the Coyote Pass property, leading to Kody angrily serve up the line, "suck it up, buttercup!" Things are getting wild, y'all!
To read The Ashley's previous 'Sister Wives' recaps, click here!
RELATED STORY: 'Sister Wives' Star Kody Brown Talks Family Finances, His Disastrous Move to Arizona, His Favorite Thing About Each Wife & More During Podcast Interview
(Photos: TLC)