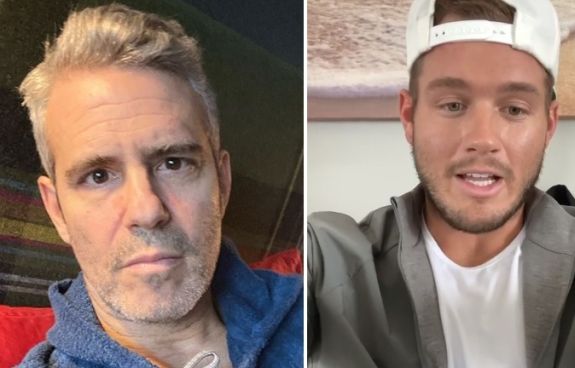 The virus that is causing a global pandemic has infected two familiar faces from reality TV.
Colton Underwood, who starred as The Bachelor last year, announced on Friday that he has tested positive for C0VID-19. On the same day, Bravo star Andy Cohen announced that he, too, has tested positive.
Both men took to their Instagram accounts to give their fans a status update on their conditions. Colton– who made a video that he posted to Instagram– made it clear that the virus wasn't just affecting the elderly and the sick, and encouraged young people to take it seriously.
"I want to let you guys know: I'm 28, I consider myself pretty healthy, I work out regularly and I eat healthy, and I became symptomatic a few days ago," Colton said. "I got my test results back today and they are positive."
He informed his fans how he's fairing with the virus.
"It's been kicking my ass, just to put it pretty bluntly," he said. "The main thing is I can't even walk up a flight of stairs without being out of breath or go to the bathroom without having to sit down because I'm exhausted. I guess the reason I'm sharing this is not to cause fear or panic, but hopefully to encourage you guys to stay at home."
Judging by his recent Instagram posts, Colton and his girlfriend Cassie Randolph had not been practicing "social distancing" before Colton's diagnosis. On March 12, he posted that they had gone to a movie preview, and just five days ago, he posted a photograph of him walking around a street (wearing a "Wash Your Hands" sweatshirt.)
Now, Colton fears he has infected Cassie and her family.
"I'm doing okay, I'm at Cassie's family's house in Huntington [Beach, California], so I'm fortunate to have them," he said. "Unfortunately that means we're all in this together, at this point. So we'll keep you posted, but we're in good spirits."
Andy Cohen— who had been trying to film his show Watch What Happens Live from his home recently— gave his Instagram followers an update on his status.
"After a few days of self-quarantine, and not feeling great, I have tested positive for C0ronavirus," the 51-year-old wrote. "As much as I felt like I could push through whatever I was feeling to "do #WWHL from home, we're putting a pin in that for now so I can focus on getting better. I want to thank all the medical professionals who are working tirelessly for all of us, and urge everybody to stay home and take care of themselves."
The first from-home episode of 'Watch What Happens Live' was due to air on Sunday; however, it's unclear whether or not the episode(s) that were already recorded will air.
RELATED STORY: 'Vanderpump Rules' Star Scheana Shay Slammed Online for Making Light of Quarantine Advisories; Later Backpedals on Refusal to Stay Home
(Photos: Instagram)