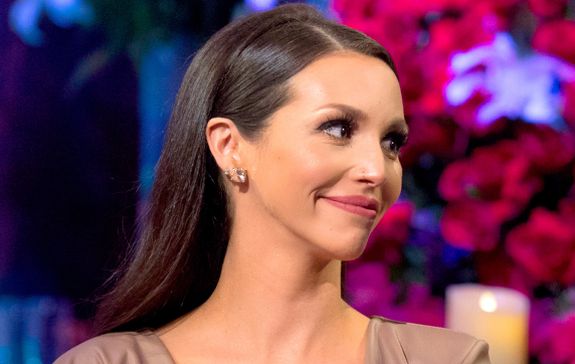 Scheana Shay rubbed some people the wrong way over the weekend when she tweeted about refusing to let a global health pandemic ruin her party!
The drama began on Saturday, when the Vanderpump Rules star tweeted an invite to any of her friends "working from home" — aka shamelessly promoting products on social media — to join her "for a Palm Springs quarantine."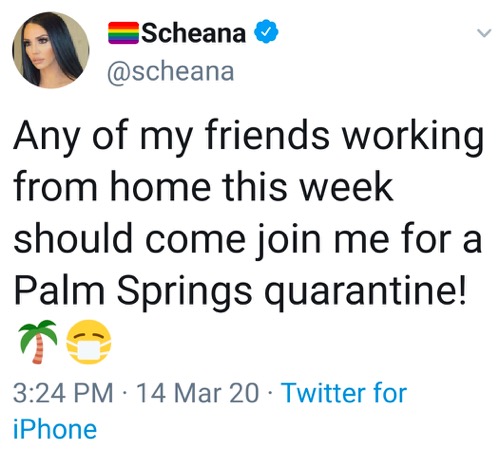 Scheana's followers were quick to inform her that her Palm Springs hang-out sesh wasn't quite the quarantine situation health professionals had in mind; however, Scheana assured them she was only surrounding herself with "a group of healthy friends" …and that she'd be sharing the shenanigans on her YouTube channel soon.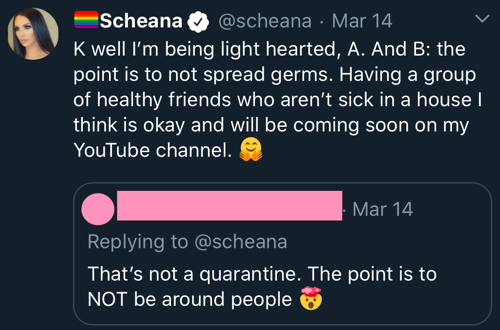 It was around this same time that Scheana tweeted (and later deleted) a message on Twitter that got her universally slammed for being so ignorant and racist.
When someone accused Scheana of being someone who was helping to spread the virus, due to her refusal to curb social activities, she tweeted, "By friends hanging out indoors? Thought people in Asia ate [bat] but okay…"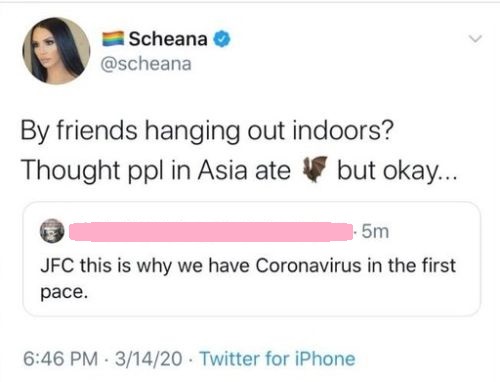 Unsurprisingly, Scheana's "light hearted" take on quarantining (and her shameless YouTube plug) led to more backlash, with commenters attempting to educate her and asking her not to promote the "quarantine with friends" idea. Despite the many warnings, Scheana wrote that she was flat-out refusing to "stay home alone and hibernate for weeks."
"You enjoy doing that tho," she tweeted. "Stay safe."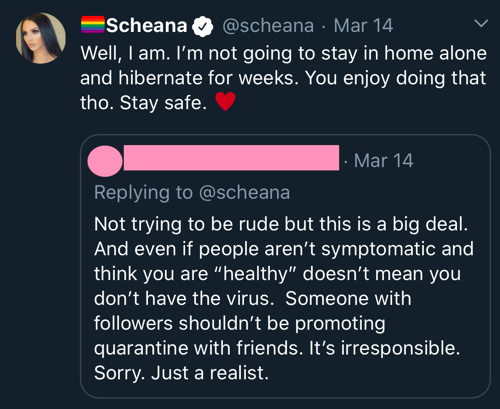 She went on to voice her opposition by tweeting about how difficult it would be to stay inside for 30 days, retweeting a follower's comments about people just being jealous of not having friends of their own to quarantine with and by reminding her social media followers that being on social media isn't good for them…
"Too much time alone at home on social media isn't good for anyone btw… ," she wrote.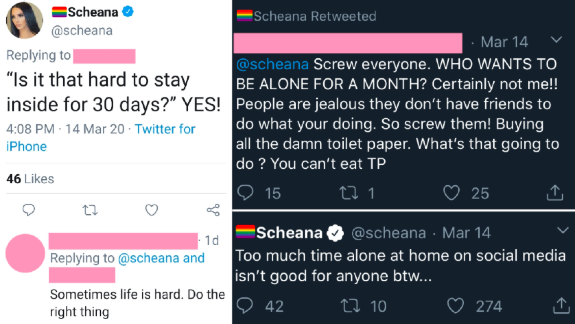 Scheana assured that regardless of other's recommendations, she was "not going to isolate myself alone for weeks."
"I'm sorry," she continued. "It's not going to happen and anyone who follows me will see that. I pray this virus passes soon as we can all go back to living our best lives … ."
In another post, she said she would continue to live her life in Palm Springs or Marina del Rey with her friends "and not live it in complete isolation or fear."
"Simple as that," she wrote. "Call me 'ignorant' but I'm not gonna stop living!"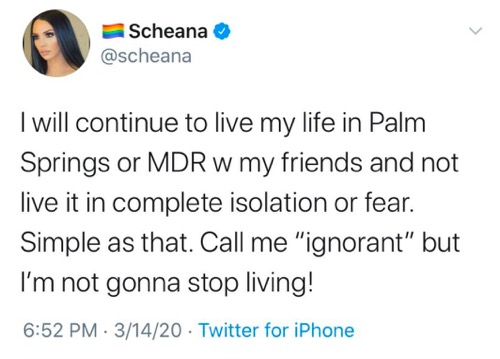 Eventually, the criticism (or reality) seemed to have gotten to Scheana as she began to backpedal on her statements. By Sunday, she was claiming that she was unaware of the severity of the situation because she was out of town on a work trip to Canada.
"For those who expressed concern of viewed my remarks as insensitive, I had just returned from a work trip and wasn't fully updated on the pandemic," she wrote. "I now understand the severity of our current predicament. Please stay safe and wash your damn hands!"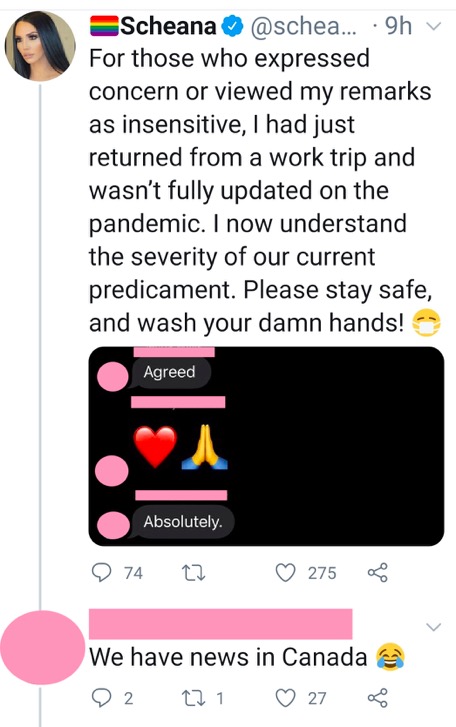 Scheana reiterated that she didn't realize what was going on until she "got home, tried to get groceries, researched and spoke to several people."
"I am not a person who regularly watches the news," she added. "I do not go on social media to read the news. It's all just so negative."

When a commenter sarcastically asked if Scheana was on the same planet, given her ability to completely avoid what was going on literally everywhere in the world, Scheana apologized, confirming that she just "wasn't up to date on that yesterday."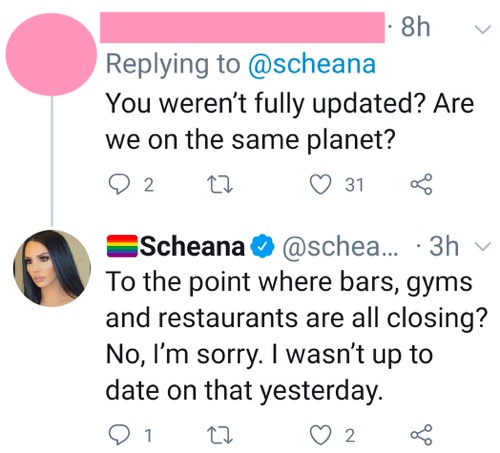 Scheana has since taken to her Instagram Stories to assure her followers that she is taking the C0r0navirus seriously, self-quarantining and will be posting a video of her making her enchiladas later today (for anyone bored enough to resort to that form of entertainment).
By Monday, she was tweeting out an apology for being so misinformed.
"Sorry. Lol. I honestly did NOT understand how severe this was. Like I genuinely try and avoid the news at all costs," she wrote. "I was just getting highlights and updates from friends and fam. But now I'm in it. I see it all and I get it.
"I've never been above admitting when I'm wrong. I am thankful for the moments from people trying to tear me down bc I can learn from my mistakes and better myself," she added.
And for those who may be having a hard time enforcing the social distancing rule upon their friends and loved ones, The Ashley has you covered. The next time you see a social gathering of more than 50 people taking place, press play on the jam below, turn up the volume and watch the crowd disperse before your very eyes.
RELATED STORY: EXCLUSIVE! Filming Halted for 'Teen Mom' Shows Due to Coronavirus Threat: Exec Producers Order Film Crews to Return Home from Shoots ASAP
(Photos: Bravo; Twitter; Instagram; YouTube)