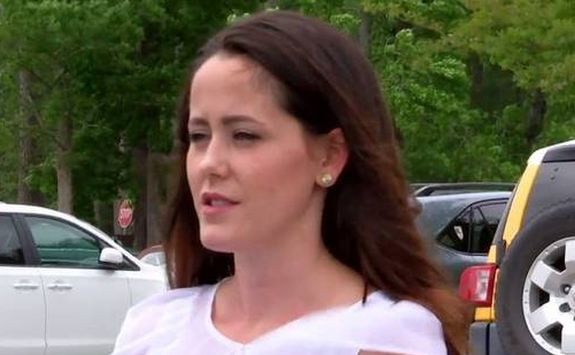 Jenelle Evans is telling people to leave her "the f**k alone" and to let her have her privacy…while going on a public podcast.
Isn't it ironic…don't ya think?
The former Teen Mom 2 star recently appeared on the Dumb Blonde podcast, talking to host Bunnie about her former 'Teen Mom 2' co-stars, her future plans and what it's like to not be filming with MTV, among other things. The podcast— which was released on Tuesday but filmed in late February– also touched on Jenelle's infamous haters.
One topic that was noticeably avoided was Jenelle's relationship with husband David Eason. Although when this podcast was taped, Jenelle was already back with David (and had been for some time), she did not mention him or their status. She did, however, use her married name of "Eason" in the podcast and was seen wearing her wedding rings in the video that was filmed during the podcast.
The Ashley took one for the team and listened to Jenelle's entire interview, and has broken down the interview into the most-interesting (or most-ridiculous) quotes.
On her opinion on how MTV edited her segments of 'Teen Mom 2':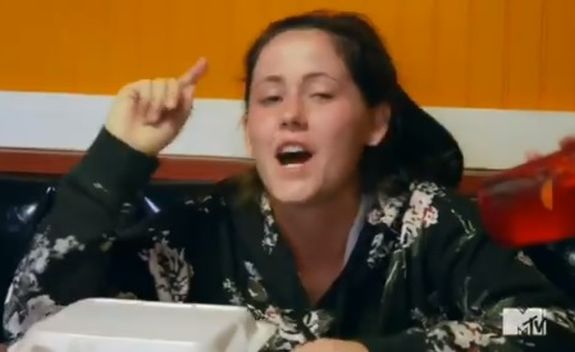 Jenelle pointed the finger at the show's editors for how the public perceives her (and managed to throw a bit of shade at her replacement, Jade Cline.)
"I definitely think for my storyline they did [make me look like a villain]," Jenelle said. "I feel like the person they basically replaced me with, [Jade Cline], I feel like she basically fits that role now.
On whether or not she'd agree to do her own show on MTV (which is never going to happen, according to The Ashley's sources):
Jenelle— who was fired in April 2019 from 'Teen Mom 2'— still thinks there's a chance she could work with MTV again. When Bunnie asked if she would sign on to do her own show, if MTV were to offer, Jenelle said she would…but only if it were on her terms.
"I'll talk to them about boundaries and guidelines," Jenelle said, later adding, "It's been nice [not filming]. I'm basically doing what I want and making my own schedule, and picking and choosing if I want to do something or I don't. I'm not forced into anything, or being forced to talk about anything I don't want to talk about."
She said she'd be fine accepting a job offer from MTV, but doesn't want to be part of the 'Teen Mom' brand any longer.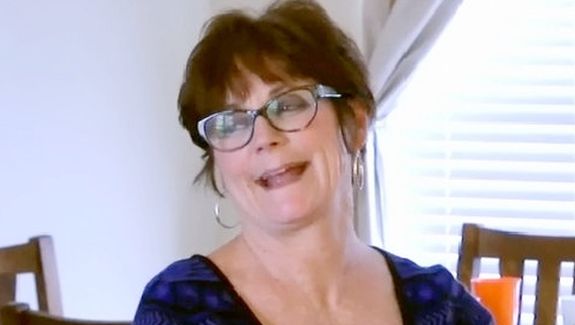 "I will do MTV stuff but I don't want to do it under the 'Teen Mom' name anymore," Jenelle said. "I want to be my own person, do my own thing. I want to be known as Jenelle Eason, not Jenelle Eason from 'Teen Mom'. 'From Teen Mom' is always attached to my name, and that's annoying because I've grown up. I'm 28. I'm almost 30."
On her opinions on the other 'Teen Mom' girls:
Jenelle has had some pretty infamous fights with her co-stars, and, when asked for her feelings on the other 'Teen Mom' stars, Jenelle did not hold back.
"Me and Briana [DeJesus], we're civil," Jenelle said. (Briana was Jenelle's only "friend" on the cast, but that friendship ended after the two had a falling out last year.)
"Chelsea [Houska], she kind of just lays back and does her own thing," Jenelle added. "Kail [Lowry], she just talks s**t all the time, 24/7. And Leah [Messer], I think she's just confused on what to do with herself right now."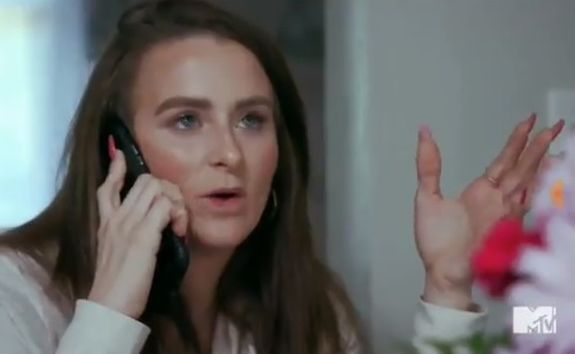 On what she thinks her life would have been like had she not gotten pregnant as a teen and been on the show:
(The way Bunnie asked this question was pretty hilarious. She asked Jenelle, "Do you think you wouldn't have met some of your baby daddies?")
Jenelle said that she would have been your typical college paaaaahrty girl had she not gotten knocked up by Andrew, the cold sore king, at age 16.
"I think I would have definitely gone to college and possibly lived the college life," Jenelle said. "I've always wondered what the dorm life would be like if I had no kids."
On what she plans to do with her life going forward:
Jenelle told Bunnie she has big plans for her future.
"I was thinking YouTube, podcasting, producing," she said. "I was thinking that, rather than being in the spotlight, helping out with shows. I have always like film editing."
But that's not all! Jenelle also wants to put her thinkin' cap on and doing some writin'!
"I was kind of thinking about doing a book with my mom, like a mother and daughter advice book maybe," she said.
No…seriously.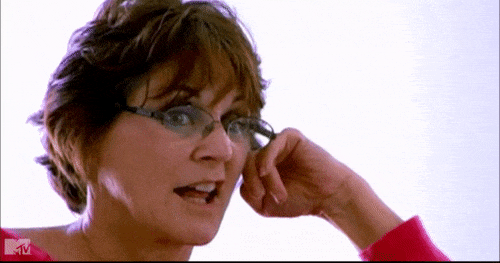 BUT THAT'S NOT ALL….
"I've been trying to get into modeling…get a portfolio," Jenelle said, before adding that she is tired of having her pesky kids clogging up her Instagram feed.
"[I want to] focus my Instagram on myself, not as much about the kids or my relationship," she said. "Like, what I'm solely up to because it's my Instagram. It's not for my whole family. It's to show what I'm about as a person."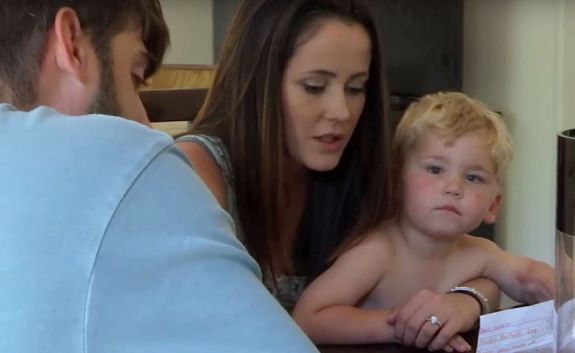 On whether she made a good choice to appear on 'Teen Mom 2':
"It's always back and forth," Jenelle said. "You can get opportunities from [being on the show], but you can get denied opportunities. It all depends on [the public's] opinion about you.
"[MTV], they pay good but then, of course, there's taxes you have to pay which is, like, thousands," Jenelle added.
On still being under contract with Viacom until next month: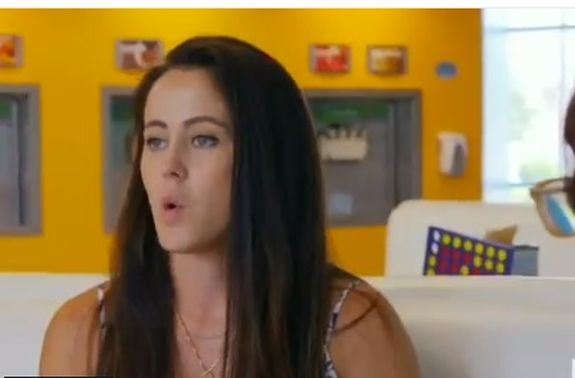 As The Ashley has previously reported, Jenelle's contract with Viacom extends through next month, as that marks one year from when she was let go from 'Teen Mom 2.' All the girls sign a contract like that, which forbids them from working on other shows or with other networks without obtaining Viacom's permission.
Jenelle is not happy about it.
"I feel like it's really unfair to me right now because if I am still under contract [I should be getting paid] or let me go," she said. (As The Ashley has previously told you, the girls on the show receive no residuals and do not get paid for reruns, etc. They receive payment in lump sums and are paid per episode that they appear in.)
Jenelle assured everyone that there are plenty of companies that want to work with her.
"I asked [Viacom], 'Can I go do other opportunities?' because I've been having private meetings with certain production companies, and they said we literally can't do nothing unless they give you permission or you're out of your contract," she said. "So I've been asking them, 'Please can you give me an answer?' and nobody has so I've just been doing my own thing, waiting for it to expire."
On how co-parenting with her baby daddies and mom is going:
Jenelle did not talk about co-parenting with David, but she did dish on how she is working with her mom (who has custody of Jenelle's oldest son Jace) and Nathan Griffith, the father of her son Kaiser.
"It seems like me and my mom do good co-parenting, whether we're bickering or not," Jenelle said. "Me and my other son's father, Nathan, we don't get along too much…he lives in Florida with his girlfriend."
She then stated— as she had in a previous YouTube Q&A session— that Nathan still wants her.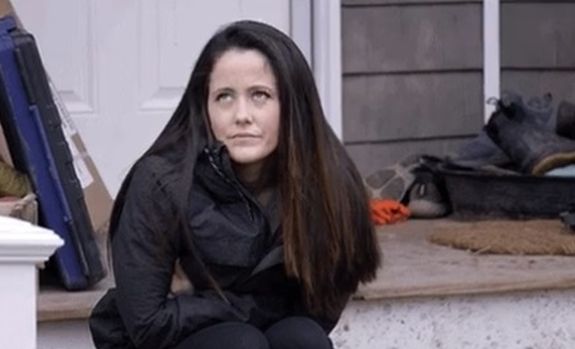 "When I was separated from David, sitting there alone in my apartment, Nathan would come pick up Kaiser and when he did he would always want to be over-flirty. Now that I've cut him off, it's back to arguing. It sucks."
On how her kids feel about not filming a reality show anymore:
"Jace is kind of sad because he had such a close relationship with the camera people and the audio people and now he's like, 'Well, where are they?' It's sad," Jenelle said.
She added that some of the people she worked with on the show have reached out and told her they don't think she should have been fired.
"A lot of people who work in production are sad about it," she said. "They've reached out to me and told me their concerns and opinions about me being let go, but there's nothing we can do about it."
On how her haters keep ruining her life: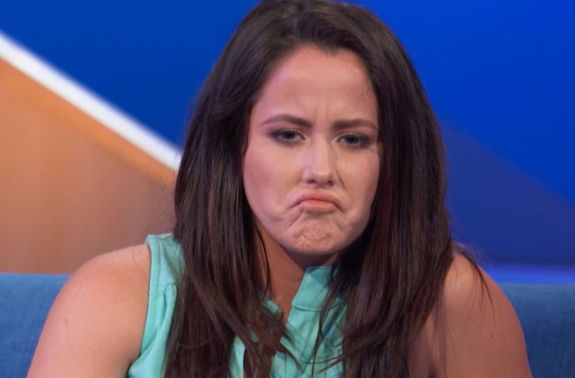 As stated about, Jenelle has a steady army of haters. She talked about that a little during the podcast.
"Sometimes it's bad and sometimes it gets to you real bad," Jenelle said. "You literally just have to put down your phone and focus on something else. It definitely [causes depression and anxiety], a lot lately."
Jenelle said it's been even worse since she got fired from the show.
"Everyone is wanting to know about my life 10 times harder," she said. "And I'm just sitting here doing what I want to do and trying to lay low, but it's not working out because everyone is trying to dig [into my life].
She then told everyone (while voluntarily being on a public podcast, mind you), that she wants her privacy
"I'm off the show now so you guys shouldn't be digging so much into my life!" Jenelle said. "This is my time for privacy now. I'm not being filmed so I would like this time to have my privacy. Leave me the f**k alone!"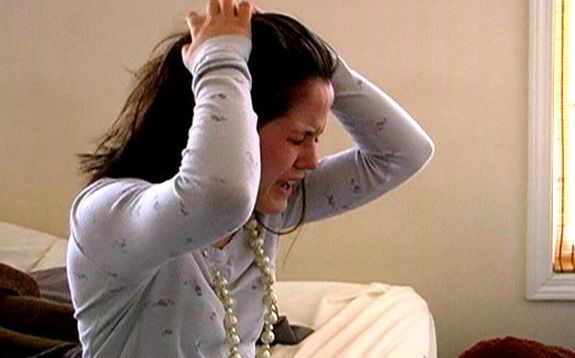 You can watch Jenelle's full interview on the Dumb Blonde podcast below!
RELATED STORY: Former 'Teen Mom 2' Star Jenelle Evans Says She Wants Husband David Eason to Start Helping Pay Bills: "He Has A Lot to Prove To Me!"
(Photos: MTV)