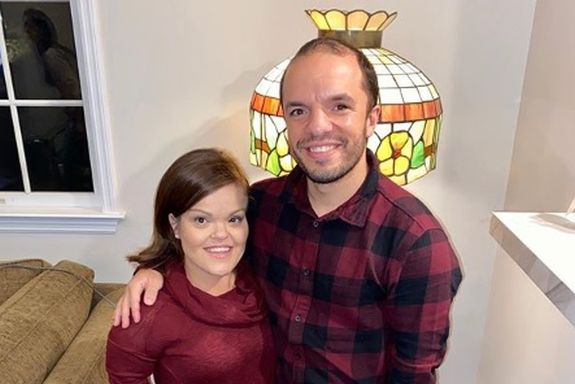 Christy McGinity and her boyfriend Gonzo Carazo will appear on the upcoming season of Little Women: LA, despite recently suffering the devastating loss of their premature daughter Violet.
The Sun broke the news on Friday that Christy and Gonzo have allowed cameras to document them since their daughter's birth on March 6. According to Gonzo, the cameras were not allowed to film Violet while she was in the NICU during her two-week-long life, but Christy and Gonzo filmed at a nearby apartment they were staying at while their daughter was in the hospital.
Baby Violet passed away on March 20, but Gonzo told The Sun that he and Christy are postponing her memorial service, due to the C0VID-19 pandemic. Christy told the site that Violet's memorial will eventually be held in New York, where Gonzo lives.
"We are going to have a memorial of some type and spread her ashes," she said. "I was hoping the ocean. I'm going to bring Violet's ashes to New York as soon as it's safe for me to fly."
Gonzo recently left California to return to his job at a New York hospital, which Christy says has been very scary and sad for her.
"It sucks that he had to go back to NY, but he has his job out there," she said. "It's so scary right now with this pandemic. We have been grieving, and for him to have to get on an airplane to go right into the fire is insane. I'm proud of him. I'm sure he's scared. I sure am. He's my hero, my rock, and my love."
Christy said that, once the global pandemic subsides, she plans to move to New York to be with Gonzo.
"There are things I need to close up in California before I make the move," she told the site.
Earlier this week, Christy posted a goodbye photo and message to Gonzo on her Instagram.
"Goodbye my love. I'm super sad how life has turned out," she captioned a photo of Gonzo at the airport. "Gonzo is on his way back home to New York. He works IT, in healthcare. My heart is ripped out! Gosh how life sucks!"
Lifetime has not announced when the next season of 'Little Women: LA' will air, but when it does, there will be plenty of milestones to feature. Christy's co-star (and frequent nemesis) Terra Jole gave birth to her third child last week, a baby girl she and husband Joe Gnoffo named Magnolia.
Terra recently expressed her condolences to Christy and Gonzo over the loss of their daughter.
"Our hearts are broken for Christy and her family," Terra told People magazine. "We're devastated for her loss. No parent should ever have to bury their child."
RELATED STORY: Newborn Daughter of 'Little Women: LA' Star Christy McGinity Dies After Being Born Seven Weeks Premature
(Photos: Instagram)