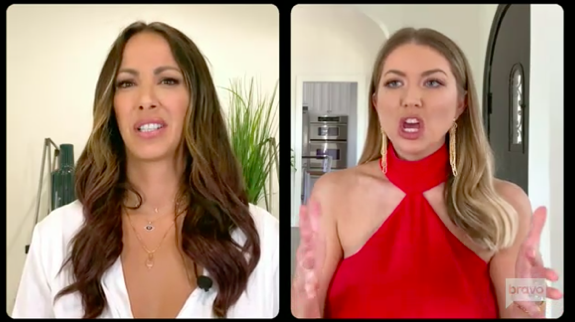 The mistreatment Stassi Schroeder and Kristen Doute subjected their former Vanderpump Rules co-star Faith Stowers to has not only cost them their jobs with Bravo, but nearly every money-making gig they've sought outside of the network as well. The latest casualties include Stassi's Straight Up with Stassi podcast, the girls' Witches of WeHo wine line and Kristen's just-released book.
One day after the firings, 'VP' matriarch Lisa Vanderpump, as well as Andy Cohen, finally spoke out about Stassi, Kristen and others getting the ax.
As The Ashley told you Tuesday, both Stassi and Kristen were fired from 'Vanderpump Rules' after racist actions and comments made against Faith (discussed by Stassi herself in 2018) resurfaced during an online interview Faith did with Floribama Shore star Candace Rice.
Prior to Bravo's announcement of Stassi and Kristen's firing, racist comments made by Stassi over the years on her Straight Up with Stassi podcast began to resurface, causing many sponsors— including Just Fab, Secret deodorant, Skrewball Whiskey, Glamour magazine and vitamin company Ritual— to cut ties with Stassi.
However, one of the biggest hits – aside from getting the boot from Bravo – came Tuesday when Radio.com announced it was removing Stassi's podcast from its portfolio.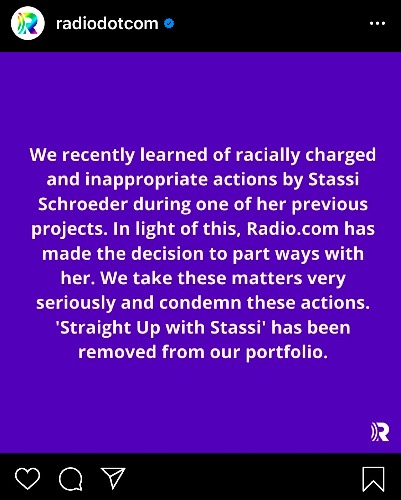 "We recently learned of racially charged and inappropriate actions by Stassi Schroeder during one of her previous projects," the statement read. "In light of this, Radio.com has made the decision to part ways with her. We take these matters very seriously and condemn these actions. Straight Up with Stassi has been removed from our portfolio."
Radio.com's announcement received mixed reviews in the comment section, with many supporting the company for "doing the right thing" and suggesting the budget for Stassi's podcast be utilized to "uplift voices of Black podcasters."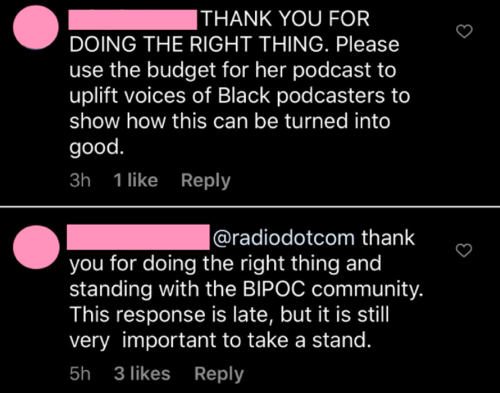 "Thank you for doing the right thing and standing with the BIPOC community," another person commented. "This response is late, but it is still very important to take a stand."
Others, however, took issue with Radio.com continuing to employ Stassi for two years after these issues were first brought to light. One person questioned, "What changed now?"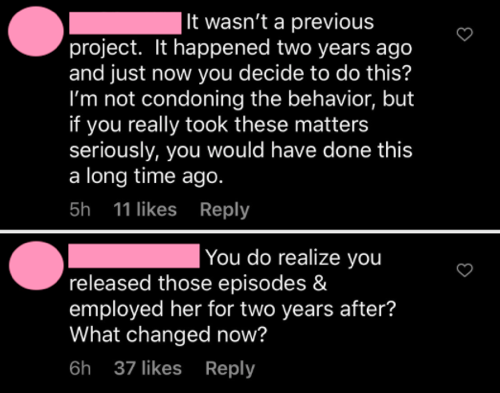 " … It happened two years ago and just now you decide to do this," another asked. "I'm not condoning the behavior, but if you really took these matters seriously, you would have done this a long time ago."
While Stassi mourns the loss of her podcast, Kristen likely shares a similar feeling for having chosen to launch her new book, He's Making You Crazy, in the midst of this controversy.
On Tuesday, her publisher, Chicago Review Press, confirmed it would no longer promote her book and that it had canceled all remaining events on her book tour.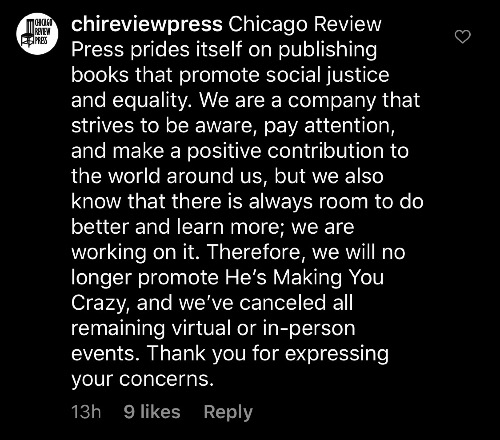 "Chicago Review Press prides itself on publishing books that promote social justice and equality," the publisher stated on Instagram. "We are a company that strives to be aware, pay attention, and make a positive contribution to the world around us, but we also know that there is always room to do better and learn more; we are working on it. Therefore, we will no longer promote 'He's Making You Crazy', and we've canceled all remaining virtual or in-person events."
As expected, it was also announced on Tuesday that Witches of WeHo wine— the alcoholic beverage created by Kristen, Stassi, and Katie Maloney— was being pulled as a result of the recent events. According to Us Weekly, wine manufacture Nocking Point said it would no longer be producing or selling either of the two "potions" created by the trio.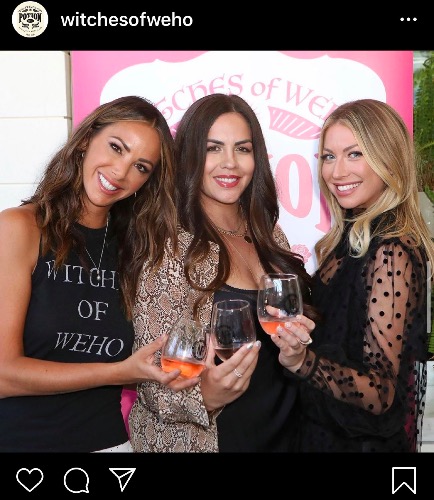 Regarding the 'Vanderpump Rules' firings – which also included dropping newcomers Max Boyens and Brett Caprioni for past racist tweets – show matriarch Lisa Vanderpump finally issued a statement on Wednesday, explaining it was necessary for her to be quiet until now, "until decisions were made."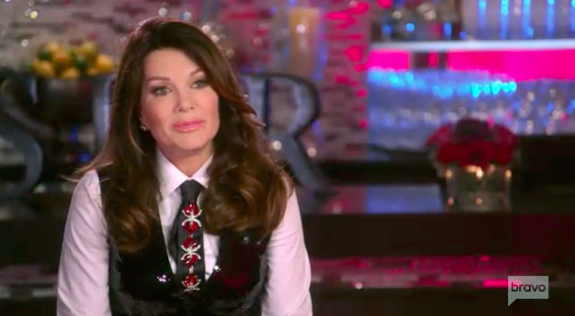 " … I love and adore our employees and I am deeply saddened by some of the lack of judgment that has been displayed," she continued. "As many of you know, after watching me for 10 years, I have always been an equal rights activist and ally – my family, my businesses and I condemn all forms of cruelty, racism, homophobia, bigotry and unequal treatment. We've never tolerated it in the workplace or our lives."
https://t.co/YNmN73P0Tm pic.twitter.com/GXlEe0C4XU

— Lisa Vanderpump (@LisaVanderpump) June 10, 2020
Lisa went on to claim that viewers "only see a fraction" of her employees on the show, as it depicts a "specific friend group," though she assured that as a company, "we have always been a very diverse group of people – every color, ethnicity and sexual orientation."
While Lisa did not directly address the actions of Stassi, Kristen, Brett or Max, she said she was excited to give viewers a "deeper look into the multi-faceted fabric" of her company in the future.
In comparison, Andy Cohen addressed Bravo's decision to fire the 'VP' cast members, saying it was the right move.
" … I will say this about what happened," he told listeners Wednesday on SiriusXM's Radio Andy. "I absolutely support Bravo's decision, I think it was the right decision."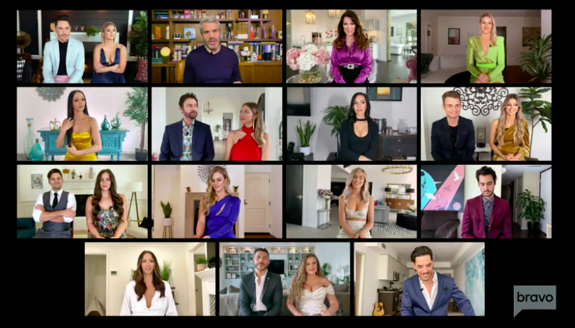 Andy went on to clarify that he's not in charge of programming at Bravo anymore, nor is he an executive producer of 'Vanderpump Rules'.
"I don't have anything to do with the show except I love it and that I host the reunions," he added. "I don't produce the show so what I want people to know is I have no say in hiring or firing. … There is a lot more to discuss and we're already having those discussions."
While Andy may not have any say in hiring or firing, Stassi coincidentally posted a photo of the two of them and Summer House star Kyle Cooke in February, with a caption asking that Bravo "never fire" her.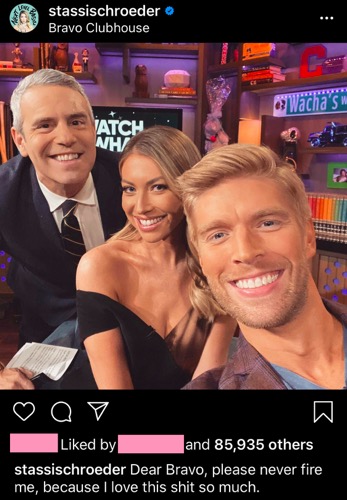 Stassi's foreshadowing-post is now flooded with comments calling the caption "awkward" and suggesting that she "probably turn off the comments for this one."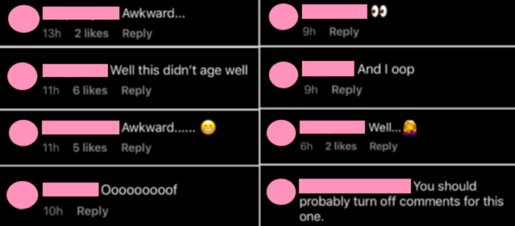 RELATED STORY: Stassi Schroeder & Kristen Doute Fired From 'Vanderpump Rules' Over Racist Actions Against Faith Stowers; Max Boyens & Brett Caprioni Dropped From Cast
(Photos: Bravo; MTV; Instagram; Twitter)