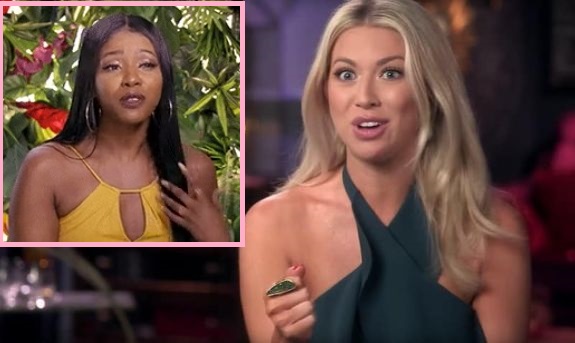 Stassi Schroeder is getting a heap of backlash after her former Vanderpump Rules co-star Faith Stowers did a bombshell interview earlier this week, exposing the mistreatment she suffered at the hands of Stassi and Kristen Doute, and revealing that Stassi and Kristen once tried to have her arrested.
After Faith's interview went viral, several companies who had partnership deals with Stassi have come forward to say they're dropping the "Vanderpump Rules' star, due to her treatment of Faith.
Page Six Style confirmed on Friday that Billie (a shaving brand), as well as Ritual (a vitamin company) have both ended their partnerships with Stassi.
"We were not aware of her actions and realize that is unacceptable and part of our responsibility," a spokesperson for Ritual told the website in a statement. "We have ended our partnership with Stassi, and we are committed to doing more thorough diligence on all our brand partners going forward."
On their Instagram page, Billie responded to a comment left in the comment section of a Black Lives Matter post that they are "ending all of our partnerships with anyone who isn't supporting the fight against racism." (The reply came after someone brought it to the company's attention that it runs paid ads on Stassi's Straight Up With Stassi podcast.)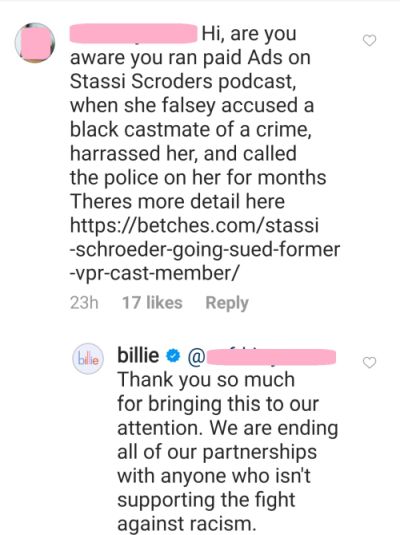 As The Ashley previously reported, Faith gave details during an interview with Floribama Shore star Candace Rice about how, in 2018, Stassi and Kristen called the cops on her to try to get her to be investigated, as they believed Faith was an "at-large" African-American woman that had been featured in the DailyMail for drugging and robbing people.
Back in April 2018, Stassi seemingly bragged about making these allegations against Faith during a now-deleted episode of The Bitch Bible podcast, telling host Jackie Schimmel that she believed her ex-cast member was responsible for stealing more than $300,000 worth of items. She then revealed that after a friend alleged that Faith had stolen her credit card, she and Kristen connected the dots to an unsolved crime in LA in which the suspect had drugged two people and stolen hundreds of thousands of dollars in money and jewelry.
hey tweeties, doesn't this ex #pumprules thief look familiar?

someone put her on mtv & gave her a platform for press. I didn't wanna go there but I'm going there. https://t.co/4682a7jyzG

— kristen doute 🦒🤟🏽 (@kristendoute) April 26, 2018
As Faith said during the Instagram Live interview this week, Stassi admitted during that podcast interview to calling the West Hollywood Police again after running into Faith at a nightclub. Stassi claimed the police told Kristen they knew what Faith had done but for some reason, they were not interested in apprehending her.
Shortly after the podcast aired, Faith said she planned to take legal action against Stassi – who she says also accused her of being homeless while filming, of stealing Jax's car and of going AWOL during her time in the military. Faith has not yet revealed if she ever filed the lawsuit, or if she plans to.
Stassi and Kristen have yet to speak out about Faith's latest interview. However, Stassi's "Black Out Tuesday" Instagram post is currently being bombarded with comments from people who are calling her a hypocrite (among other things) for supporting the BLM movement, despite her past actions.
View this post on Instagram
"You tried to get faith arrested you are part of the problem," one person wrote.
"She also complained about black lives matter and black representation at the Oscars…this is nothing but a very very feeble attempt at rehabbing her pathetic image," someone else commented.
Another person asked Stassi to address a comment Stassi previously made on her Straight Up With Stassi podcast.
"This is a perfect opportunity to address the comments made on your podcast. Highlight the importance of educating oneself before speaking out," the person wrote, before including Stassi's quote, which reads, "I'm like, really sick of everyone making everything about race. Everyone giving their impassioned speeches about race and all of that stuff, I'm like, 'Why is always just about African Americans?'" (Those statements–and others– were made during a 2017 episode of Stassi's podcast.)
Kristen's "Black Out Tuesday" Instagram post is also being flooded with comments mentioning the Faith situation.
According to Page Six Style, the backlash Stassi is facing from her treatment of Faith is not just limited to losing partnership deals. The site reports that the bridal guest column that Stassi had been writing for Glamour magazine may be getting the ax as well.
"The magazine has not published any content from her since March 11, and has no plans to continue at this time, Page Six Style has learned," the site reports. (The magazine has not yet commented on this report.)
Stassi and Kristen are not the only reality TV stars to get called out recently for their racist (or racially insensitive) past behaviors. On Friday, Dance Moms star Abby Lee Miller saw her upcoming new show, Abby's Virtual Dance Off, cancelled before it even aired, due to several former cast members revealing racist comments made by Abby to them and other African-American cast members. Abby has since apologized for her actions.
You can watch Faith's interview with Candace below:
UPDATE! On Saturday— one day after it was announced that she had lost several partnership deals— Stassi posted a message to Instagram stories, stating that she was taking a break from her podcast for the week. She also posted a "Black Lives Matter" emoji.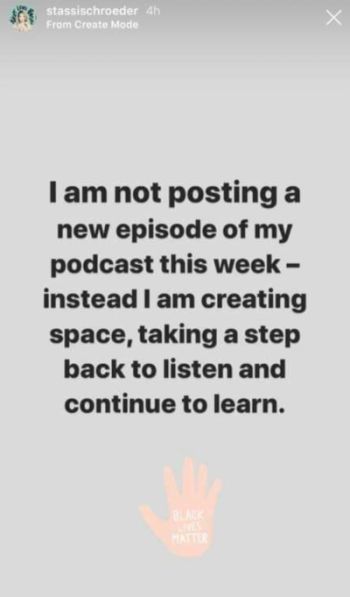 UPDATE #2: On Wednesday, Bravo announced that Stassi and Kristen, as well as Max Boyens and Brett Caprioni have been fired from 'Vanderpump Rules' over their past racist words and actions. Click here for the latest details!
RELATED STORY: Faith Stowers Reveals the Unfair Treatment She Suffered on 'Vanderpump Rules': Calls Out Kristen Doute & Stassi Schroeder
(Photos: Bravo, Instagram)