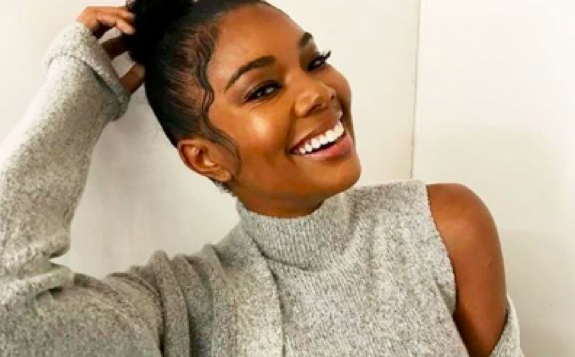 More than six months after she was fired from America's Got Talent, Gabrielle Union has filed a harassment, discrimination and retaliation complaint with California's Department of Fair Employment and Housing (DFEH) against the show's producers — including Simon Cowell — and NBCUniversal.
While multiple outlets are reporting on the filing, Variety credited journalist Yashar Ali with breaking the news on his Twitter account Thursday. Back in November, Ali wrote an article for Vulture that detailed many of the incidents outlined in today's filing.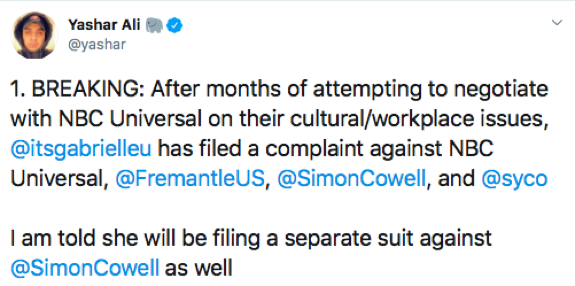 "1. BREAKING: After months of attempting to negotiate with NBC Universal on their cultural/workplace issues, @itsgabrielleu has filed a complaint against NBC Universal, @FremantleUS, @SimonCowell, and @syco … I am told she will be filing a separate suit against @SimonCowell as well," Yashar tweeted.
Yashar went on to share the statement from Gabrielle's attorney, Bryan Freedman, alleging that Paul Telegdy, Chairman of NBC Entertainment, threatened Gabrielle "in an attempt to silence her from telling the truth about racist actions that took place" on the set of 'AGT'.
In his statement, Gabrielle's attorney also commented on a May 31 social media post by NBC Entertainment that read, "We stand with our black employees, colleagues, partners, and creators in outrage at acts of racism. Black lives matter."
— NBC Entertainment (@nbc) June 1, 2020
"When Gabrielle Union informed NBC of racially offensive conduct during the taping of 'America's Got Talent', NBC did not 'stand' with her in 'outrage at acts of racism,' the statement read. "Instead, NBC did not care enough to either promptly investigate Ms. Union's complaints or even ask HR to get involved. Rather, NBC stood against her and directed its outrage at Ms. Union for whistleblowing about the racially offensive conduct she experienced while working for NBC on 'America's Got Talent.'
"In sharp contrast to NBC's recent statement on race, what was truly an 'outrage' was the fact that Paul Teledgy, Chairman of NBC Entertainment, actually threatened Ms. Union in an attempt to silence her from telling the truth about racist actions that took place on the show," the statement continued. "There is no place for this type of racial bullying in the workplace, and it is going to take more than a Tweet from NBC to demonstrate that NBC intends to create an environment free from racism."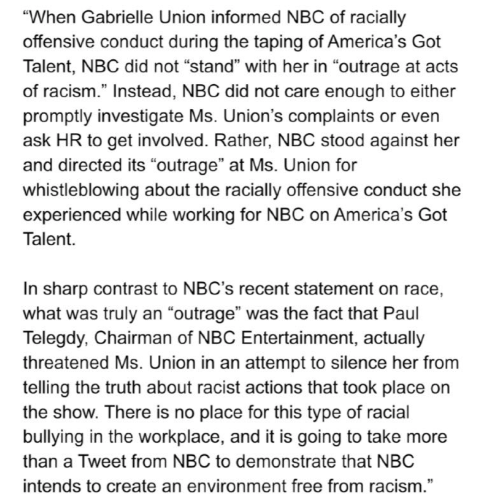 In the complaint, obtained by Page Six, Gabrielle alleges she was subjected to harassment on the 'AGT' set and was fired for speaking out about the mistreatment. The complaint reads:
"By virtue of Union refusing to silently endure the racist and misogynistic conduct on 'AGT,' she was labeled as 'intimidating' and viewed as the problem, thus resulting in her termination. However, based on the preliminary findings of the investigator … it is clear that there are systemic problems on 'AGT.'
"Instead of taking Union's complaints seriously and using them as a catalyst for real meaningful change, Telegdy, NBC, Freemantel and Syco seek to blame the victim, Union, in order to maintain the status quo."
Incidents cited in the complaint include that Simon was allowed to smoke in the studio, despite it being illegal to smoke indoors in California (and Gabrielle made it known that she is allergic to cigarette smoke); that Gabrielle was told her hair was "too wild" and needed to be "toned down"; and that fellow judges made racist jokes. These incidents are part of a larger cultural problem at NBC, the complaint alleges, listing NBC stars including Jimmy Fallon and fellow judge Julianne Hough wearing blackface in the past as just one example.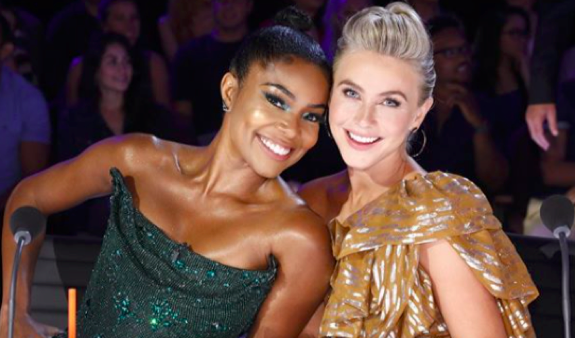 "Combining someone who so openly wore blackface (Hough) with someone who is black and regularly advocates on behalf of minorities (Union) should have at least alerted Telegdy that this could cause Union to experience some trepidation or concern about being unprotected from racially insensitive individuals while working as a judge on AGT… Telegdy's decision to hire Hough has since proven to be a reflection of NBC's true feelings about the African American community and blackface," the complaint reads.
Last month NBC announced it had completed an investigation into Gabrielle's complaints about her treatment on the show and later firing, Page Six reported.
"The investigation has shown that the concerns raised by Ms. Union had no bearing on the decision not to exercise the option on her contract," an NBC spokesperson told Page Six at the time.
Gabrielle's husband, NBA star Dwyane Wade (who appeared on 'AGT' as a guest judge during Gabrielle's season), commented on the findings of the investigation, seemingly explaining the reason Gabrielle filed her complaint.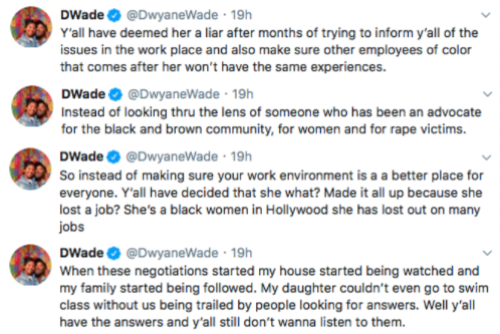 "Y'all have deemed her a liar after months of trying to inform y'all of the issues in the work place and also make sure other employees of color that comes after her won't have the same experiences," he tweeted. "Instead of looking thru the lens of someone who has been an advocate for the black and brown community, for women and for rape victims. So Instead of making sure your work environment is a better place for everyone. Y'all have decided that she what? Made it all up because she lost a job? She's a black woman in Hollywood she has lost out on many jobs.
"When these negotiations started my house started being watched and my family started being followed," he continued. "My daughter couldn't even go to swim class without us being trailed by people looking for answers. Well y'all have the answers and y'all still don't wanna listen to them."
RELATED STORY: Outsted 'AGT' Judge Gabrielle Union Shares Hairstyles That Were Deemed "Too Black" for the Show
(Photos: Instagram; Twitter; NBC)