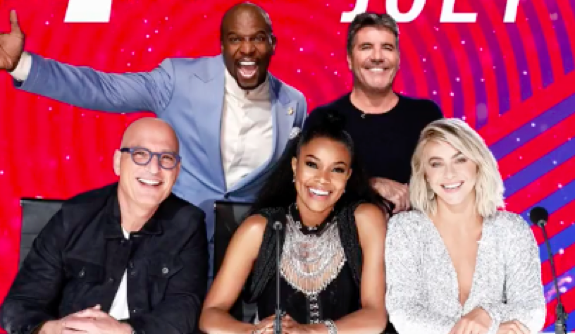 Days after it was revealed that America's Got Talent judges Gabrielle Union and Julianne Hough had complained of toxic culture on the set of the NBC show prior to the network letting them go, steps are reportedly being taken to investigate the claims.
As The Ashley told you last week, Gabrielle and Julianne were relieved of their judging-panel duties after just one season, despite the fact that it's rumored they had signed a contract to appear in multiple seasons. Following the announcement that Julianne and Gabrielle wouldn't be returning to the show in 2020, news of an alleged incident on set regarding an offensive joke made by guest judge Jay Leno was brought to light — something Gabrielle attempted to report to human resources.
Additionally, both of the women reportedly received "excessive notes on their physical appearance." While Julianne has denied these claims, a source told Variety that Gabrielle was told more than six times that her hairstyles on the show were "too black" for the 'AGT' audience.
Now, according to The Blast, the alleged treatment Gabrielle endured on the set of the NBC talent competition has sparked an investigation by the actors union SAG-AFTRA, who said they plan to look into the claims about the culture of racism and sexism on the show.
"We take issues of workplace health and safety very seriously," a spokesperson for the organization said in a statement. "We immediately reached out to Ms. Union's representatives when these reports came to light. It is our practice to work closely with members who reach out to us and their representatives in instances like this, as that usually affords the best protection and best resolution for the affected member."
The organization said it plans to conduct their investigation independent from the network or management of the show and though it has "taken steps to investigate this matter," it has "nothing to report now."
In addition to SAG-AFTRA, People reports that Simon Cowell's company, Syco Entertainment, the company the produces 'AGT,' released a joint statement with NBC and production company Fremantle, regarding the situation with Gabrielle.
"We remain committed to ensuring a respectful workplace for all employees and take very seriously any questions about workplace culture," the statement read. "We are working with Ms. Union through her representatives to hear more about her concerns, following which we will take whatever next steps may be appropriate."
Following the release of that joint statement, Gabrielle took to Twitter where she appeared to voice her criticism of how the apology was handled. Accompanying a re-tweet explaining how "a solid apology" is to be made, Gabrielle added, "This! This! AND THIISSSSS!!!!!!"
This! This! AND THIIISSSSSSS!!!!!! https://t.co/RCrtKtkQ4L

— Gabrielle Union (@itsgabrielleu) December 1, 2019
As The Ashley previously reported, Simon is expected to return to the 'AGT' judging panel next season, along with longtime host Howie Mandel and host Terry Crews. NBC has not indicated who will replace Gabrielle and Julianne next year.
RELATED STORY: Industry Sources Claim Julianne Hough & Gabrielle Union Complained of Toxic Culture on 'America's Got Talent' Set Before NBC Let Them Go (Report)
(Photos: Instagram; NBC; Twitter)