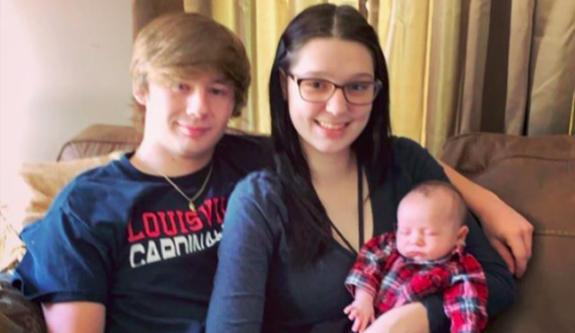 Hailey "Hailey 2" Tilford is hitting up her Unexpected fans for donations in order to move into a larger apartment with her baby and boyfriend.
Hailey shared the link to the GoFundMe page, which she organized herself, on social media. At press time, the "Help Us Move" fundraiser had raised $115 of its $1,000 goal…none of which came from Hailey's estranged baby daddy Matthew Blevins.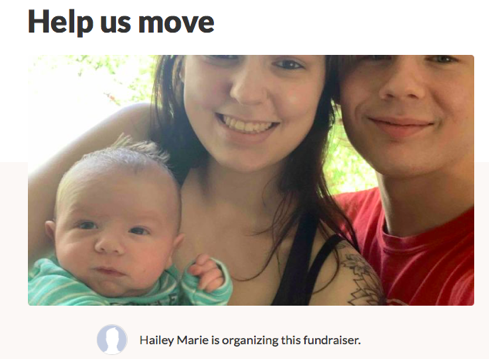 Hailey explained on the account page that she started the GoFundMe to help raise money for a bigger apartment for herself, her son Levi and her boyfriend, Cole.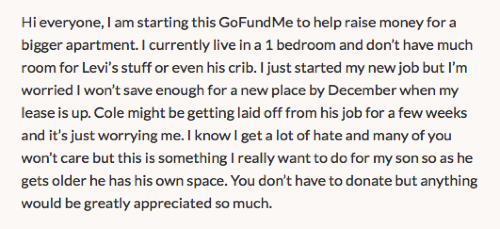 "I currently live in a 1 bedroom and don't have much room for Levi's stuff or even his crib," she explained. "I just started my new job but I'm worried I won't save enough for a new place by December when my lease is up. Cole might be getting laid off from his job for a few weeks and it's just worrying me.
"I know I get a lot of hate and many of you won't care but this is something I really want to do for my son so as he gets older he has his own space," she continued. "You don't have to donate but anything would be greatly appreciated so much."
Hailey reiterated on Instagram that "nobody has to donate" and also assured her fans that she does have a job and "work[s] hard every day for [her] son."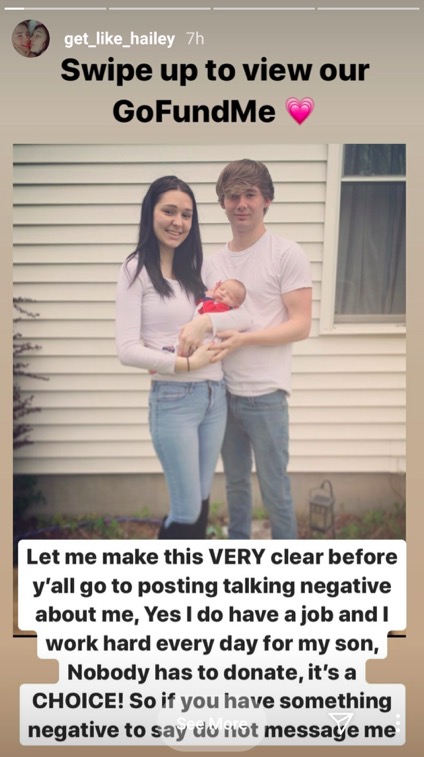 Hailey went on to thank everyone who has donated or sent her positive messages.
"It means a lot to me," she wrote on Instagram Stories.
After promoting her fundraiser on social media, one of Hailey's followers asked why she wasn't asking Levi's father, Matthew –– who is also father to Hailey "Hailey 1" Tomlinson's daughter, Kinsley –– to make a financial contribution to help his child.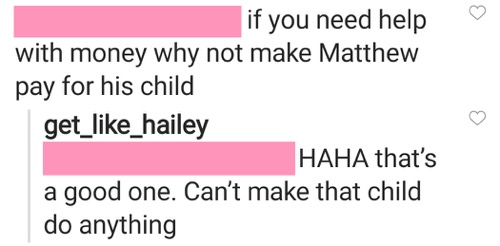 "HAHA that's a good one," Hailey 2 responded. "Can't make that child do anything."
In addition to Matthew not helping Hailey financially, earlier this month she revealed she was not allowed to appear on 'Unexpected' as a result of racist Instagram comments made by a hacker.
" … I just got off the phone with the producer of 'Unexpected,' apparently I'm not allowed to film or appear on the show because of the 'Black Lives Matter' situation going on because it may offend people," she explained in an Instagram post. "About 8 months ago my Instagram got hacked and I made a whole new account, well whoever hacked my account messaged back a black female comparing her to a 'monkey' anyone who knows me PERSONALLY knows for a fact I would NEVER say that, that is beyond disrespectful.
"I have NO problems with black people and I support them during this all going on! We all deserve to be treated equally!"
Hailey went on to say that the show wanted to film Levi without her, but she didn't "find that right." She also took issue with Matthew still being allowed on the show, despite having allegedly said several offensive things on social media.
"With that being said, I WILL NOT be allowing my son on a TV show that puts me out to be 'racist' when I'm NOT," she continued.
UPDATE! Days after posting this fundraiser online, Hailey gave her followers an update on her financial and employment situations and announced that she will be returning any donations she received from the fundraiser.
"Update: I absolutely love me new job and I'm actually making amazing money and Cole and I applied for our apartment today!" Hailey wrote on Instagram Stories. "If you donated money, message me and we'll figure out a way to get your money back to you or if you don't care I'm going to donate it to a charity for children in the hospital!"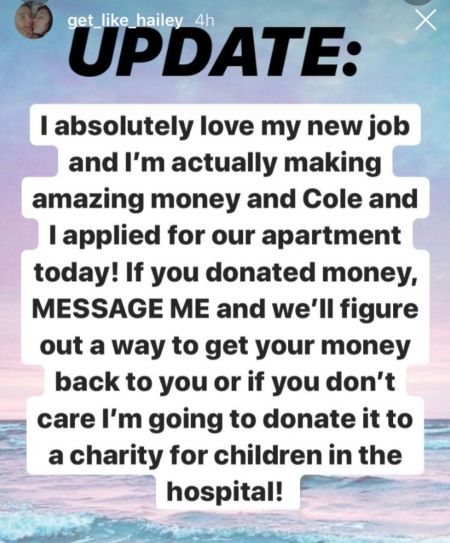 When one of her followers asked why she decided to refund the donations, Hailey assured the person it wasn't out of guilt, and was actually do to her taking a second look at her financial situation.
"Before you ask a question get your information right, I didn't feel guilty," Hailey wrote. "I realized my job is a lot better than I thought it would be pay-wise."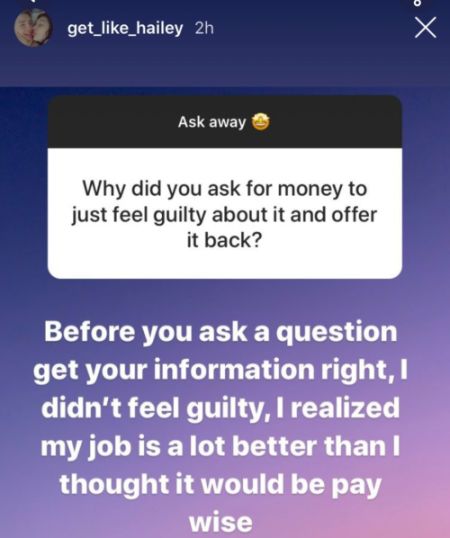 RELATED STORY: Hailey "Hailey 2" Tilford Says She Was Dropped from 'Unexpected' Season 4 Due to Racist Instagram Comments Made By Hacker; Says Matthew Blevins Will Still Film
(Photos: Instagram; GoFundMe)