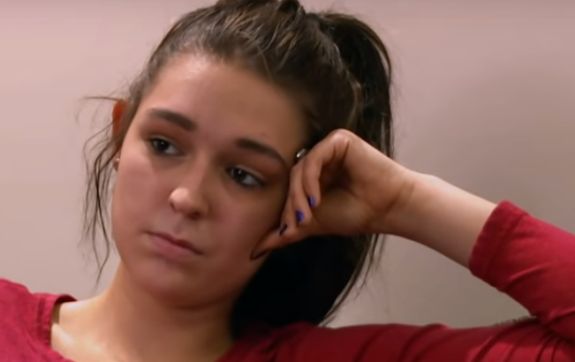 There's been an 'unexpected' shakeup in the world of TLC's Unexpected.
Hailey "Hailey 2" Tilford revealed that she will no longer be appearing on the upcoming fourth season of the reality show. While several of the show's cast members have decided not to return for Season 4, the decision not to have Hailey 2 on the show was made by 'Unexpected' producers, not Hailey herself.
In a message posted to Instagram on Saturday, Hailey—- who shares son Levi with 'Unexpected' dad Matthew Blevins— revealed that she had just been informed that she's being dropped from the show, due to some racial messages found on her Instagram account.
According to Hailey, though, she did not write the messages in question and instead stated that they were posted by a hacker last year. Despite pleading her case to producers, Hailey 2 was still given the boot.
"So I just wanted to make this post because some things need to be cleared up," Hailey wrote on Instagram. "I just got off the phone with the producer of 'Unexpected', apparently I'm not allowed to film or appear on the show because of the 'Black Lives Matter' situation going on because it may offend people. About 8 months ago my Instagram got hacked and I made a whole new account. Well whoever hacked my account messaged back an black female comparing her to a 'monkey.' Anyone who knows me PERSONALLY knows for a fact I would NEVER say that, that is beyond disrespectful."
"I have NO problems with black people and I support them during this all going on!" she continued. "We all deserve to be treated equally!"
Hailey went on to reveal that the show's producers still want to film her infant son, Levi, but she will not be allowing it. Hailey told a person in the comment section of her post that the producers will allow her to be present while Levi is being filmed; however, she can't be on camera.
"They want to film Levi (my son) without me and as a mother I just don't find that right," she said, adding that it's unfair that Matthew has posted numerous offensive things to social media in the past but is still being allowed to film with Hailey "Hailey 1" Tomlinson, his other baby mama (and Hailey's friend) with whom he shares daughter Kinsley.
"My ex (Levi's father) has said SEVERAL offensive things all over social media but he is filming on the TV show," Hailey 2 wrote. "With that being said, I WILL NOT be allowing my son on a TV show that puts me out to be 'racist' when I'm NOT. Kinsley and Levi WILL have a sibling relationship, I won't ever stop making an effort for that to happen. Once again, I SUPPORT ALL BLACK LIVES."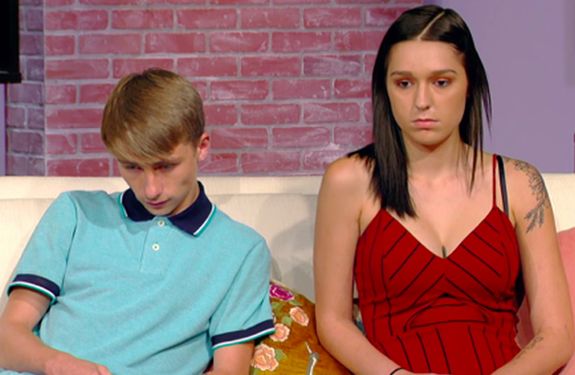 Some of Hailey's followers pointed out in the comment section of the post that Matthew has said the N-word on social media numerous times, but Hailey says his smiling mug will still be featured on the new season of 'Unexpected,' which she says is coming this summer.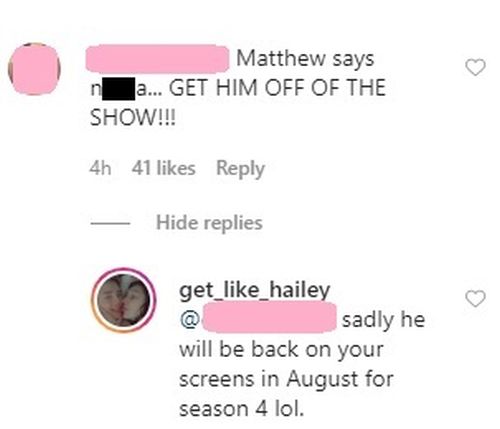 "Sadly he will be back on your screens in August for season 4 lol," Hailey 2 told the person.
It appears that the producers behind 'Unexpected' are carefully inspecting the lives of their cast members both on- and off-line, just like Viacom is doing for the cast members of the Teen Mom franchise. As The Ashley told you on Friday, moms and dads featured on both Teen Mom OG and Teen Mom 2 are being forced to undergo complete background checks, as well as "social media reviews" done by a third-party company to ensure there is nothing "problematic" lurking on their current and/or old accounts.
Several reality stars have recently been fired when their racially offensive social media posts came under review. This includes 'Teen Mom OG' star Taylor Selfridge and Dee Nguyen of The Challenge. Four stars from Bravo's Vanderpump Rules were also axed due to their online and off-line racist actions.
RELATED STORY: Shayden Massey Says Ex Lexus Scheller is Returning to 'Unexpected'; Claims He Declined TLC's Offer to Come Back Due to Low Pay & the Show Being "Scripted"
(Photos: TLC, Instagram)