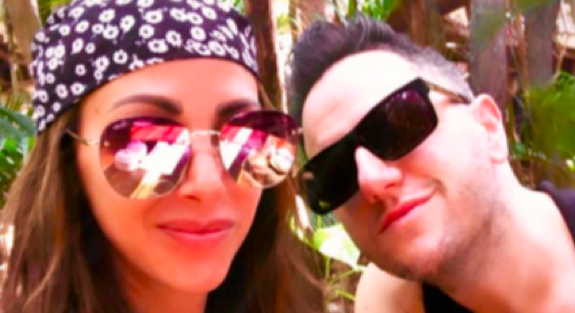 Kristen Doute may have lost her job at Bravo, but her boyfriend Alex Menache is still standing by her side…and sticking up for her against her haters. In an Instagram post this week, Alex broke his silence about Kristen's firing, complimenting how gracefully she's taken the very public blow and admiring her strength.
In response to Kristen getting the ax from Vanderpump Rules earlier this month, (along with Stassi Schroeder, Brett Caprioni and Max Boyens) Alex added that he'll always be Kristen's Number One fan.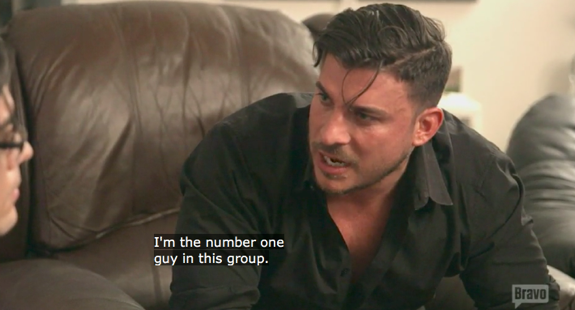 "This woman has been put thru the ringer these last few weeks and has taken it like a champ," Alex wrote on Instagram. "Anyone that knows you knows your heart is pure and kind. She has dealt with it with grace and strength and is putting in the work behind the scenes. I honor you [Kristen] and will always be your #1 big idiot fan!"
Kristen responded to Alex's kind words with a post of her own, featuring the two of them kissing captioned, "you are the best thing."
While Alex has come to Kristen's defense in the wake of her firing, Kristen has recently begun defending herself as well.
On Tuesday, after receiving some backlash for voicing her support on Twitter for the legalization of medical marijuana in Idaho, Kristen defended her position while also acknowledging her actions against former co-star Faith Stowers, which resulted in her losing her 'Vanderpump Rules' gig.
"I understand a handful of you feel I don't have a 'right' to speak out about anything at all," Kristen tweeted, adding that she hopes her haters will focus their time on a worthwhile cause, instead of on dragging her. "Please click unfollow. I hope you'll then use that same passion and find words to help someone, fight against someone and make a change."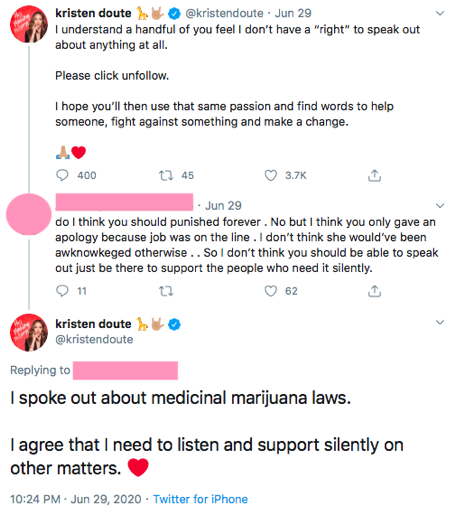 On Wednesday, Kristen seemed to stand up for herself again with a series of posts on her Instagram Story condemning "cancel culture," calling it "unproductive" and "not action oriented."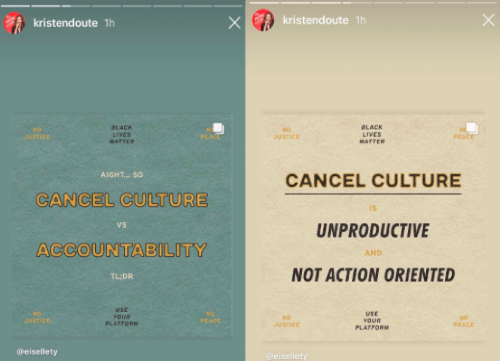 Another post shared by Kristen referred to accountability as "an opportunity to do better," while another addressed learning after being called out for your mistakes.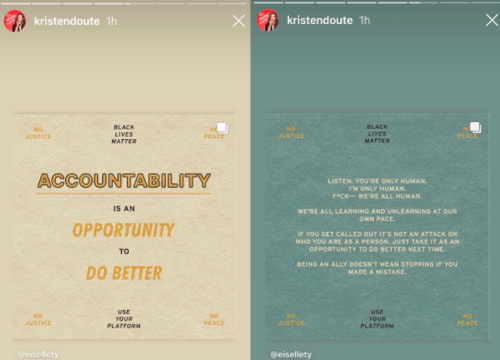 "Listen, you're only human. I'm only human. F**k– we're all human," one of the posts read. "We're all learning and unlearning at our own pace. If you get called out it's not an attack on who you are as a person, just take it as an opportunity to do better next time. Being an ally doesn't mean stopping if you make a mistake."
While many of the show's fans seem to agree with Bravo's decision to boot Kristen and Stassi, others are very unhappy, blaming "cancel culture" for the girls losing their jobs on 'Vanderpump Rules.' Several change.org petitions have sprung up over the past few weeks, campaigning to get Kristen and Stassi their jobs back.
One such petition— which had nearly 25,7000 signatures as of press time—- argued that, while Kristen and Stassi's actions toward Faith were wrong, they weren't "racially motivated."
"While no one condones this behavior, we also believe their actions were not racially motivated," the petition description states.
"….The event that took place over two years ago, was not ok. The actions by Ms. Schroeder and Ms. Doute were out of ignorance. But if we have learned anything during these last few weeks, it is that these hard conversations need to be had. Firing these cast members for something that happened years ago, is more harmful than helpful."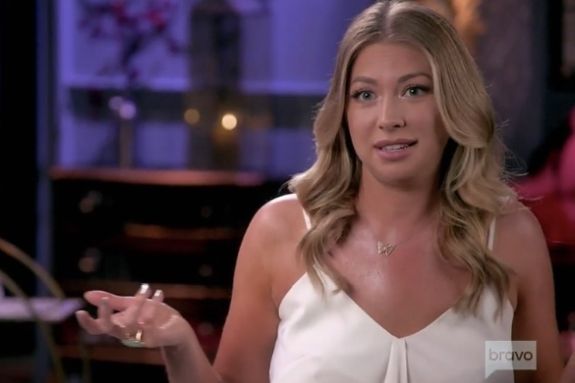 So far, Bravo has not indicated that Stassi and/or Kristen will be getting their spots on 'VP' back, though.
RELATED STORY: Fired 'Vanderpump Rules' Star Kristen Doute Defends Herself After Receiving Criticism for Supporting Medical Marijuana
(Photos: Instagram; Bravo)