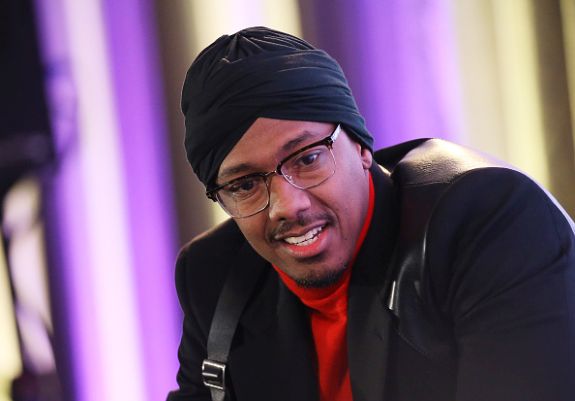 Nick Cannon's week just went from bad to worse.
The reality TV host—who was fired by ViacomCBS on Wednesday for making anti-Semitic and racially insensitive comments on an episode of his Cannon's Class podcast— apologized for his words on Thursday. While his apology appeased FOX enough that the network allowed Nick to keep his job as host of The Masked Singer, it did not go over well with everyone.
On Friday, Nick took to social media to announce that he feels the Black community has turned on him for "selling out" and apologizing for what he said about Jewish and white people on the podcast.
"I hurt an entire community and it pained me to my core," Nick posted on his Twitter and Instagram accounts. "I thought it couldn't get any worse. Then I watched my own community turn on me and call me a sell-out for apologizing. Goodnight. Enjoy Earth."
On Instagram, he tagged his location as "Heaven."
"Y'all can have this planet. I'm out!" he added on Twitter.
While some of Nick's social media followers wrote that they were worried that Nick may be implying he planned to harm himself, others sent their support to him via Instagram comments.
"Nick we love you," his 'Wild 'n Out' co-star Justina Valentine wrote.
Several of Nick's followers replied to Justina's comment, imploring her to make sure Nick is alright.
"Please check up on him! This post not sitting right and his location is alarming!" one person asked her.
Cedric the Entertainer also posted words of encouragement to Nick on Instagram.
"Stand strong lil bruh," he wrote. "Trust your higher power, not everyone is hating. Matter of fact some of us deem you necessary!! This storm too shall pass. LIVE to tell the whole story."
Shark Tank star Daymond John wrote that, while he was unsure of everything that went down, he supported Nick for apologizing.
"I am yet to be fully informed. I hear and see conflicting stories. However, The Nick I know always stands his ground. And has never been a sell out!" he wrote. "So if you apologized. Then you found some aspect of your actions to be something that you felt was wrong at the time. That makes you a bigger man than most! I reflect back and think of the times I should of stood up and apologized. We live, learn and grow from our mistakes. Love Ya man!"
In his apology, Nick said his words "reinforced the worst [Jewish] stereotypes of a proud and magnificent people" and that he was "ashamed of the uninformed and naive place that these words came from." He called his experience over the past few days "eye-opening" and vowed to help with "strengthening the bond between our two cultures and every day going forward."
Nick stated earlier this week that he intends to take a break from his radio show in order to commit himself "to deeper, more thorough reflection and education." He has also removed the radio show episode in question.
RELATED STORY: FOX Announces Nick Cannon Will Remain Host of 'The Masked Singer' After He Apologizes for Anti-Semitic Comments & Vows to Step Away From His Radio Show For Awhile
(Photos: Photo by Michael Tran/Getty Images; Instagram)