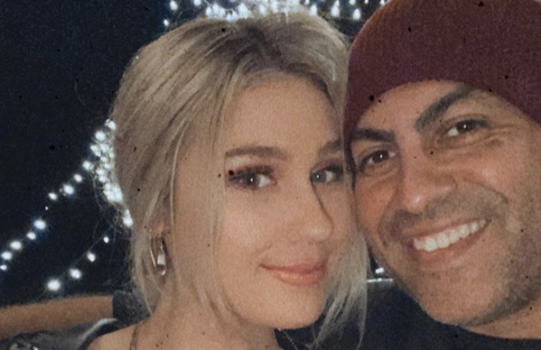 The Siesta Key Season 3 reunion was full of huge surprises, including an engagement announcement from Madisson Hausburg.
Madisson revealed during Tuesday's reunion that she and Ishmael "Ish" Soto, a former 'Siesta Key' producer, are engaged to be married after sharing their relationship on the show this season (and initially defending their 20-year age difference to Madisson's friends and family).
The big announcement came after Ish made a surprise cameo during the virtual reunion. After showing off her ring, Madisson revealed that Ish proposed to her on the first day in their new home.
"I have never felt as safe and as loved as I do when I'm with Ish," Madisson told People in a statement. "He reminds me every single day how special I am and he makes me want to be the best possible version of myself. Our love story is anything but traditional, but it's OUR love story and I can't wait to see how it plays out. I'm on such a high! I still can't believe it… I've found my forever!"
Madisson also shared the news on Instagram.
"I always imagined that when I got engaged my hair would be perfectly blown out and my nails would be done," Madisson wrote. "But my favorite part of this photo is how raw and real it is. [Ish] loves me exactly the way I am–quarantine roots, bitten nails and all! I love you to my core, Ishmael Soto. I'm so lucky to spend the rest of my life with someone who reminds me every single day how strong, smart and kind I am, and that I can be anything I want in this world. You make me better. It's not a typical fairytale, but it's OUR fairytale. Here's to forever, my fiancé."
Madisson went on to thank 'Siesta Key,' MTV and former cast member Alex Kompothecras for bringing the couple together "in the most unexpected way."
Ish shared the big news on social media as well, telling his followers, "finally the secret is out."
" …I am beyond happy to be engaged to the most amazing and best person I've ever met," he added. "You make me a better man and you have changed my life in the best possible ways. I love you [Madisson]!"
The other big reveal during Tuesday's reunion came when Brandon Gomes announced that he had fathered a secret child.
"Ten months ago, I hooked up with this girl and she told me recently that I have a kid with her," he admitted.
Brandon's girlfriend Camilla Cattaneo went on to accuse him of being with the girl for five months while the two of them were dating, though he denied the claims. After Brandon stormed off camera, Camilla revealed that she found out about Brandon's baby through a phone call.
" … He tells me, 'Oh, so I had a one night stand with this girl and she's telling me that she has a kid and it's mine,'" she explained. "I'm like… what? I literally said, 'This makes no sense. What are you saying? You have a KID with someone?!' So I decided to reach out to the girl because I felt like there was missing pieces – it made no sense for someone to have a kid and have no idea. I talk to the girl and she tells me Brandon knew the whole time that she was pregnant and he decided to block her when she said she was keeping the baby."
On Wednesday, Brandon posted an apology to Camilla on Instagram, writing that he wished he "could go back and do everything different."
https://www.instagram.com/p/CEXJBICluY-/?utm_source=ig_web_copy_link
" … I feel terrible about the man I've been but I don't want you to go on without knowing how important you are to me and how sorry I am for my actions," he continued. "I've made some bad decisions but moving forward I want to be the best man I know I can be & I'm always here and will forever hold it down for you my Luv. Wish these words mean something to you and ease your mind in any way at all."
RELATED STORY: Juliette Porter & Kelsey Owens Say They Support MTV's Decision to Fire Alex Kompothecras from 'Siesta Key' for His "Blatant Racism"
(Photos: Instagram)