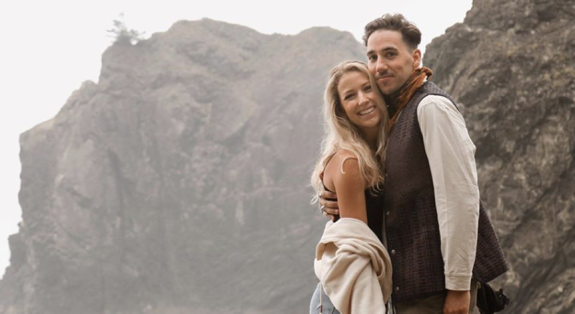 MTV's Are You the One? has delivered another perfect match.
Four months after Season 6 couple Clinton Moxam and Uche Nwosu announced their engagement, Season 2's Curtis Hadzicki and Jenni Knapmiller have shared news of their own engagement on Instagram.
"I'll spend the rest of my life trying to properly thank you for all that you do. I love you forever," Curtis posted on Instagram Thursday alongside a picture of the newly engaged couple sharing a kiss in the Cape Kiwanada State Natural Area along the Oregon coast.
"I didn't know I could smile this big," Jenni posted on her own Instagram Thursday with pictures where she's flashing her new ring.
The product designer and registered nurse appeared on the second season of the MTV dating series back in 2014. They weren't matched during the Puerto Rico-set season but started dating after production wrapped in 2015, according to People. Curtis and Jenni are the only couple brought together during their season that are still together.
'Are You the One?' has produced several successful couples over its eight seasons, as E! broke down following the announcement of Curtis and Jenni's engagement. Many of the nine couples E! profiled were not matched on the show but found love once their seasons ended, like Curtis and Jenni.
Hayden Weaver and Gianna Hammer connected at the Season 5 reunion and welcomed a son in 2018. (They have since split.) Anthony Martin from Season 6 is currently dating Shannon Duffy from Season 5. Meanwhile, Ethan and Amber Diamond were actually matched on the show and have been married for four years and have two children.
RELATED STORY: 'Are You the One?' Season 6 Couple Clinton Moxam & Uche Nwosu Are Engaged
(Photos: Instagram)