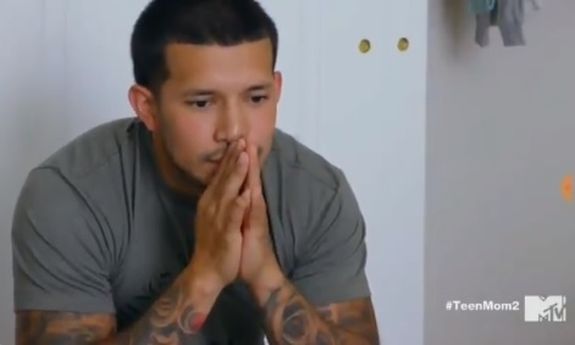 Javi Marroquin came out swinging after a clip of the upcoming episode of Teen Mom 2 showed his ex, Kail Lowry, proving that Javi still tries to hook up with her, despite him being in a relationship with Lauren Comeau.
Javi took to Instagram to tell those behind the show, as well as Kail, to stop talking about him or mentioning him on 'Teen Mom 2' or on Kail's various podcasts.
In the clip of this week's episode, Kail tells Producer Patrick that she's upset that Javi went back on his offer to meet her halfway for pickups and drop-offs of their son, Lincoln. She then drops a bomb, telling Producer Patrick (who looks like he's about to tinkle himself with excitement) that Javi was more than willing to meet her earlier that week to bone in the Wawa store parking lot.
AS.YOU.DO.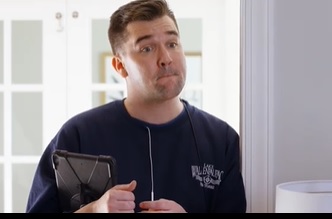 "Is that why you tried to f**k me on Tuesday in the Wawa parking lot while your girlfriend's home with your son?" Kail said. "He pulled into the Wawa parking lot while I was getting gas. He was like 'Hey, what's up?' And he opened [his car] door and was like, 'I wanna f**k you, plain and simple."
Kail then proceeded to show Javi's texts, which did, indeed, have plenty of hump talk.
Javi— who is in a relationship with Lauren, the mother of his son Eli— has not filmed for 'Teen Mom 2' in about a year. After the damning clip was posted to social media, though, he began to defend himself on Instagram. First, he talked about why he stopped filming for 'Teen Mom 2,' and then went on to warn everyone to keep his name (and his alleged Wawa parking lot banging attempts) off the show and all other media platforms.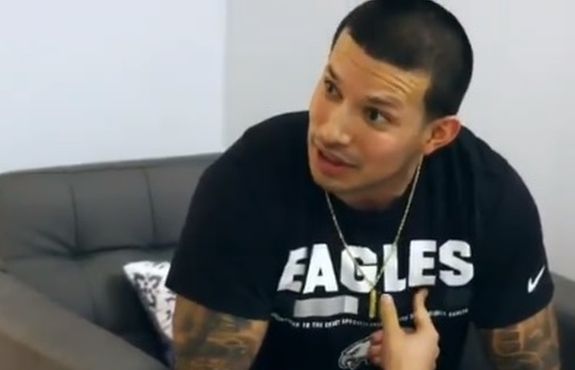 "I stopped filming to live my life normally cause I've realized my kids life when they get older will suffer if I continue to be apart of this TV show," he wrote. "Not only did my mistakes play out on the show which I've had to live (and continue to live with) but I know one day I'd have to explain to my kids all my actions…
"Those episodic checks weren't worth it to me…and I can make a living without it," he added. "None of this is worth it to me."
He then stated that— had this been a few years ago, he would have done his best to kill any podcast that talked about him.
"I'm not about this drama back and [forth] on social media cause if the 2016 Javi came out, I'd shut down ever podcast out on Apple, Spotify, whatever other platform people have podcasts on. All of that. And that's a big fact."
(For the record, 2016 was the year Javi and Kail officially split.)
Finally, Javi issued a warning to everyone to stop talking about him and his family, whether it be on the show, a podcast or…even MySpace!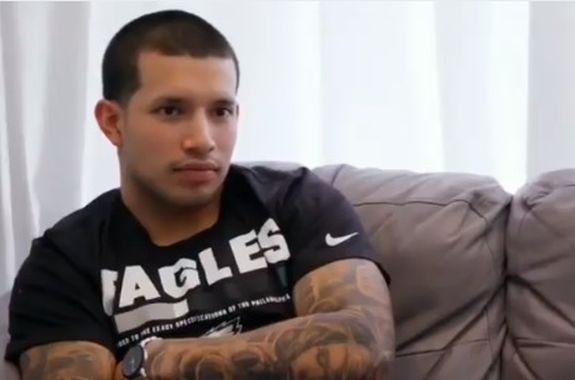 "I'm gonna go back to minding my business and living my life with my family and being the absolute best dad I can be," he wrote "But let this be the last time my name or anyone in my family's name is mentioned on any podcast. Show. Tweet. Snap. MySpace, Whatever. Cc: @TeenMom and everybody associated with that show. Don't even text me."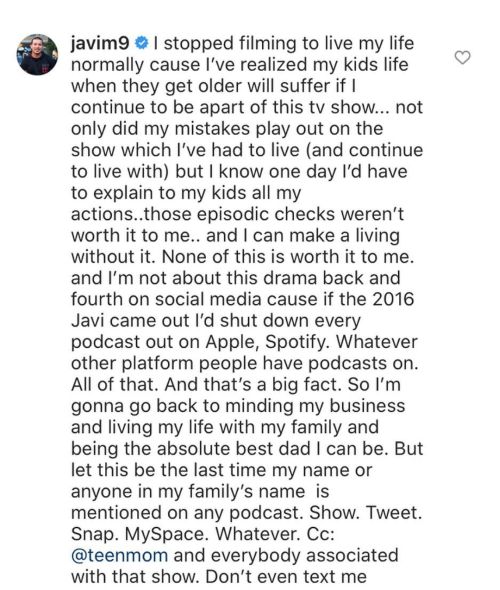 This marks the second time in about a week that Javi took to Instagram to defend himself and Lauren. His first message came when Kail— who recently started a podcast with Jo Rivera's wife Vee Torres— talked about not wanting to have a good co-parenting relationship with Lauren like the one she has with Vee.
Kail told a fan on Instagram that they have "no idea what goes on off-camera." Javi then spoke up to state that there is nothing happening "off-camera" to warrant Kail or anyone else hating Lauren.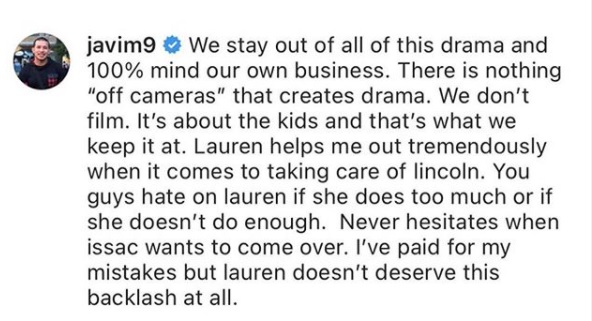 "We stay out of all of this drama and 100% mind our own business," Javi wrote. "There is nothing 'off cameras' that creates drama. We don't film. It's about the kids and that's what we keep it at.
"Lauren helps me tremendously when it comes to taking care of Lincoln," he continued. "You guys hate on Lauren if she does too much or if she doesn't do enough. Never hesitates when Isaac wants to come over. I've paid for my mistakes but Lauren doesn't deserve this backlash at all."
Watch the 'Teen Mom 2' clip in question below!
RELATED STORY: Kail Lowry's Sister (and Long-Lost Dad) Complain About How MTV Portrayed Them on 'Teen Mom 2' & "16 and Pregnant"
(Photos: MTV; Instagram)