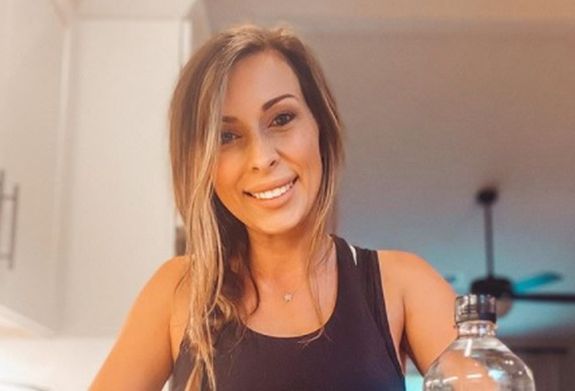 Mackenzie Edwards has a hate for the bait…clickbait that is.
The wife of Teen Mom OG dad Ryan Edwards took to Instagram Stories over the weekend to slam her 'Teen Mom' co-stars for posting phony stories about her and Ryan. The stories— which usually feature misleading headlines written to entice people to click and photos of people who often have nothing to do with the story that's linked to it— are posted daily by many of the 'Teen Mom' stars, including Mackenzie's nemesis Maci Bookout.
Other 'Teen Mom' clickbait culprits include Amber Portwood, Jenelle Evans and Catelynn Lowell. (Catelynn is arguably the worst offender. She posts something fake about her biological daughter Carly, or pretends via clickbait to be pregnant and/or divorcing her husband Tyler Baltierra, at least once a week. She even once posted a clickbait story that said that she and Tyler were giving their daughter Nova away. No, seriously…)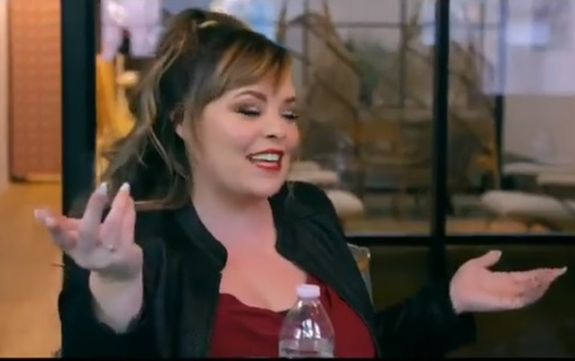 Mackenzie was particularly disturbed by a recent story posted by the Clickbait Crew that just featured a photo of herself and Ryan, along with an emoji of a broken heart to say "heartbreaking news." Mackenzie reposted a screenshot of the story, telling her followers that the story was not heartbreaking news about her and Ryan. In fact, she noted that the story wasn't about her and Ryan at all!
"Save your time, it's about music legends that died," Mackenzie wrote. "This s**t is so f**ked up."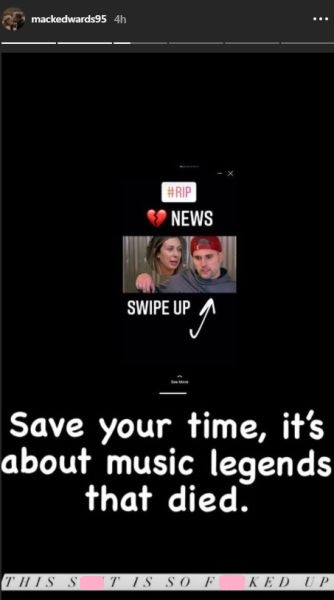 She then hopped on Instagram Stories to further slam the 'Teen Mom' Click Bait Crew for posting "disgusting" things about other 'Teen Mom' stars.
"OK, I'm sorry. Actually, no I'm not sorry. But these clickbait things are absolutely disgusting," she said. "It's like The National Enquirer on freakin' steroids! I really feel like it's disgusting. The headlines that they put are so disturbing and the pictures that they use, they use pictures of me and Ryan and, get out of here with that s**t."
As The Ashley has previously reported, reality stars make a pretty nice income from posting these fake stories. (The Ashley hears one 'Teen Mom' was guaranteed a monthly income of $15,000 for posting, back when the clickbait stuff was in its hey-day.) The stars do not post the stories themselves; they simply give the company permission to post on their accounts. (They are able to refuse to post certain stories, or stories about certain people, from what The Ashley hears.)
Mackenzie's rant has done little to stop the 'Teen Mom' clickbaiters, though. In fact, they even turned Mackenzie's rant about hating clickbait into a clickbait.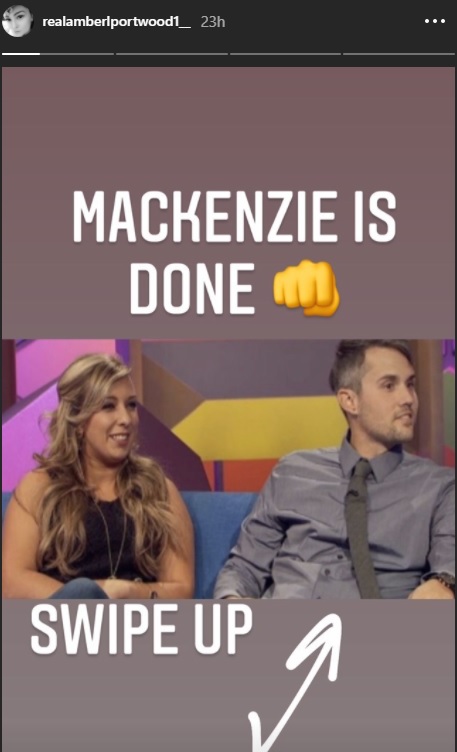 AS.YOU.DO.
RELATED STORY: EXCLUSIVE! 'Teen Mom OG' Cast Member Tests Positive for COVID-19; Production Shut Down