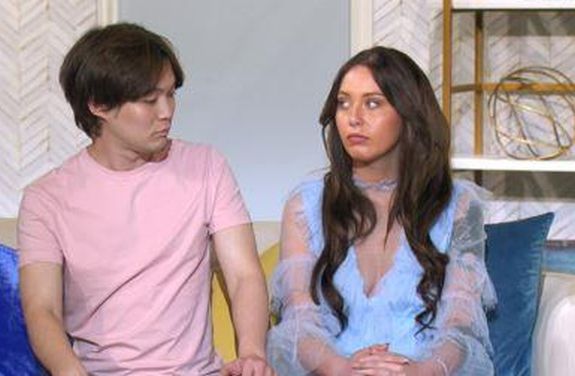 Jihoon Lee has lawyered up.
According to In Touch Weekly, the 90 Day Fiancé: The Other Way star has hired an attorney to represent him in his divorce from estranged wife Deavan Clegg.
Amanda Grayce Crosby, the individual who launched a GoFundMe last month to assist Jihoon with legal fees, said Jihoon has enlisted the help of lawyer Joseph C. Alamilla and is preparing to face Deavan in an international custody battle for son, Taeyang.
Currently, Jihoon is living in South Korea, while Deavan is in the United States with Taeyang and her daughter from a previous relationship, Drascilla.
"He is a family law attorney based in Utah where Deavan has filed all of her paperwork," Amanda said. "He took the case because Jihoon was about to lose all of his rights to his son this week, so Joe had filed a response. If Jihoon's lawyer didn't file appropriately, everything that she would have asked for in the paperwork would have been hers."
As The Ashley reported in December, the GoFundMe created on Jihoon's behalf was "temporarily hidden" until the website was able to verify the funds would be going directly to Jihoon's legal fees. After the information was provided, the online fundraiser relaunched in January.
Currently, the page has raised just $3,000 of its $50,000 goal.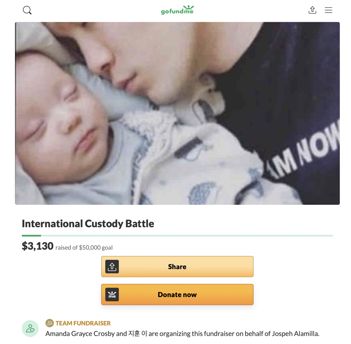 "Jihoon is looking for $50,000 to cover all costs – filing fees, attorney fees, accommodations, now mediators," Amanda said. "We're trying to promote the GoFundMe like crazy to get it out there so we can get Joe the money he deserves. His law firm set up a PayPal that is listed under his law firm's name for people to donate as well."
Jihoon promoted the fundraiser this week –– as he has done a couple of times since December –– by posting a photo of his son and Taeyang on Instagram, asking his followers to donate "if you can."
"I love my son," he captioned the photo. "Just because I don't post everything here does not mean anything. He is missed not only by me but also my parents. I look forward to spending time with him and being his father. Please help me by donating if you can. Thank you."
In addition to the funds from his supporters, Jihoon is reportedly employed in South Korea and working to contribute to the costs himself.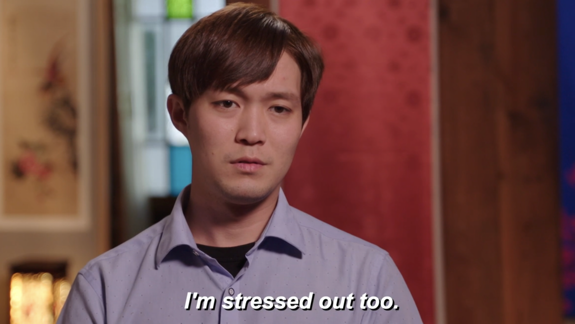 "Jihoon has been working long hours in South Korea in an attempt to preserve his rights and to defend himself, along with securing reasonable access to his son," the GoFundMe page reads.
Amanda adds that Jihoon is "trying to save his money" and is "not expecting everyone to just take care of this for him, despite what people are saying."
In August, Jihoon confirmed that he and Deavan were no longer together and that Deavan had already moved on. (Jihoon did not provide the name of Deavan's new boyfriend at the time, but he was later identified as Christopher "Topher" Park.)
In September, Deavan revealed on Instagram that she had filed for divorce.
Last month, Deavan's mom Elicia Clegg commented on the fundraiser created for Jihoon during an interview with "90 Day Fiancé" blogger, John Yates. Elicia claimed the divorce proceedings for Jihoon and Deavan had already begun and would include a custody agreement for Taeyang.
"The litigation has already begun and nobody can talk about it," she said. "So the $50,000, I don't know what that's gonna do because it's already in process."
RELATED STORY: "90 Day Fiancé" Star Paul Staehle Talks About Wife Karine Physically Assaulting Him; Says They Keep a Miscarried Fetus in the Fridge and More
(Photos: TLC; Instagram; GoFundMe)