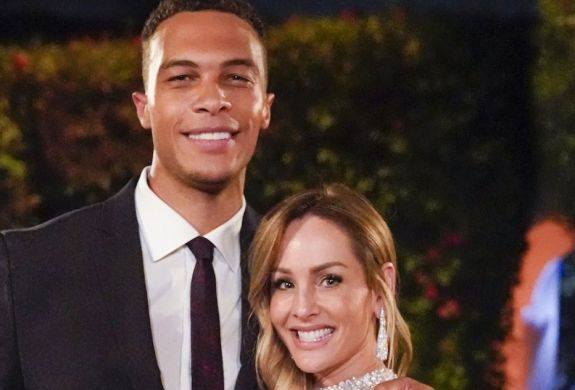 The relationship between Clare Crawley and Dale Moss ended just as it began– fast!
The couple— who met and got engaged on Clare's half season of The Bachelorette— have split. TMZ reports that Dale broke it off with Clare over the weekend, and on Tuesday, he took to Instagram to announce the split in his own way. (Clare— who, as you may remember, ended her season of 'The Bachelorette early because she was so smitten by Dale— has yet to speak out about the breakup.)
"I wanted to share with you all that Clare and I have decided to go our separate ways," he wrote. "We appreciate the love and support we've received from so many people, but this is the healthiest decision for both of us at this time.
"We strongly believe in leading with love and always remaining true to oneself – something our families have taught and instilled in us throughout our lives. We only hope the best things for one another. Please respect our privacy as we work through this together."
TMZ stated that their long-distance relationship had begun to take a toll on the couple, with Clare in Sacramento and Dale in New York City.
Back in November, it seemed that Dale was fine with moving to Sacramento to be with Clare, though. In an interview with PeopleTV, Clare stated that they were looking for houses in the city.
"With my mom being sick, it's important for me to be here and Dale understands that and respects it," Clare said at the time. "It's not even a question. We were talking about it yesterday and I was like, 'Are you sure you like Sacramento?' and he's like, 'Wherever you are, wherever we are, that's home. That's what it is."
.@Clare_Crawley opens up about moving in with @DaleMoss and future plans: "Babies are on the agenda!" pic.twitter.com/xd1Yfu4QlY

— PeopleTV (@peopletv) November 11, 2020
She added that "babies is on the agenda!"
According to E! News' source, "Clare and Dale have been fighting a lot recently. They are mainly in disagreement over lifestyle preferences. Dale wants to be in a lively city and focus on his career, and Clare is rooted in Sacramento to help care for her mom. It's been very tense recently between them."
Both Clare and Dale seemed to be trying to make it work as recently as two weeks ago— at least, on Instagram, anyway.
This is not the first time that Clare had been left brokenhearted after appearing on a 'Bachelor' Franchise show. In 2018, Clare got engaged to Benoit Beauséjour-Savard on the spin-off The Bachelor Winter Games. They ended their engagement after only a few months. Before that, Clare was the runner-up on Juan Pablo Galavis' season of The Bachelor. Juan Pablo chose to stay with Nikki Ferrell instead of being with Clare.
RELATED STORY: First 'Bachelorette' Divorce! Ashley Hebert & JP Rosenbaum Announce They're Separating After Nearly 7 Years of Marriage
(Photos: ABC; Instagram)