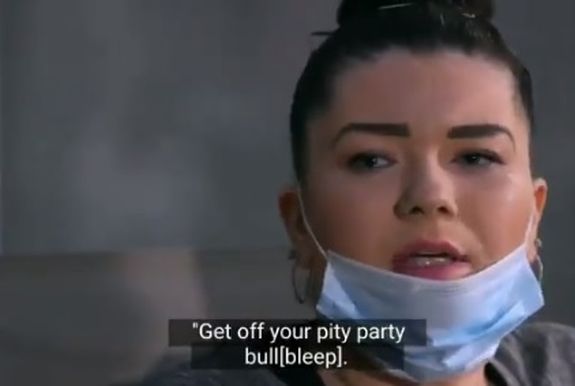 Howdy, fellow trash TV lovers! It's time to check in again with the gals of Teen Mom OG! The Ashley is aware that she missed recapping the first week of this Dumpster Fire, but she's going to go ahead and save herself a lot of typing and save you a lot of reading. Basically, all you missed is Maci being one cross-on-the-back short of being The Martyr of The Bible Belt; and Amber sitting on her couch/bed/portable hammock and ordering people to do her Mother Goddess bidding.
Oh, and, until further notice, everything and anything that has gone wrong in the Life 'o' Ryan is that ding-dang Maci's fault.
Consider yourself caught up.
We kick things of in Indiana, where Amber is talking about how her Belgian boo, Dimitri, was possessive. (I'm wondering if Amber meant to say "Dimitri is possessed"…because, honestly, a guy would have to be completely taken over by some sort of poltergeist to want to date Ambie).
Now that she's ditched Dimitri and his possessive ways, Amber is focusing on growing her relationship with Gary and Kristina. She tells us that they're "really supportive" (which is "Amber code" for "they come and turn me in my bed so I don't get bedsores.")
I think that's nice…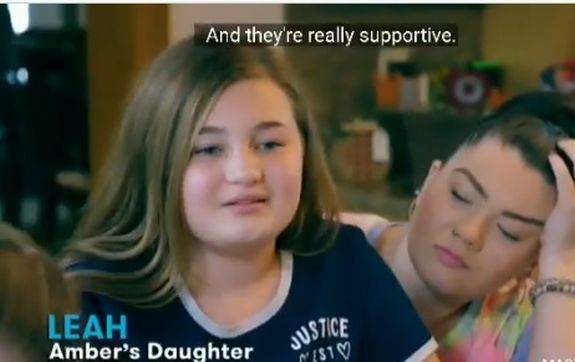 Amber tells us that she misses the home she owns, but Andrew and her son James are living there. That means Amber is stuck in a rental house for the last 15 months and she's getting tired of it.
Amber tells us that, unfortunately, her rental house is an hour away from Gary (and her daughter Leah). If only there was a way Amber could live somewhere closer…somewhere that wasn't an hour away from her kid. IF ONLY.
Oh…wait…Amber chose that house, knowing it was an hour away. (Perhaps she was salivating at the thought of being allowed to sit in the car for a full hour without interruption there and back?)
Speaking of Gary, he and Kristina are just hanging out on their land (not to be confused with The Land, of course), throwing balls on the grass and talking about how Amber is all alone in her rental house.
All of a sudden, Gary gets a brilliant idea! Why not move Amber out to his property? He suggests they move her right into a modular home on the lawn. (No, seriously.) Poor Kristina turns white and looks like she's going to pass out at the thought of having Amber Portwood, screaming out on her lawn in her special "ranting kimono" on the regular.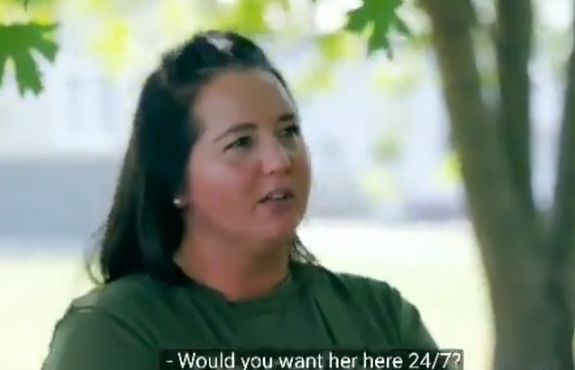 Kristina insists that, if they do go ahead and haul Ambo, her couch and her bad attitude to their place, Gary isn't allowed to sneak out there for a little pickle tickle.
(I'll give you a second to recover/vomit from the thought of Gary and Amber smackin' uglies in a trailer.)
Gary assures us he doesn't care about Amber "in that romantic way" anymore. (It must have taken him years to get over not having Amber there to kick him down the stairs…)
Gary doesn't really give poor Kristina a chance to resist the idea. He says he'll go talk to Amber about moving to trailer on their property and Kristina just kind of nods. (Honestly, she probably knows that Amber will never agree to live in a trailer. Ambie likes to let anyone who will listen know that she's a star and that she makes a ton of money, so there's no way she's going to sign off on being shoveled into a tiny trailer like she's one of Gary's stable hands. No. Way.)
Next, we head to Tennessee where Maci is calling up The King of Therapy, Tyler, for advice about sending Bentley to therapy.
Yes, kids, we have a Very Special cross-over episode! It's like that one time Urkel made a guest appearance on Full House. There's something weird (and a little exciting) when these people's trainwreck worlds collide.
Anyway, Maci dials up Tyler because he's been dealing with a piss-poor father his whole life. (Shoutout to Butch, wherever you are!) Maci explains the situation to Tyler, who is shocked that it was Bentley who wanted to go to counseling with Ryan.
Um..yeah. Us too. To me, this idea has the Bud-Light-soaked mitts of Maci all over it…
Anyway, Tyler says that, back when he was a lad, he knew that his dad wasn't his mom's favorite thing to talk about.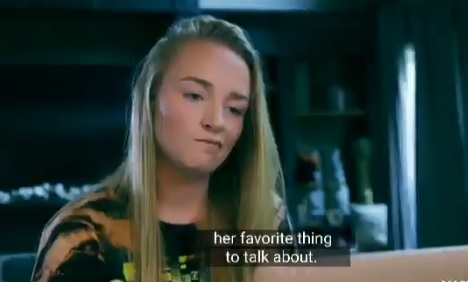 Meanwhile, over at Ryan's place, kids are screamin' and Ryan's lying on the couch, all slothed out, and talking to Mackenzie about how "Bentley" wants to take him to ding-dang counseling. Ryan is skeptical that the request actually came from Bentley and not the Brain of Maci.
"Is it all your mama's bulls**?" Ryan says.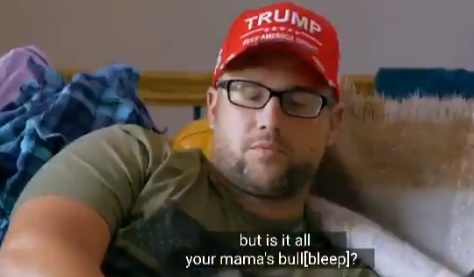 Ryan— who, mind you, is smoking his pipe on a couch completely covered with clean laundry that he was just laying on two seconds ago—tells Mackenize that he feels sorry for Bentley because "he's gotta grow up with that kinda person raisin' him."
Maci is still determined to make this father/son therapy sesh happen, so she calls up "Dr. Ed," who is more than willing to therapize(?) Bentley and Ryan. (I mean, if you go by "Dr. Ed," you probably have to take an opportunity to work that comes your way, honestly.)
Dr. Ed suggests they haul in Bentley solo for a session before they bring Ryan (and his pipe) down there to talk. Maci agrees, and later tells Bentley that ol' Ry may not even show up for the session if they get it scheduled with "Dr. Ed."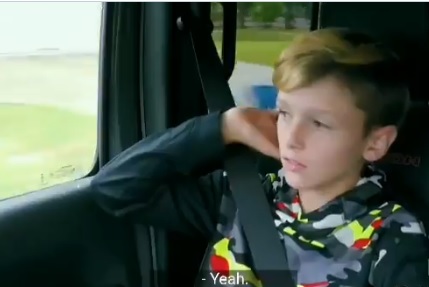 Next, we check in with Cheyenne. Things are going well in her renewed relationship with Zach, but she's still keeping the news from Cory until she knows things are definitely heading in the right direction. In the meantime, the two enjoy some alone time while Ryder is away. (That means they had "the sex," in case you didn't get that…)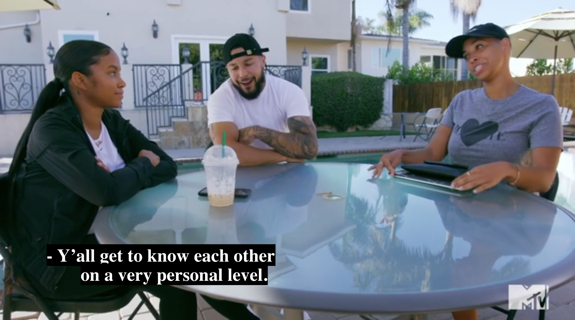 Later on, Cheyenne heads to Cory's house because he has something he wants to talk about. ($20 bucks says it's himself.)
Cory, in his attempt to win the (non-existent) title of MTV reality star with the most minutes on-screen, tells Cheyenne he "got the call about The Challenge" and once again, will be leaving his worries, children and baby mamas behind to compete for some cash and to take home a surplus of Under Armour clothing with his name on it.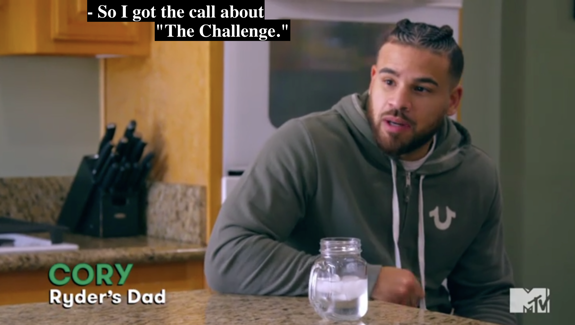 Cheyenne can do nothing but laugh as she questions Cory's decision to leave his family for potentially three months in the middle of a worldwide pandemic. Cory tells Cheyenne he's grateful to be employed right now because so many people aren't.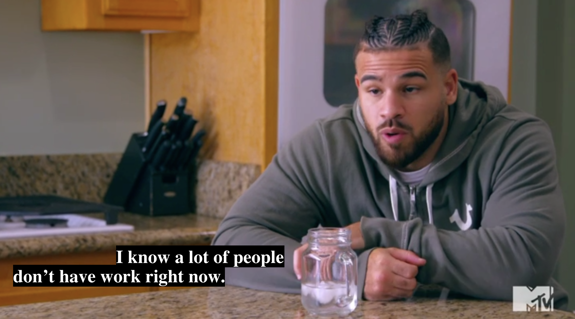 Cheyenne agrees with Cory, completely overlooking the fact that Cory is already employed at the moment, as the two of them are having this conversation in front of a camera crew.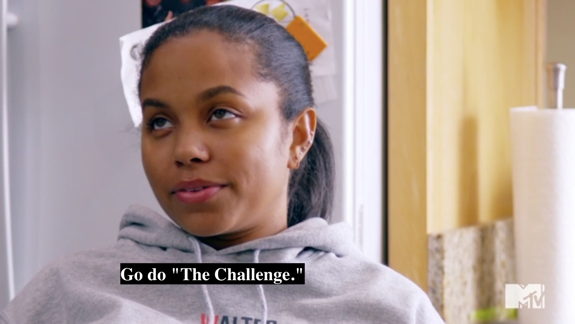 Cory decides to break the news of his new MTV gig to Ryder and surprisingly, she's all for it. In fact, Ryder tells Cory and Cheyenne that she wants to be on 'The Challenge' some day – an announcement that nearly brings camera-loving Cory to tears.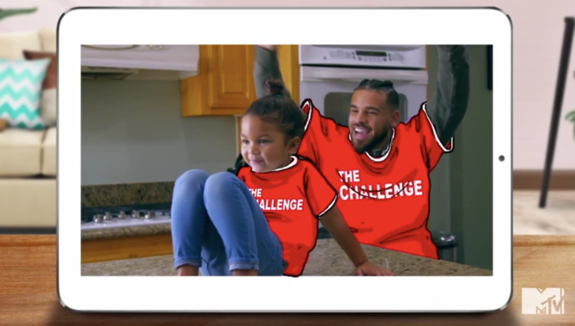 Meanwhile, in Oklahoma, Mackenzie's marriage more ridiculous than a rodeo clown, so she shifts her focus to her boys' upcoming birthdays and her online fitness brand, Body by Mac. While filming a video in her front yard (as you do), Mackenzie receives a call from Jim, the CEO of the nutrition company she's been working with, who asks if she'd be willing to move to Florida to have a bigger role in the company.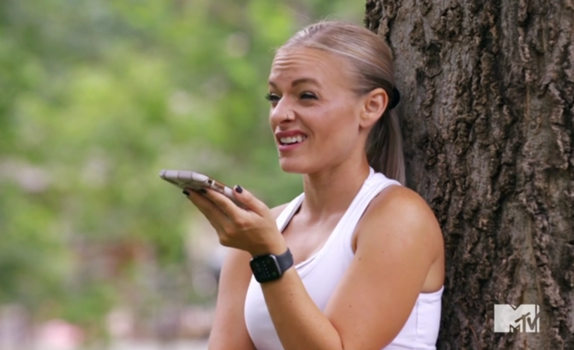 Mackenzie tells Jim she needs to discuss the move with her family and Josh. Before jumping into what is sure to be a production conversation with the latter, Mackenzie tells her sister Whitney about the job opportunity and for some reason, she decides to reveal the news by telling Whitney not to freak out.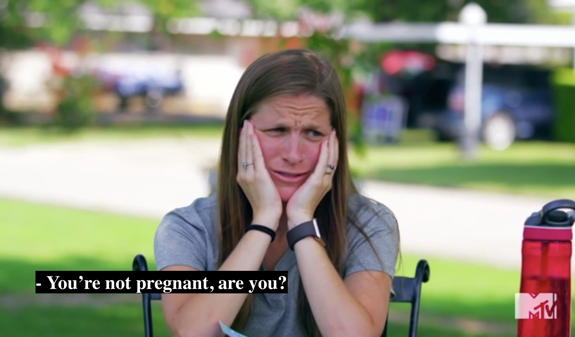 Mackenzie tells Whitney she could be heading to the Sunshine State in as little as two weeks. Whitney asks if she's moving to run away from Josh and Mackenzie says she isn't, although if Josh decides to move to Florida with her and the kids, she'll consider it to be "a sign."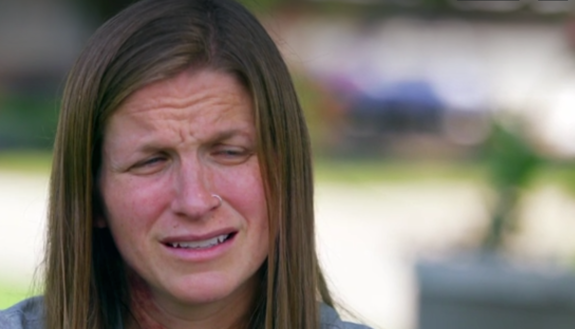 Mackenzie thinks moving to a new state could be a new start for her and Josh and she has "high hopes" that she's going to "go and heal" while she's there. Whitney tells her sister she "would go to India tomorrow" if she could, and believes Mackenzie should make the move to Florida (by herself) to find out who she is.
After her chat with Whitney, Mackenzie calls Josh to tell him about her job opportunity. Josh says he doesn't want to be the person holding Mackenzie back, but with the two of them in different states, their relationship "won't work."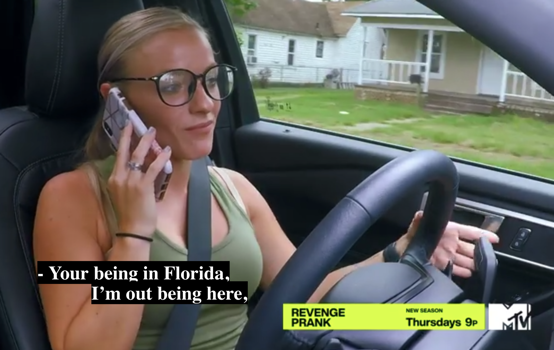 Finally, we check in with Catelynn. With Nova back to attending school in person, Cate has even "more time to focus on herself."
Literally…is that not what Catelynn has done the entire decade this show has been on the air?
Her newest career ambition (this week anyway) is becoming a microblading specialist. (This will be great to fall back on if her previous aspirations of being an adoption counselor, teacher, and vet tech all fall through!)
Tyler tells Cate he's excited for her to be doing anything. (In case you're wondering why Cate isn't busy building their Tierra Reign kids' clothes fashion empire, she explains that production on Tierra Reign has stopped because the manufacturer is only making COVID protective gear at the moment. Apparently people need face shields more than kids need bell bottom velvet pants right now. Go figure.)
Cate goes on to give viewers a look back at some of her own almost projects, including the two seconds she spent thinking about becoming a vet tech and the time she met with the baby food company while rocking a hairdo inspired by a Bratz Doll. Unlike her first few dozen attempts, Cate is determined to make this career "stick."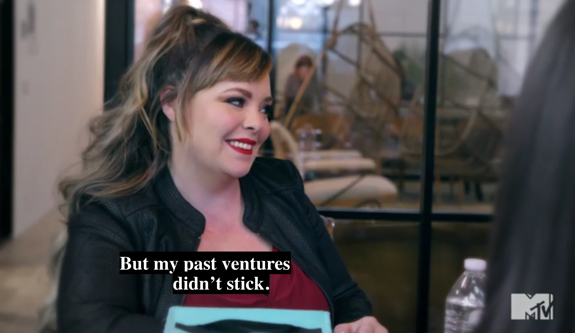 The next day, Cate strolls in for her first microblading course and immediately tells the microblading master her experience in mircoblading consists of "nothing." Because of the free exposure her company is getting, the instructor optimistically tells Cate she'll have her shaping brows like a pro in no time.
While practicing her brush strokes – who knew all that therapy horse petting would come in handy?! – Cate's instructor asks what her goals are long-term and Cate says she hopes to eventually open up her own space.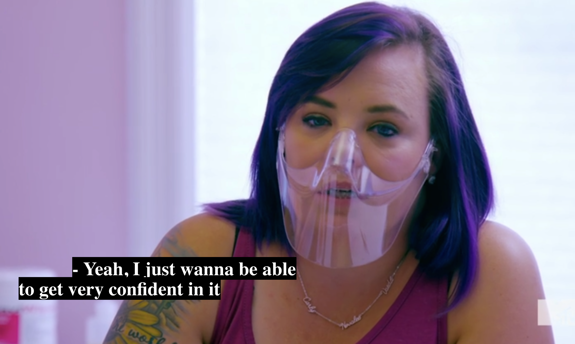 Cate is also asked if she wants to have more kids, to which she says she'd like to have a boy but isn't sure because things are already chaotic in the Baltierra home and those therapy horses can only deal with so much.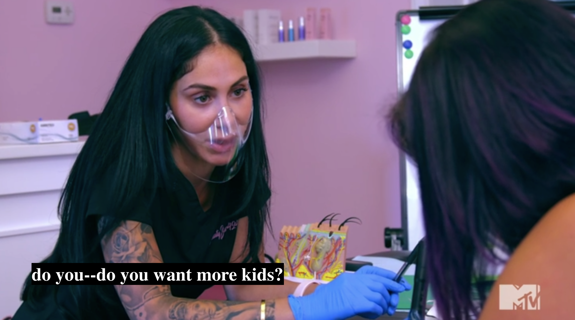 After practicing her "strokes" some more, Cate decides she ready to start her certification, which requires that she successfully microblade four people. Cate's first victim? None other than April, who likely mistook Cate's offer to "apply some strokes" for "come by for some smokes," so here we are.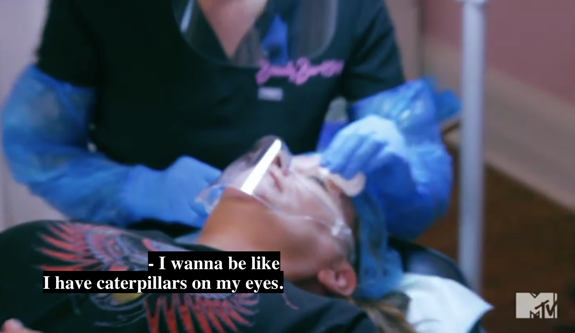 When Cate manages to not make her "ma" looks like Groucho Marx, Tyler encourages her to start looking for a space to rent. Cate is hesitant to jump into it because she worries that people won't be knocking down her (salon) door to get microbladed by a Teen Mom, but Tyler doesn't seemed concerned. In fact, Tyler is ready for Cate to give him a job at the currently non-existent salon space.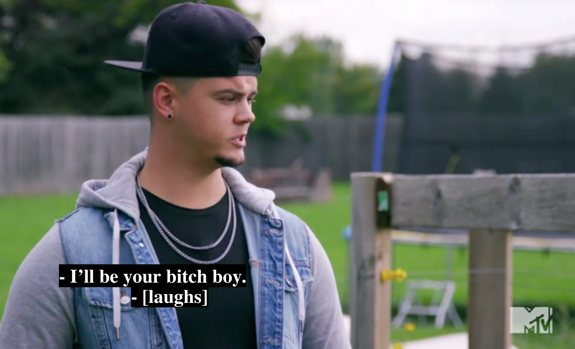 Meanwhile, back in LA, Meanwhile, Cheyenne takes part in backyard aerial acrobatic class with her friends.
Seriously. What? These people have way too much time on their hands (and not enough masks on their faces.)
Chey's friends still have no idea she's dating Zach again. Cheyenne is keeping the news quiet for now because she says her friends aren't big fans of Zach.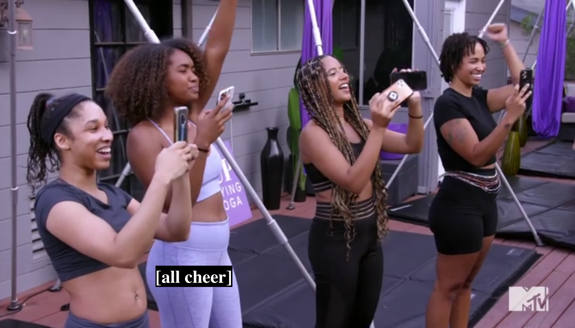 After class, the group sits down to talk about 'The Challenge.' (What else?!) Cheyenne says she has a love-hate relationship with the show but can't get mad at Cory for participating because it's "his job."
Still, she feels some kind of way about him leaving because the last time he did, Ryder got sick and ended up in the hospital, leaving her to parent/panic solo. She tells her friends that eventually Cory will have to retire his 'Challenge' jersey because his kids are getting older and it's hard to deal with his absence (and lack of 'Challenge' wins).
Later, Cory brings Ryder back to Cheyenne's house for the last time before leaving for "his job." Cory tells Ryder that whenever she misses him, she can play with her 'The Challenge' Cory doll.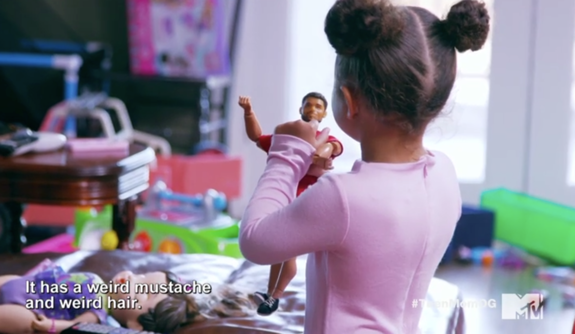 Cheyenne says it will be interesting to see how Ryder handles everything this time around, and Cory proceeds to remind Cheyenne that with COVID, she can't take Ryder to do fun stuff while he's away.
What a guy.
The two then discuss how to handle things in the event that Ryder gets sick while he's gone. Cory says he'd rather know this time around, even if he's competing in a final at the time. (Hahaha, good one, Cory.) With that, Ryder, Cheyenne and 'The Challenge' Cory doll say goodbye to real life Cory.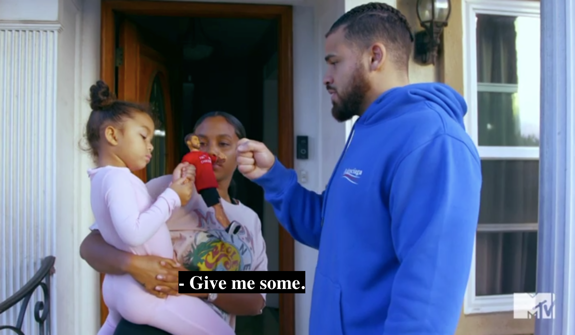 Back in Oklahoma, Mackenzie says things are still "not in a good place," with Josh so she decides to throw her own birthday party for her boys at her dad's house. Mackenzie says she really wants to move to Florida, but is "dreading" how her dad will take the news.
While the kids run around the yard in an attempt to come down from their birthday cake sugar high, Mackenzie uses the opportunity to tell her dad about her job offer. After taking a moment to collect his thoughts, Mackenzie's dad says "go get it out of your system and come back… and come back to Oklahoma."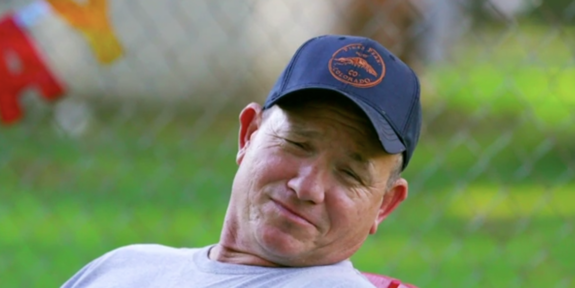 The next day, Mackenzie calls Jim and officially accepts the job in Florida.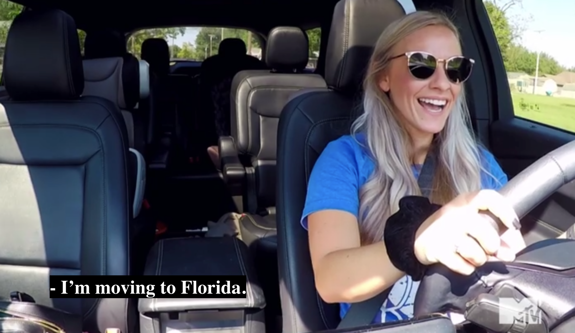 Meanwhile in Tennessee, Bentley is heading to his first session with "Dr. Ed." At Jen and Larry's house, Producer Lorraine (wearing her very own Hannibal Lector mask, which was surely made by Tierra Reign) chats with them about Ryan and Bentley.
Larry says he wants Ryan and Bentley to go to counseling and for Ryan to be honest with Bentley about "what has been happening all these years."
Larry and Jen are literally talking over each other to express to Producer Lorraine how much Ryan loves Bentley, and how he wants this counseling more than anything.
Sure…Jen (and Larry).
Larry says it's important for Ryan to get away from "those triggers."
In case you're wondering what he means by "those triggers," Larry wastes no time and quickly explains.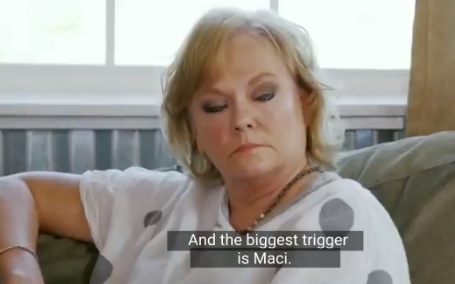 "The biggest trigger is Maci," he says before explaining that the key to Ryan living a "healthy life" (aka a life without smackin' the smack), is for him to stay across the river from Maci.
Or something….I kind of dozed off during this scene. Luckily, Producer Lorraine's terrifying mask snapped me back to reality.
Jen begins to cry, realizing that, earlier in Bentley's life, they pushed Ryan toward "those triggers" (re: Maci) and that a lot of what happened to him may have been because of them.
Um. No. What happened to Ryan was because he was young, lazy, selfish, loaded with MTV money and generally loaded. Period.
Larry then turns straight to the camera (a la Zack Morris) and apologizes to Ryan for making him associate with Maci in the past.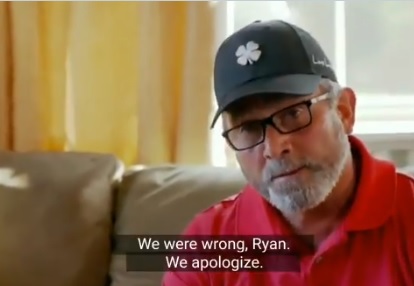 Larry says that, if he's being forced to choose between Bentley and Ryan, he's gonna go with Ryan every time, despite how much he loves Bentley.
Meanwhile, Maci picks up Bentley from talking to Dr. Ed, and— shockingly— Bentley doesn't feel like blabbing to Maci (and the TV cameras) about the session. This is Maci, though, so even though Bentley told her he didn't want to share, Maci gets right on the horn (on camera, natch) and calls up Dr. Ed to see if he will spill what they talked about.
"Dr. Ed" blows right through that "therapist/patient" confidentiality and chats it up with Maci about how Bentley feels neglected by Ryan, and how Bentley needs to teach Ryan how to be his dad.
"Dr. Ed" schedules another session with Bentley, and Maci hangs up. She does her best to make sure everyone knows how hard this is for her, sighing hard and hanging her head down.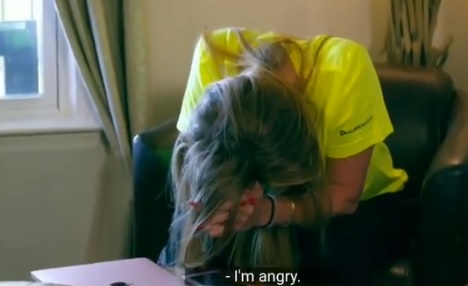 Back in Indiana, Gary is frying up some Great Value franks on the grill for a cookout with Amber and the gang. Amber casually mentions that she likes Gary's set-up out on the lawn and Gary's eyes light up.
As Leah regales the group with tales of how she has to sit down in her classroom at school all day because of COVID, Amber looks positively jealous. Imagine. All that glorious sitting!
Gary looks like he's thinking about bringing up his Big Idea.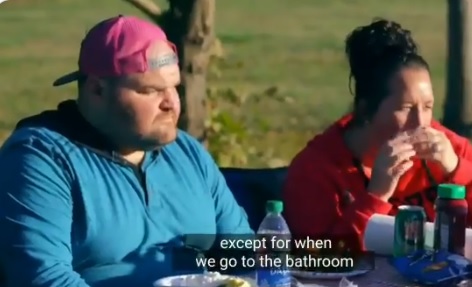 Amber says that she gets mad when people walk by her backyard without masks. Gary brings up the fact that he has all this property…and that maybe they could build her a modular home to live in— with working appliances!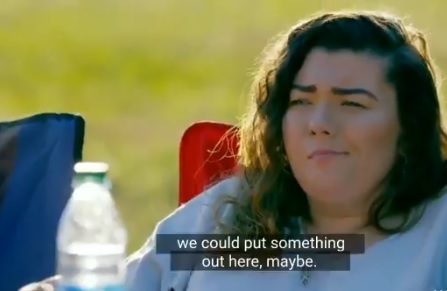 Gary explains that she'd be close to Leah, wouldn't have any COVID-carriers touching her house, and that all rent money she paid would go straight to Leah. Speaking of Leah, she looks half excited, half terrified about the prospect of her mom sleeping out on the lawn.
Amber says that it'd be nice to be near her kid and all, but she doesn't want the entire Shirley family seeing when she's sneaking some dude she met up 'er at The Walmart into her trailer to get some boom-shaka-lakka.
Amber thanks Gary and Kristina for their "kind gesture" in offering her their lawn, but says she'll need a couple of months to decide if she wants to take them up on the offer. Kristina pipes in, saying that, should she and Gary ever split up, she gets to move into the "good" side of the lawn.
"This is turning into Sister Wives!" Amber jokes.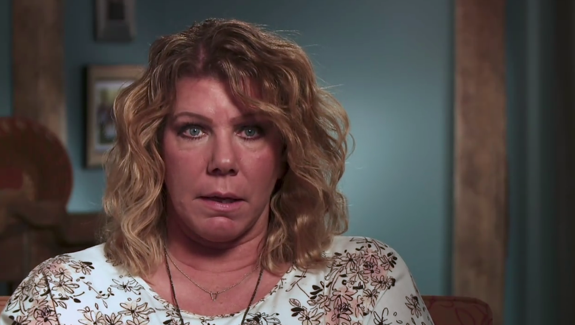 The next day, Kristina drives the hour to take Ambie some baked goods— and see just how serious Amber is about taking Gary's lawn offer.
Amber, who for some reason is wearing her surgical mask like a beard (as you do), tells Kristina that all of her therapy has put her in a good place lately. She says she "did a lot of bad s**t back in the day" and that she now carries a lot of guilt for it. She says that she felt like Leah was better off with Kristina than her for a long time, but now she feels like Leah wants Amber in her life, too.
"She's just like you," Kristina tells Amber of Leah.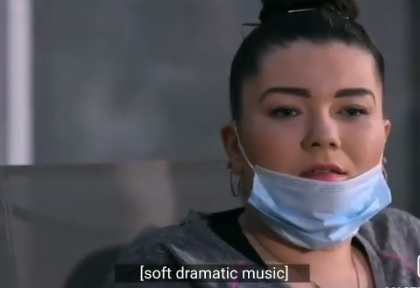 That's it for this episode of 'Teen Mom OG!' To read The Ashley's other reality TV recaps, click here!
(Photos: MTV)