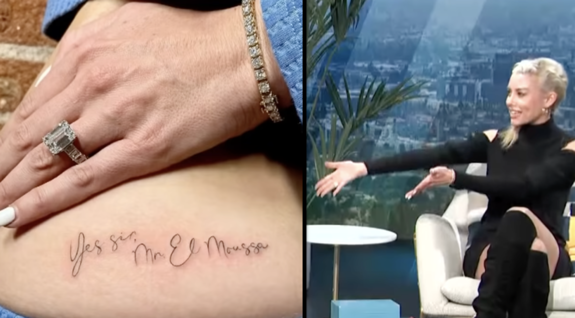 Less than a week after revealing her freshly-tatted backside on social media (and getting a lot of hate for it), Selling Sunset star Heather Rae Young is explaining the meaning behind her ink, dedicated to her fiancé, Flip or Flop star Tarek El Moussa.
As The Ashley told you last week, Heather debuted and soon deleted a photo of her tattoo – the words "Yes Sir, Mr. El Moussa" scrawled pretty sizably across her butt – which was met with a butt load lot of criticism on social media, with many followers calling the move "desperate" and "creepy."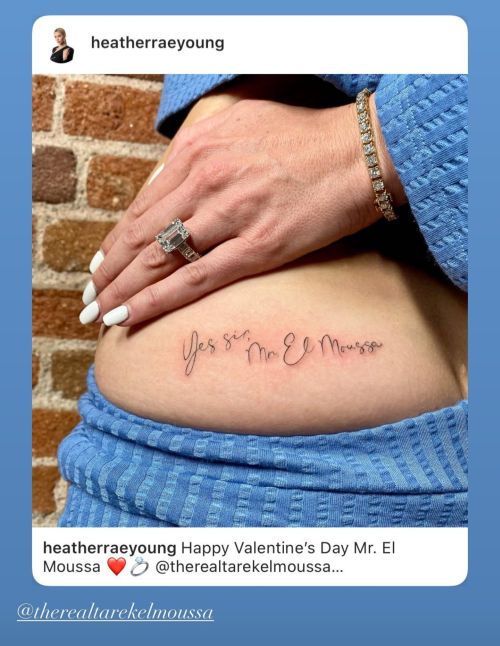 Tarek on the other hand, seemed touched (or something) by the gesture.

"Forever and ever and ever," he replied to Heather's original post.
Though Heather removed the photo from Instagram, she went on to post a video taken from the tattoo parlor, prior to her getting inked and despite many people assuming the tattoo was a "BDSM thing" or a "sex thing," Heather denied those speculations this week during an appearance on E!'s Daily Pop.
When asked about the infamous ink during her interview, Heather – joined by Tarek – explained that the tattoo was "something special" for her future husband, as well as a nod to the nicknames the two use with Tarek's kids, whom he shares with ex-wife Christina Anstead.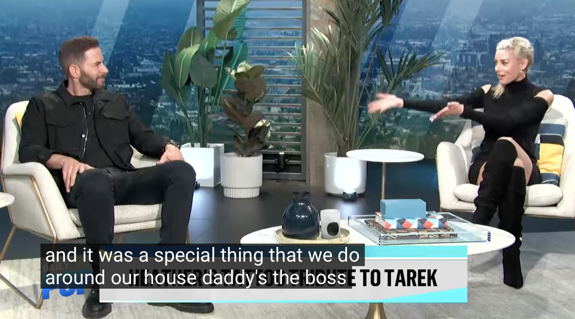 "I will be Mrs. El Moussa, so this is my name," she said. "And it's a special thing we do around the house. Daddy is the boss, I'm the queen of the house. We do it with the kids.
"We say 'Yes sir, Daddy' or 'Yes sir, Mr. El Moussa,' and he says 'Yes ma'am, Mrs. El Moussa,'" she continued. "It's something cute we do around the house."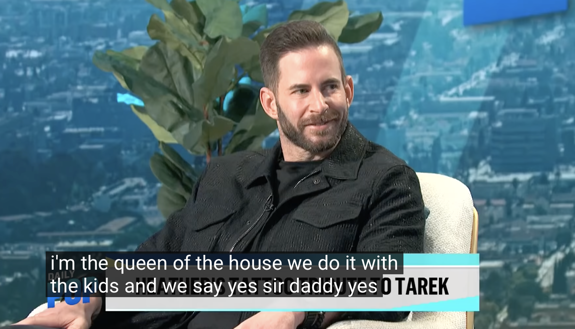 As for the speculation that the tattoo had something to do with her being "subservient," Heather said it had nothing to do with that, though Tarek confirmed those comments were the reason Heather removed the photo from social media.
"I was like, what is all of this? It's just a cute little thing around the house," Tarek said. "I started reading some of the comments and I was like 'Take it down!'"
Heather went on to say that her tattoo was meant to be "something sweet" for Tarek, but "people blew it up to something it completely wasn't." Still, Tarek said he loved the ink and even went as far as to call it "the best gift" he's ever received.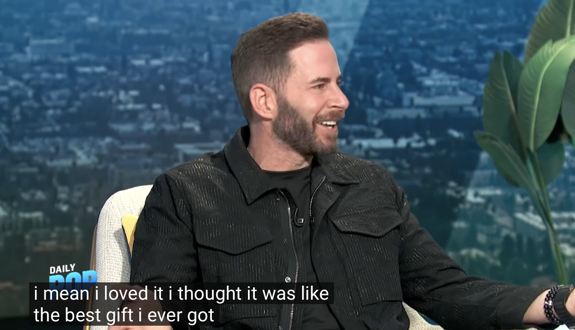 "I mean, I loved it," he said. "I thought it was like, the best gift I ever got. I think it's special. For someone to put a tattoo of our family last name, it's a big deal."
Tarek and Heather got engaged last July during a trip to California's Catalina Island. The two have stated that they planned to get hitched sometime in 2021 and are currently planning their wedding, however, they've yet to reveal an actual wedding date.
RELATED STORY: Ant Anstead Finally Talks About His Surprise Split from 'Flip or Flop' Star Christina Anstead: "Everyone Knows This Was Not My Decision"
(Photos: Instagram; E!; YouTube)