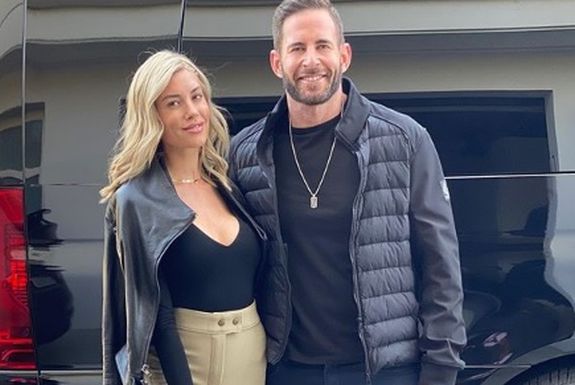 Wedding bells will soon be ringing for Tarek El Moussa and his girlfriend Heather Rae Young!
The Flip or Flop star announced on Saturday that he proposed to Heather— who stars on Selling Sunset— and she accepted. According to People magazine, Tarek proposed on Saturday during a boat trip to nearby Catalina Island. The trip was to celebrate the couple's one-year anniversary,
It appears that Tarek spared no expense to make the proposal special for his future bride.
"She walked down a beach path lined with flower petals and flickering candles and found [Tarek] waiting beneath two 'kissing' palm trees that have grown into each other, making them appear as if they are sharing a smooch," the magazine reported. "An ombré flower arrangement using over 5,000 stems of [Heather]'s favorite blooms, including roses, peonies, dahlias, ranunculus, butterfly lisianthus and hydrangeas, cascaded down the palms."
Heather posted a photo of the actual moment Tarek proposed, along with the caption, "The Future Mrs. Tarek El Moussa!!"
View this post on Instagram
It appears that Tarek also shelled out big bucks for Heather's engagement ring, which according to the magazine, is an "eight carat, colorless, emerald-cut diamond."
"The diamond is perfect all the way around, just like Heather," Tarek told the magazine. "I also picked this ring because 8 is a lucky number."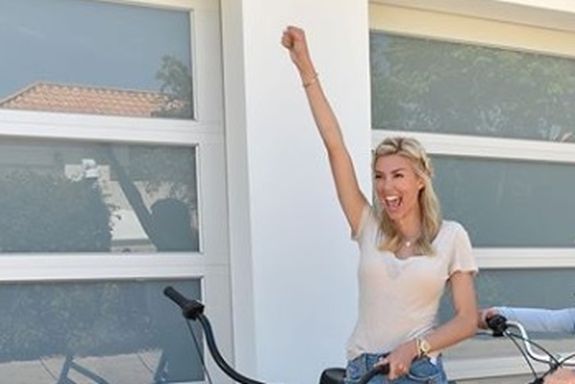 Tarek was previously married to his 'Flip or Flop' co-star Christina Anstead, whom he shares two children with. (They officially divorced in January 2018, and Christina married British TV star Ant Anstead in December 2018.)
Tarek and Heather started dating in July 2019, and moved in together less than a week after their first date. Earlier this month, Tarek took to Instagram to express his thoughts on where his life is currently.
"I can't tell you how happy I am with the life I've built today," he wrote. "I've been through some really dark times and I stop and think about how grateful I am multiple times per day. You just never know where life is going to lead you. If you would have told me a year ago that I'd be in love and have a family again I probably would have thought you were nuts!Well…you never know what the future holds. But I do know this! No matter what, keep fighting for you and never give up hope! What you want is out there, now go find it!"
Tarek's career, in addition to his personal life, is going well. 'Flip or Flop' Season 9 is due to premiere next month, and Tarek's spin-off, Flipping 101 with Tarek El Moussa, was renewed earlier this week by HGTV for a second season. (It is unknown when Season 2 will premiere.) Tarek announced the news on Instagram.
Heather and Tarek have yet to reveal when they plan to get hitched.
RELATED STORY: HGTV Picks Up 'Flip or Flop' for 9th Season, Set to Premiere in August with Tarek El Moussa & Christina Anstead
(Photos: Instagram)