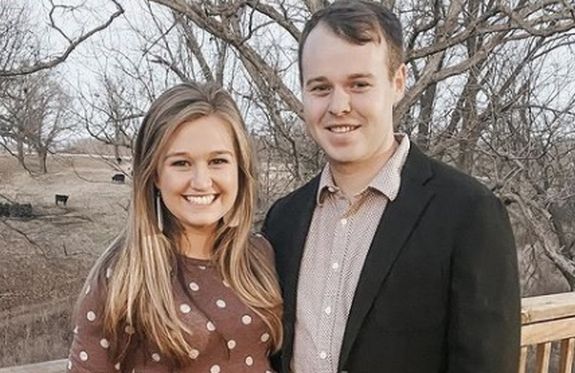 Clear another space on the Duggar Family Tree, because there's a brand-new blessing to add!
Counting On stars Joe and Kendra Duggar announced on Tuesday that they welcomed their third child on Friday, February 19. The baby girl— who is the couple's third child— was given the name Brooklyn Praise (because…Duggar.)
E! News reports that Baby Brooklyn weighed in at 7 lbs., 3 oz. and measured 20.25 inches long at birth. The couple issued the typical "Duggar after-birth" statement to E!
"It seems the entire family is already in love with Brooklyn Praise. Children really are an inheritance from the Lord and we are so honored to be her parents! Thank you for all the prayers and well wishes."
Based on photos posted to the couple's Instagram account, it appears that Kendra gave birth in a hospital, just like she did with her first two babies. (She has always rejected the Duggar homebirth plan.)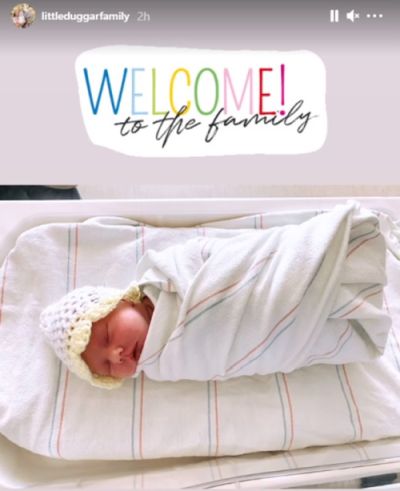 In a video posted to TLCMe, Joe said that the name Brooklyn "really stood out" to them when they saw it in a baby name book.
As for the middle name, "Praise just seemed like a great fit for her," Joe said.
"When I first [got to] hold her and see her, it was a relief that labor was over," Kendra said. "And then getting that joy of seeing her sweet face, it was definitely really rewarding."
Kendra and Joe got married in September 2017 and wasted no time "being fruitful and multiplying." Kendra got pregnant almost immediately after the wedding and the couple welcomed their first child, son Garrett, in June 2018. Soon after, she got pregnant again and, in November 2019, they welcomed their daughter Addison. Just nine months later, Kendra, now 22, was pregnant yet again with Brooklyn.
In a statement to E! News, Kendra and Joe said it feels like they just got married.
"It seems like just yesterday we were at the altar dreaming of a future together, including having children," they said. "Wow, here we are with another new addition and we couldn't be more thankful for her."
Even though Kendra and Joe, like most of the Duggar clan, don't believe in birth control (and instead welcome "however many children God gives them"), Kendra said in a video made for TLCMe they were surprised that she got pregnant again so soon after Addison's birth.
"When I found out that we were expecting, I was definitely super-shocked," Kendra explained. "I didn't really expect another pregnancy this soon but I was having symptoms that made me think I should take a test."
Next up in the birthing stirrups is Kendra's mom. Christina Caldwell, who got pregnant with her eighth child just three months after Kendra got pregnant. (Kendra is the oldest of the Caldwell family's kids.)
After that, it will be Joe's sister, Jessa Seewald, expelling the next Duggar blessing. Jessa and her husband Ben recently announced that Jessa is pregnant with their fourth child.
RELATED STORY: 'Counting On' Stars Jessa & Ben Seewald Are Expecting Their Fourth Child After Suffering Miscarriage
(Photos: Instagram, TLC)