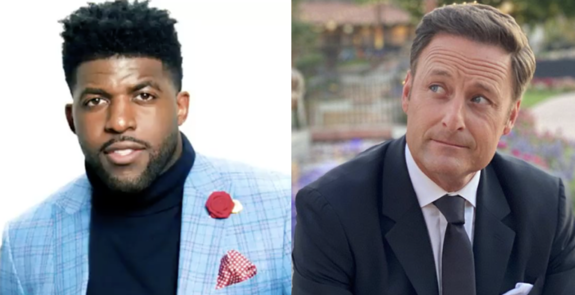 Emmanuel Acho has been named the host of the After the Final Rose special for Matt James' season of The Bachelor, after longtime host Chris Harrison announced in February that he was taking a temporary leave from the show.
Emmanuel, a former NFL linebacker and Fox Sports analyst, hosts a weekly web series, Uncomfortable Conversations With a Black Man, and 'Bachelor' fans will get to see the host in action on Monday, March 15, immediately following 'The Bachelor' season finale, Us Weekly reports.
Hosting responsibilities for the 3- year-old will include a sit-down with Matt and the final three women of Season 25 – Racheal Kirkconnell, Michelle Young and Bri Springs. Emmanuel is set to talk about the season as well as the controversy over Rachael's past racist actions, which led to Chris stepping down temporarily as host of the 'Bachelor' after he defended the contestant during an Extra interview with Rachel Lindsay.
According to TMZ, Rachel, the first Black Bachelorette in the franchise, mentioned Emmanuel as a great option to replace Chris during the host's temporary leave. Rachel had been approached to fill the role herself, though she declined.
Emmanuel confirmed his new gig over the weekend.
"IT'S OFFICIAL: I've accepted the Rose and am honored to be hosting @bachelorabc After the Final Rose this year," he wrote. "It's been a pivotal season and this episode will hopefully be one of the most storied shows in TV history. Empathy is needed and change is coming. Share the news! I'll see y'all then!"
In addition to hosting a podcast, Emmanuel is the author of a book that shares the name, Uncomfortable Conversations with a Black Man, which was a 2020 New York Times Best Seller. He also graduated from the University of Texas with a masters degree and played in the NFL for four years.
Matt was one of the first 'Bachelor' stars to congratulate Emmanuel on his new gig.
"Looking forward to it," he wrote on Emmanuel's announcement post.
"My brother," Emmanuel replied. "I'll see you soon."
Another former 'Bachelorette,' Becca Kufrin, also congratulated Emmanuel.
"Best news, so happy for you!" she wrote.
Longtime franchise host Chris revealed February 13 that he was leaving the show temporarily, assuring viewers he was "dedicated to getting educated on a more profound and productive level that ever before" in the wake of his controversial comments.
Racheal issued an apology for her actions last month as well, and after Rachel – note the different spelling – deleted her social media recently due to hateful comments regarding the controversy with Chris, Racheal defended the former 'Bachelorette' and asked those on social media to "do better. Be better."
" … Rachel Lindsay and other BIPOC have called for myself and others to be held accountable," she said. "This is needed, and she does not deserve the hate she is receiving … she should not have to disable her account to escape this toxicity. This is not OK. She is doing the hard work that needs to be done for change, and does not deserve to be silenced or ridiculed. If you are someone that has been cruel, find what fuels this hate in your heart, and fix it."
The "After the Final Rose" special will Monday, March 15, immediately following the finale of 'The Bachelor.'
RELATED STORY: Chris Harrison Stepping Back from 'The Bachelor' After Defending Rachael Kirkconnell's Past Racist Behavior: A Recap of Events So Far
(Photos: Instagram; ABC)