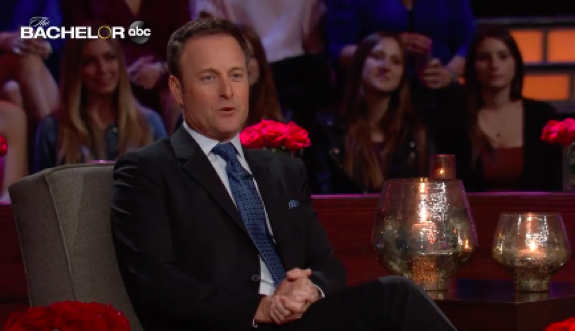 Chris Harrison is taking a break from The Bachelor.
Days after he appeared in a disastrous interview with former "Bachelorette" Rachel Lindsay on Extra to discuss past racist actions by current "Bachelor" contestant Rachael Kirkconnell, the host announced on social media that he's decided to temporarily step back from his duties on the reality show.
"I have spent the last few days listening to the pain my words have caused, and I am deeply remorseful," Chris wrote in a statement posted to his social media accounts. "My ignorance did damage to my friends, colleagues and strangers alike. I have no one to blame but myself for what I said and the way I spoke."
"I set standards for myself, and have not met them," he continued. "Now, just as I taught my children to stand up, and to own their actions, I will do the same. By excusing historical racism, I defended it."
"I invoked the term "woke police," which is unacceptable. I am ashamed over how uninformed I was. I was so wrong.
"To the Black community, to the BIPOC community: I am so sorry. My words were harmful. I am listening, and I truly apologize for my ignorance and any pain it caused you. I want to give my heartfelt thanks to the people from these communities who I've had enlightening conversations with over the past few days, and I am so grateful to those who have reached out to help me on my path to anti-racism."
Chris then revealed that he is planning to leave his job as host of the 'Bachelor' Franchise until he learns more about why his actions and words were wrong.
"This historic season of The Bachelor should not be marred or overshadowed by my mistakes or diminished by my actions. To that end, I have consulted with Warner Bros. and ABC and will be stepping aside for a period of time and will not join for the After the Final Rose special. I am dedicated to getting educated on a more profound and productive level than ever before. I want to ensure our cast and crew members, to my friends, colleagues and our fans: this is not just a moment, but a commitment to much greater understanding that I will actively make every day.
"From here I can only try to evolve to be a better man, and I humble myself before all of you. I hope I will again live up to the expectations you all rightfully have for me and the expectations I have for myself."
In case you missed the interview last week, Chris appeared on Extra to talk about incidences from Rachael Kirkconnell's past, including pictures of her at an antebellum-themed fraternity party in 2018, and why at that point the 'Bachelor' contestant hadn't addressed the allegations. Chris was quick to rush to Rachael's defense and brush past criticism from Rachel Lindsay.
"When is the time, and who is Rachel Lindsay and who is Chris Harrison and who is whatever woke police is out there? I hear this all the time… 'I think he should, I think she should.' Who the hell are you? Who are you that you demand this?" he said in the interview.
Throughout the interview, Chris asked for grace for Rachael in response to the controversy. On the Higher Learning podcast, which she cohosts with Van Lathan, Rachel shared her reaction to the interview.
"I wanted to react so badly," she said. "And if you pay attention to that video, I'm moving my hands together, my foot it is moving, because I'm boiling inside. And the things that were boiling to me the most were the compassion and the grace and the space that Chris Harrison wanted to give to Rachael [Kirkconnell] but couldn't give it to this Rachel in the interview. Couldn't give it to the people that were offended by the things that she did. Where was the compassion for them?"
On the podcast, which posted Friday, Rachel was asked about her future with 'The Bachelor' franchise, which she does have a contractual obligation to.
"I'm f***ing tired," she said. "I'm exhausted. I have truly had enough. My entire reason for doing 'The Bachelorette,' and I was lucky that it worked out for me in the most beautiful way in finding Brian [Abasolo, her husband], is that I wanted to be representative as a Black woman to this audience. And I wanted to pave the way for more people to have this opportunity. In some ways, that has happened. I wanted the franchise to be better.
"I have a love-hate relationship with it," she added. "I'm connected to it. It did stuff for me. And I'll never forget that. But I can't take it anymore. I'm contractually bound in some ways, but when it's up, I am too. I can't do it anymore."
In response, the majority of this season's contestants posted a message of support for Rachel to their Instagram accounts Friday and, without naming Chris Harrison, shared their frustration about racist acts being defended.
"We are the women of Bachelor Season 25. Twenty-five women who identify as BIPOC were cast on this historic season that was meant to represent change.
"We are deeply disappointed and want to make it clear that we denounce any defense of racism. Any defense of racist behavior denies the lived and continued experiences of BIPOC individuals. These experiences are not to be exploited or tokenized.
"Rachel Lindsay continues to advocate with 'grace' for individuals who identify as BIPOC within this franchise. Just because she is speaking the loudest, doesn't mean she is alone. We stand with her, we hear her, and we advocate for change alongside her."
We are in this together!! pic.twitter.com/QHlDTuESJt

— Magi Tareke (@MagiTareke) February 12, 2021
For her part, Rachael Kirkconnell did release her own statement on Instagram earlier today.
"While there have been rumors circulating, there have also been truths that have come to light that I need to address. I hear you, and I'm here to say I was wrong.
"At one point, I didn't recognize how offensive and racist my actions were, but that doesn't excuse them. My age or when it happened does not excuse anything. They are not acceptable or okay in any sense. I was ignorant, but my ignorance was racist.
"I am sorry to the communities and individuals that my actions harmed and offended. I am ashamed about my lack of education, but it is no one's responsibility to educate me. I am learning and will continue to learn how to be antiracist, because it's important to speak up in the moment and not after you're called out. If you are a person who doesn't understand the offence in question, I urge you to learn from my mistakes and encourage you to use them as a teachable moment.
"As for my family, I love them and how they raised me to be my own individual. They have always encouraged me to have my own views, opinions, and beliefs.
"As I was thinking about what I wanted to say, I couldn't help but think about how sick people must be of reading these kinds of statements; how a person didn't realize the trauma that their actions would inflict on other people. It must get so exhausting. I want to put my energy towards preventing people from making the same offensive mistakes that I made in the first place, and I hope I can prove this to you moving forward.
"Racial progress and unity are impossible without (white) accountability, and I deserve to be held accountable for my actions. I will never grow unless I recognize what I have done is wrong. I don't think one apology means that I deserve your forgiveness, but rather I hope I can earn your forgiveness through my future actions."
You can watch the video below to see Chris' controversial interview with Rachel.
(Photos: ABC; Instagram)