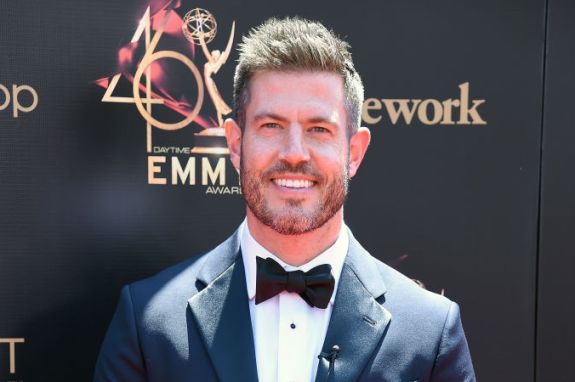 A new host of The Bachelor has been named!
Three months after longtime host Chris Harrison confirmed that he would not return to the ABC franchise (and got a nice chunk of cash as a pay-out), the network has announced that former Bachelor (and current ESPN analyst) Jesse Palmer will take over hosting duties for the next season of 'The Bachelor.'
Variety confirmed the news on Tuesday, as did Jesse, who released a statement to the website.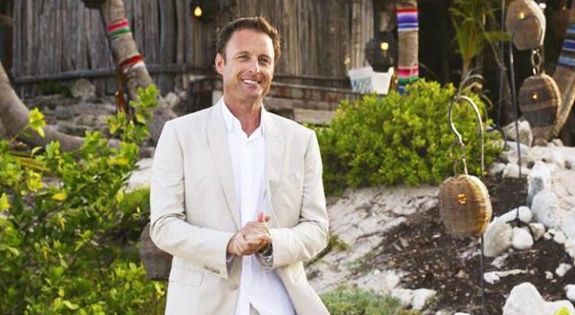 "For more than 20 years, 'The Bachelor' has brought the world dozens of unforgettable love stories, including at one time, my own," Jesse stated. "Falling in love is one of life's greatest gifts, and I am humbled by the opportunity to return to the show as host this season to offer the newest Bachelor advice gained from firsthand experience and I am grateful to play a small part in his journey."
Jesse's "journey" happened in 2004 during Season 5. It is memorable due to Jesse committing a major mess-up, mixing up two girls' names at a Rose Ceremony. (Producers went on to change how Rose Ceremonies are filmed to ensure this never happened again.) At the end of Jesse's season, he chose Jessica Bowlin, but they broke up shortly afterward. (Jessica did not do any more reality TV and has seemingly distanced herself from all things 'Bachelor' in the years since.)
On Tuesday, Jesse posted a photo of himself in front of the Bachelor Mansion.
"Bachelor Nation- I couldn't be more thrilled to be home with my @bachelorabc family!" he captioned the pic. "Word on the street is it's pretty AMAZING around here!"
View this post on Instagram
In addition to his EPSN hosting duties, Jesse has hosted the reality shows The Ultimate Surfer and The Proposal (both for ABC), and has acted as a special contributor for Good Morning America (which also airs on ABC).
ABC did not indicate if Jesse will also be taking over hosting duties for the other Bachelor Franchise shows, including The Bachelorette and Bachelor in Paradise. He will begin hosting duties for Season 26 of 'The Bachelor,' which will air in 2022. (Former 'Bachelorettes' Tayshia Adams and Kaitlyn Bristowe will host the upcoming next season of 'The Bachelorette' starring Michelle Young.)
While ABC has not confirmed how long Jesse will host the show, Bachelor Franchise expert Reality Steve believes that Jesse will likely be in for the long haul.
"What I've heard and I've been saying for the last month, was that they were looking for a new permanent full-time host to replace Chris Harrison," Reality Steve reported on Wednesday. "I highly doubt Jesse is gonna be a one season host. That doesn't make a lot of sense. I would think he's definitely the Bachelor/ette host, with BIP in question."
Chris stepped back from his hosting duties in February after coming to the defense of 'Bachelor' contestant Rachael Kirkconnell when pictures surfaced of her attending a Southern plantation-themed party. Chris defended Rachael during a now-infamous interview with former 'Bachelorette" Rachel Lindsay.
"When is the time, and who is Rachel Lindsay and who is Chris Harrison and who is whatever woke police is out there? I hear this all the time… 'I think he should, I think she should.' Who the hell are you? Who are you that you demand this?" he said in the interview that led to his decision to take time away from the franchise and brought swift members of this season's cast, who took to Instagram to denounce Chris' comments and show their support for Rachel.
After receiving a great deal of backlash, Chris confirmed in June that he would be leaving his job on the Bachelor Franchise for good.
While Chris has yet to publicly comment on Jesse being named as his replacement, he did respond to a fans' comment on Instagram on Wednesday, indicating that we probably haven't seen the last of Chris Harrison.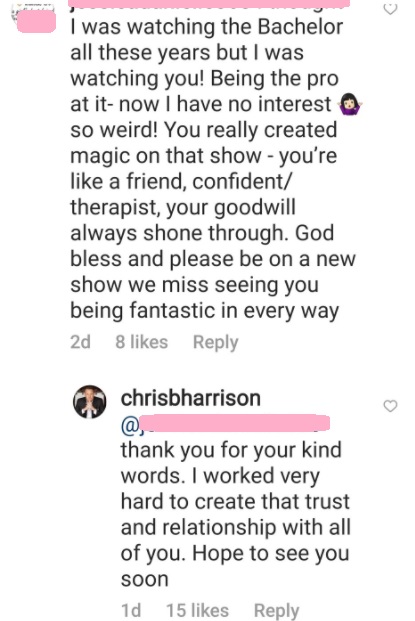 "You really created magic on that show," the fan wrote to Chris. "You're like a friend, therapist, your goodwill always shone through. God bless and please be on a new show…"
"I worked very hard to create that trust and relationship with all of you," Chris responded. "Hope to see you soon."
After Jesse was announced as the new host on the official 'Bachelor' Instagram page, fans seemed less-than-thrilled with the choice.
View this post on Instagram
Many expressed that they had been hoping that Wells Adams (who is currently bartending on 'Bachelor in Paradise') would take over hosting duties. Others screamed for Chris to come back, while some just wanted to know who the heck Jesse Palmer is.
Watch the clip below from Jesse's season of 'The Bachelor' to see him give the wrong girl the rose (because, honestly, this cringeworthy moment never gets old!)
RELATED STORY: Chris Harrison Talks Post-'Bachelor' Life After Pocketing Nearly $10 Million for Leaving Franchise: 'We're Doing Great!'
(Photos: Gregg DeGuire/Getty Images; Instagram; ABC)