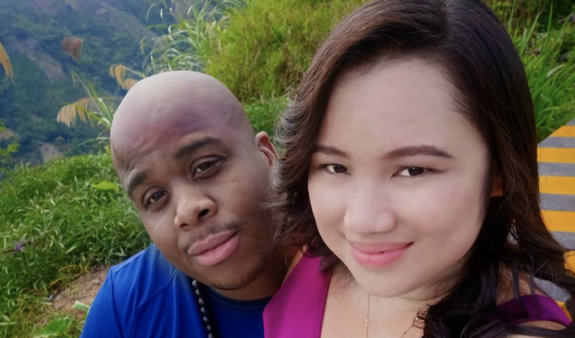 Dean Hashim and girlfriend Rigin Bado of 90 Day Fiancé have welcomed their first child together.
The couple's son, Marshawn Bado Hashim, was born March 8 – three weeks before his due date – weighing 7 lbs. and 1 oz., TLCme reports.
According to Dean, Marshawn is a "great baby" who "mostly just chills" with his parents and "loves to be held." Dean also shared that his son's name means "God is good" because he and Rigin consider the newborn a blessing.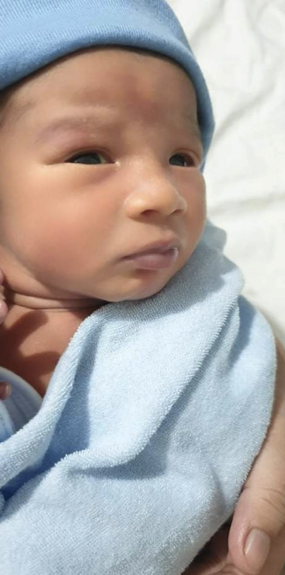 "Rigin was told that because of a condition she has called Polycystic Ovarian Syndrome or 'PCOS,' she would have much difficulty having a baby – and also the fact that Baby Marshawn was three weeks early and STILL weighed 7.1 pounds and did not even need incubation," he said. "We're sooo happy the baby is healthy and strong, even though he came early."
While Marshawn is the first child for the couple, Dean is also a father to teenage daughter, Brianna, whom he congratulated on social media last year after the teen was accepted to college.
Dean told Us Weekly his daughter was on-board with the idea of having a younger sibling because she "just wants her daddy to be happy." At the time, Dean said he knew Rigin would make a great mom because of the connection she has with her nieces and nephews.
"They're running behind her, hugging her, everything like that because she's got such a good, giving and nurturing spirit," he said. "I'm like, 'Dude, you were meant to be a mom.'"
Though the former 90 Day Fiancé: Pillow Talk star –- who first appeared on his brother Tarik Myers' season of "90 Day Fiancé" –- initially wasn't sure he wanted more children, he reportedly had a strong reaction after his girlfriend previously suffered a miscarriage, which helped him realize that he did want to expand his family.
"And that's how I came to the realization," he said. " … I finally found someone who I do want to spend the rest of my life with. I felt like I got happy."
Still, the pair were surprised to find out Rigin was pregnant again and Dean was even more surprised when they found out they were expecting a boy.
"Everybody knows I love my daughter to the moon, to the stars, she's my princess, my mini-me, but I've never had a son," he said. "I don't know what it is to be able to teach him how to throw a football and play baseball … like all the stuff my dad taught me. My dad was a giant to me, rest in peace, and I hope that I can match up to that."
Earlier this month, Dean posted a video on social media showing Rigin "in all her pregnant glory." In the caption, Dean told fans there was "no more #teamdean WE ARE #teamlove!"
Fans can catch up with Dean and Rigin on 90 Day Diaries, currently available for streaming on Discovery+.
RELATED STORY: "90 Day Fiancé" Star Angela Deem Reveals Dramatic New Look After Undergoing Weight Loss Surgery, Liposuction & Breast Reduction
(Photos: Instagram; TLCme)