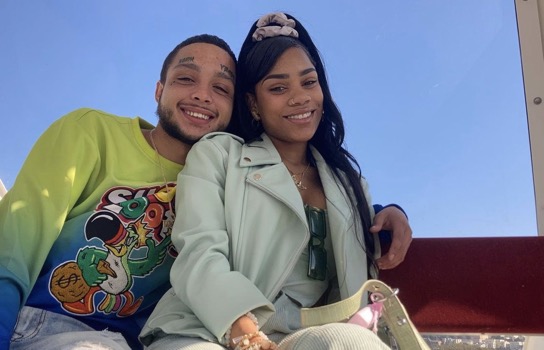 Ashley Jones, the latest addition to Teen Mom 2, is already off to a solid start in the drama department, given the recent arrest of her baby daddy Bar Smith, and this week, some family drama involving her future mother-in-law.
For those of you who have a life missed Tuesday's episode of 'Teen Mom 2,' Ashley planned a surprise party for Bar and both of his eyebrow tats and made the decision to invite Bar's mom Shen Williams, despite not being Shen's biggest fan in the past. Shen ended up spilling the beans about the Shendig shindig to her son, ruining the surprise and ultimately, getting herself kicked off of Ashley and Bar's invite list for their upcoming nuptials – which have yet to be planned.
After the episode aired, Ashley, Bar and Shen all took to social media to tell their sides of the story.
Shen started things off on Tuesday night by stating that she wasn't even aware Bar had received his GED until he announced it online. Not only that, but she insisted that isn't even supposed to be mentioned on the show at all. (The Ashley assumes that she means she did not sign a contract to appear on the season. However, even if that's the case, she could still be mentioned but not shown on-camera.)
"…I will say this once. I don't film. I don't do the show and for sure knew nothing of [a surprise] party," Shen wrote. "I found out on social media my son got his GED. So please don't come for me! I didn't spoil anything. I wasn't a part of it. I'm not even supposed to be mentioned on the show period! The storyline again is a lie!"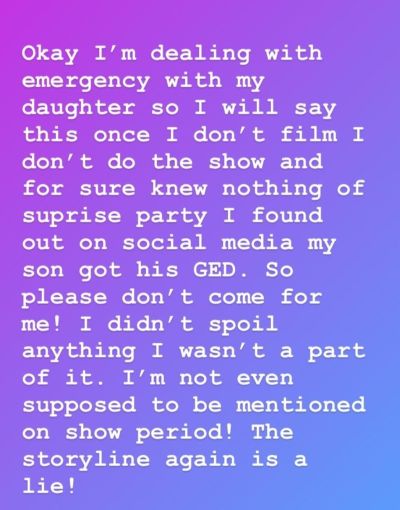 Ashley was accused by a viewer of using the drama surrounding the surprise party for a storyline; however, she was quick to put that rumor to rest, and let the viewers know that her long feud with Shen is over.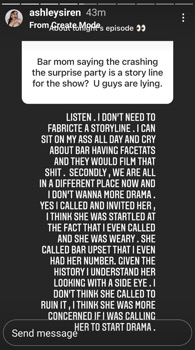 "Listen, I don't need to fabricate a storyline," she responded to the claim in an Instagram Story. "I can sit on my ass all day and cry about Bar having face tats and they would film that s**t. Secondly, we are all in a different place now and I don't wanna more drama. Yes I called and invited her, I think she was startled at the fact that I even called and she was [wary]. She called Bar upset that I even had her number. Given the history I understand her looking with a side eye.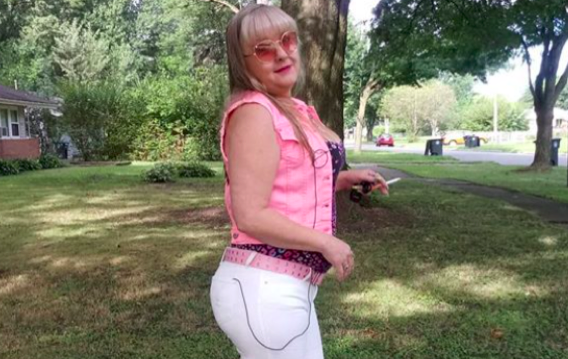 "I don't think she called to ruin it," she continued. "I think she was more concerned if I was calling her to start drama."
Ashley went on to claim that fans didn't get to see footage Bar's party courtesy of the MTV crew because the network had "some super COVID restrictions in terms of our crew and their safety procedures." She also explained why Shen didn't even bother showing up to the festivities.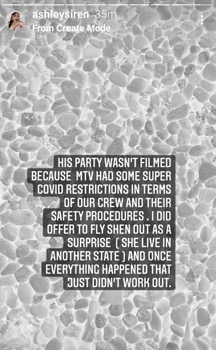 " … I did offer to fly Shen out as a surprise (she live in another state) and once everything happened that just didn't work out," she said.
Like Ashley, Shen also appears to be "in a different place now," as she took to Instagram Wednesday to stick up for herself, her son AND her future daughter-in-law.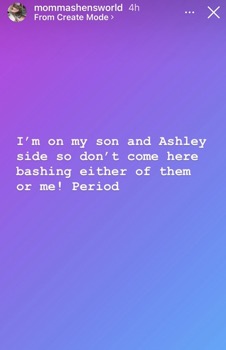 "I'm on my son and Ashley side so don't come here bashing either of them or me!" Shen wrote. "Period."
She also revealed that
In the comment section of one of Bar's recent Instagram posts, Shen talked about ending her feud with Ashley.
"Well we went they some things [I am] just happy we all good and we gonna do what it takes to keep it this way and make it better each day," she wrote.
RELATED STORY: 'Teen Mom 2' Star Briana DeJesus Announces Her Engagement to Javi Gonzalez: Check Out Her Engagement Ring!
(Photos: MTV; Instagram)