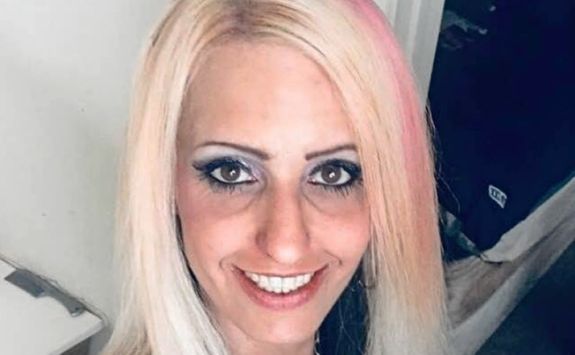 Mark Wagaman, brother of Love After Lockup star Tracie Wagaman, sat down for an interview with YouTuber Sharrell's World this week to talk about Tracie's sudden death, as well as how the Wagaman family is coping with the tragic news and the message he has for those speculating about the way in which Tracie died.
Tracie, who appeared on both 'Love After Lockup' and Life After Lockup, passed away unexpectedly July 1, one week after giving birth to her second child, a baby girl whom she was reportedly planning to place for adoption. (This has not been confirmed, however.)
During the interview, as reported by Starcasm, Mark revealed that he learned of Tracie's passing Friday morning as he was leaving his house to go to work.
" … I got a call from a Vegas number, which I didn't answer it at first," he said. "The call ended and I called back. It was an investigator. 'Hi. Are you Mark Wagaman, Tracie Wagaman's brother?' I said, 'Yes ma'am.' 'She passed away last night in Vegas.'"
After the phone call, Mark said he walked over to his mom's house. When he woke her up, Mark said she seemed to know something bad had happened, and began asking "what's wrong?" – Mark then revealed to his mom that Tracie had died.
"I don't wish this on anybody," Mark said of breaking the news to his and Tracie's mom. "The screams – I don't wish it on anybody. It was the most horrible thing I've ever dealt with in my life."
Mark said his mom is "not in good shape" at the moment and though she has her moments "when things seem to be getting OK," it will be "a timely process."
When asked if he watched his sister on 'Love After Lockup,' Mark said he and his son watched an episode and he may have watched half of another episode himself, but beyond that, he "just couldn't do it."
" … A lot of it on the show, you know, some of it's true, yeah, some of it's scripted, you know," he said. "Some stuff I knew was a lie on there, you know, and I just, I didn't want to do that to myself. I just said, 'I just want to live my simple life.' I didn't want to stress about things I had no control over."
When asked if he was aware his sister had been fired from the show after three seasons "because of her drug problems and not being on time," Mark said he "sure didn't."
Mark added the "whole TV show" just "drove [him] nuts." He also confirmed rumors that his mother did not get along with the mother of Tracie's ex-husband Clint Brady.
"Oh yeah," he said. "Yeah, they don't [get along]. She does not care for that woman, not one bit."
Mark claims Clint's mom frequently questioned his mom about why "her daughter did this and did that," which Mark and Tracie's mom did not appreciate. Despite Tracie's substance abuse issues, Mark said Tracie was still close to their mom and spoke to her every day.
As for Clint, Mark said he hasn't reached out to the family since Tracie's death. In fact, Mark said he's never spoken to him in person ever.
"Personally I've never talked to Clint in my life, or at least on the phone," he said. "But yeah, I just checked with my mom a couple minutes ago to verify it and no, he has not reached out to her either."
As for Tracie's relationship with Luke Loera, the father of Tracie's baby girl, Mark confirmed that he knew about the couple's domestic violence issues.
Mark spoke very highly of his sister, the kind person she was and the loving childhood they had before thanking those who have reached out following her death.
" … If any of her people that are follow her, fans or whoever, just had a minute to spend with her, man, I guarantee you they'd love her, which we're seeing," he said. "I'm seeing a lot of that now. I guess I didn't even realize how much she was loved."
As for the advice he would give to other people who have friends or family members battling substance abuse, Mark said though he's dealing with a lot of personal guilt, he would tell others to "just do what you can for your loved ones."
" … I'm telling you, you don't want to live with these regrets," he said. "I know it wasn't my fault but you know, it comes and goes like I said, the what ifs and it's, you know, it's just such a horrible feeling."
According to Mark, there is currently an open investigation into Tracie's death, as "nobody knows what's going on." Until the family has answers, Mark has asked the public to "please stop spreading rumors" about Tracie, as they don't know what happened to his sister either.
"Please stop," he said. "It's not right, you know? How dare you, you know, say stuff about somebody who can't defend themselves … As of right now, yeah, our family will defend it and you know, stop – please, please stop."
Mark has also created a GoFundMe to cover the cost of Tracie's funeral, with plans for any additional money to go to Tracie's children as well as a donation to a domestic violence organization.
Watch Mark's full Sharrell's World interview below.
RELATED STORY: 'Love After Lockup' Star Tracie Wagaman Dead One Week After Giving Birth; Her Brother & Mother Confirm the News
(Photos: Instagram; YouTube)