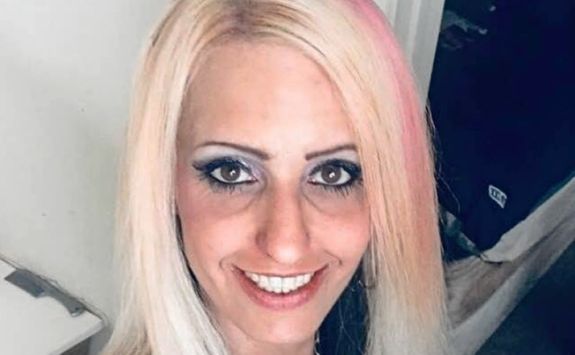 Luke Loera appeared on Instagram and YouTube Saturday to talk about his late girlfriend, Love After Lockup star Tracie Wagaman, and seek answers about her death. Tracie died on July 1, one week after giving birth to a baby girl reportedly fathered by Luke.
In a five-minute Instagram Live video posted Saturday afternoon, Luke shared what he knows about Tracie's death, which is currently under investigation.
"This is Luke Loera and I know about the news that's going on, Tracie Wagaman is dead, I guess," he said in the video. "According to the news and the Starcasm and everything else like that, and according to … according to Katie that she died after she got pregnant or after she gave birth, labor, I have no idea what that means, I don't even know if that's true."
Luke also revealed that he is fresh out of the slammer, and has no idea where his daughter currently is, but that she's not with him.
" I'm telling you right now that, no, I don't have my girl," he said. "I'm OK, I'm good. It's crazy, I just got out of jail. … It just sucks. The baby's in California or with [Tracie's] brother."
While Tracie's cause of death has yet to be officially confirmed, Luke stated that he had his own theory about what caused her demise.
"I suspect foul play. I don't know who did this but whoever did this should pay for this," he said. "I think it was foul play, I think she got some type of drug, which was fentanyl, I did a little investigation on myself, and I don't know all the details. I thank you guys for your support and I will always be here. I don't know what happened, her mom and her brother will not talk to me. Whoever did this, I swear to God, I will find you and I will, I will make you guys pay."
Luke has honored Tracie by composing a song for her.
"I have a track that's in tribute to Tracie and … and the tribute is a track that I did," he said. "I did one take, my homeboy put it together really quick so it might sound a little screwy, but I got Amzi and I got Lisa also putting it out there on their YouTube channel and in all reality, honestly, all I want to know is just some answers, you know."
He shared his phone number in the live video and asked people to call if they knew anything about Tracie's death.
Later Saturday, Luke participated in a 90-minute Q&A on the Amzi Beloved & Friends YouTube channel to talk more about Tracie and to debut the track he recorded in her memory. In the interview, Luke shared that he'd spoken to Tracie the day she died.
"She had the baby, she told me, and she said it was a baby girl," he shared of their last phone call. "I asked her if she was OK, she said that she was, and so, after that, I like never heard from her again."
Luke also talked about his dad letting him know that Tracie had died while he was in jail.
"He told me about 22 days later after she passed, that's how I found out, and I thought she was just, you know, probably busy or something or maybe she was resting due to the surgery or whatever the case may be, but I guess that wasn't the case, so," he said in the interview.
During the interview, Luke confirmed that he and Tracie had decided to give their baby girl up for adoption but were hoping to regain custody.
"Yes, that was our discussion, we had agreed to doing that and we were going to try to get the baby back as soon as we could get ourselves straight and get ourselves more motivated and out of our situation that we were in," he said.
In addition to her newborn daughter, Tracie was also mother to a four-year-old son. Her family has set up a GoFundMe to help cover funeral costs and raise money for her children. The family has raised $4,880 of its $5,000 goal.
(Photo: Instagram)