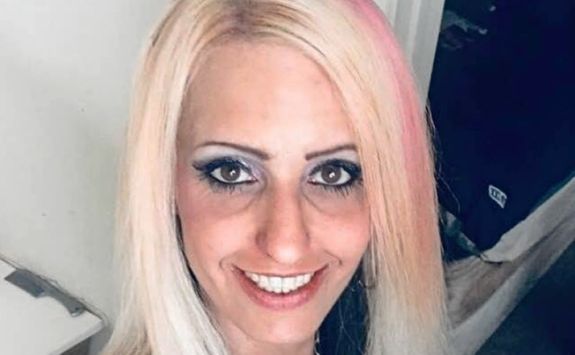 The cause of Love After Lockup star Tracie Wagaman's July 1 death has been determined.
A a coroner's report confirmed the 41-year-old died from an accidental meth overdose, with the Las Vegas Coroner's Office ruling Tracie's official cause of death to be methamphetamine toxicity.
Tracie's death occurred just a week after she gave birth to her second child, a baby girl whom she was reportedly planning to place for adoption. (This has not been confirmed, however.) Tracie announced her pregnancy in May, choosing at the time to delay the announcement until the baby's father, Luke Loera, was released from jail. According to Starcasm, Luke had been arrested for getting into a fight with a casino security guard and reportedly pulling out a machete.
Earlier this month, Luke posted an Instagram Live claiming to know very few details about Tracie's death. He also revealed he had no idea where his infant daughter was at the moment, but that she was not with him.
"I'm telling you right now that no, I don't have my girl," he said. "I'm OK, I'm good. It's crazy. I just got out of jail … it just sucks. The baby's in California or with [Tracie's] brother."
Luke also said he suspected foul play in Tracie's death.
" … I think she got some type of drug, which was fentanyl, I did a little investigation on myself, and I don't know all the details," he said. "I thank you guys for your support and I will always be here. I don't know what happened, her mom and her brother will not talk to me. Whoever did this, I swear to God, I will find you and I will, I will make you guys pay."
Following the news of his sister's death, Mark Wagaman created a GoFundMe to cover the cost of Tracie's funeral, with plans for any additional money to go to Tracie's children as well as a donation to a domestic violence organization. The fundraiser hit its goal of $5,000 and has since been disabled.
On July 8, Mark updated the GoFundMe page to include info about Tracie's memorial service, which he wrote was attended only by "a few family members and a few friends who have battled for her."
"The pain was real. The tears were real. The love was real. What do you do when you've been told you have 15 minutes left to say goodbye?" Mark wrote. "You drain your body of all the love you have in it. You cleanse it with so many tears Watching my son lose it while saying his goodbyes absolutely killed me. I can't imagine what my mom, who is the strongest most loving person I know, is going through saying her last goodbyes.
"She was so beautiful and peaceful. This is by far the hardest thing I've had to deal with in my life…We know she is at peace now," Mark wrote on the page. "She will be with us forever. She was loved by so many. She will be missed, loved, and never forgotten."
RELATED STORY: Luke Loera Opens Up About 'Love After Lockup' Star Tracie Wagaman's Death & Their Baby Born Before Tracie's Death; Releases Tribute Song
(Photos: Instagram)