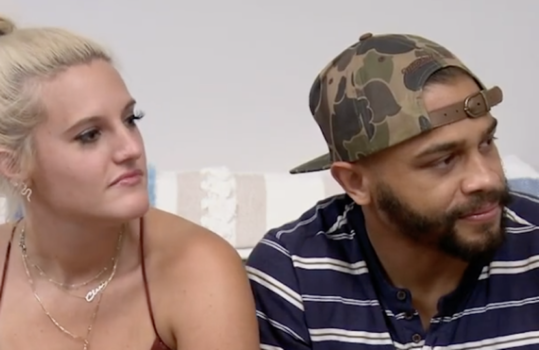 Another Married at First Sight Season 12 couple has called it quits, just weeks after Erik Lake and Virginia Coombs' divorce was finalized.
Ryan Oubre and Clara Berghaus revealed on social media this week that, like their co-stars, they too have decided to split.
The decision to break up seems to be a recent one, though, as Clara was recently showing the Save the Date cards she was making for a vow renewal ceremony she and Ryan were due to have later this year.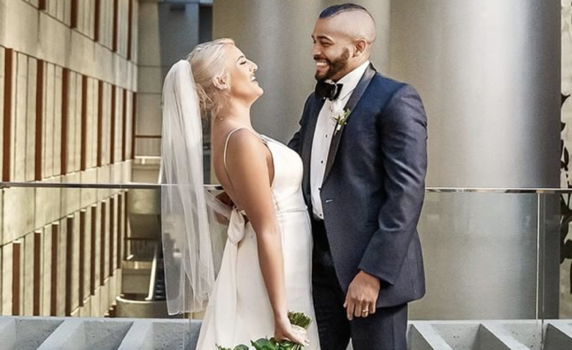 "After taking some time away from cameras, we have reached that point in our marriage where we know it's better to go our separate ways," the couple said in a joint statement. "It's not an easy decision to make it, nor do we take these next steps lightly. Grateful to all who stood by us, and continue to stand by us as we make this very difficult decision. It goes without saying, we remain friends and hope for nothing but the best for each other."
Clara posted the same statement to her Instagram Story and went on to tell her followers "for obvious reasons" she would be taking a break from social media to focus on herself.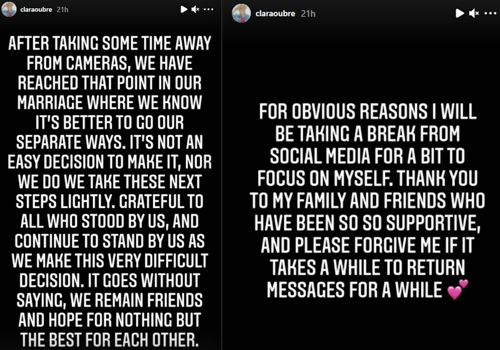 "Thank you to my family and friends who have been so so supportive, and please forgive me if it takes a while to return messages for a while," she added.
Ryan and Clara were one of three Season 12 couples who chose to stay married on Decision Day, though their announcement and Erik and Virginia's recent divorce leaves just Briana Miles and Vincent Morales standing as the last remaining married pair of the season.
Throughout Season 12, which aired earlier this year, viewers saw Ryan and Clara deal with intimacy issues, disagreeing on the ways in which they give and receive affection. While Clara wanted Ryan to verbally express his love to her as well as heat things up in the bedroom, Ryan was hesitant, as he had never been in love before.
Still, the couple chose to stay together on decision day and committed to work on their relationship. On the reunion, Ryan expressed his love to Clara and the couple shared positive updates on their relationship, however, they didn't confirm whether they had been physically intimate.
The news of the couple's split shocked some 'MAFS' fans, given that recently, the two had been planning a vow renewal ceremony to be held on New Year's Eve. Clara even revealed the save the dates for the upcoming event in a DIY video she posted on TikTok.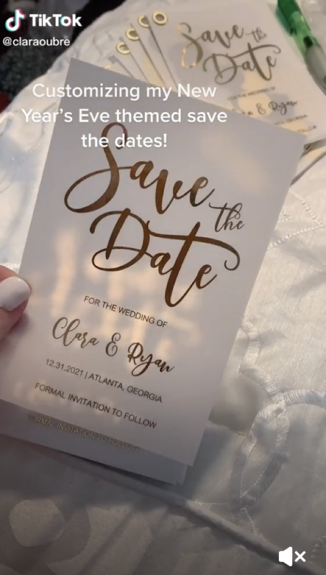 Things between the couple also appeared to be going well back in May, as Ryan gave his soon-to-be ex-wife a social media shoutout, which has since been deleted. In the post, as reported by People, Ryan shared a photo of himself and Clara, writing: "No one will ever know our love story, because it's ours, it's a moment in time that we'll hold on to that no one else can have. No camera, no TV, no one else – just us, the only way we would want it."
Ryan said the photo reminded him of when he knew "we were going for it." He went on to thank Clara for loving him "on the days it wasn't like this picture and on the days it was."
As of press time, Clara was still using Ryan's last name on her Instagram bio. However, there were no photos of Ryan on her profile.
RELATED STORY: 'MAFS' Season 12 Couple Erik Lake & Virginia Coombs Are Officially Divorced; Chris Williams Calls Them Out & Accuses Erik of Being an Alcoholic
(Photos: Lifetime; Instagram; TikTok)