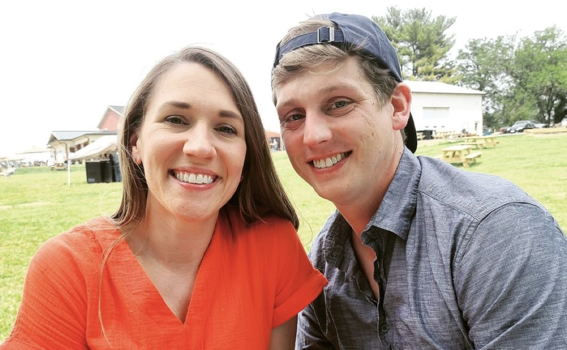 Jessica Studer and Austin Hurd of Married At First Sight are expecting their first child together.
The Season 10 couple, who will celebrate their second wedding anniversary next month, told People they are excited about their new adventure, as they both knew they wanted to be parents when they met.
"Now that we have been married for almost two years and are a little more settled with a house, we are as ready as we can be," Jessica said. "I know Austin is going to be a great dad and I can't wait until November 2021 to meet baby H."
On MAFS: Couples Cam, Jessica and Austin discussed when would be the right time for the two of them to start a family.
"I just want to make sure we're 100 percent ready because it's just such a big, life-changing decision," Austin said. "I don't want to rush into it even though we rushed into marriage."
The parents-to-be are already dog parents to Rex – a rescue dog whom Jessica says has "brought so much energy" to the Hurd household.
Season 9's Deonna McNeill and Greg Okotie were the last couple from the 'MAFS' franchise to grow their family.
The pair welcomed their first child, a baby boy named Declan, in February.
RELATED STORY: 'Married At First Sight' Season 12 Couple Ryan Oubre & Clara Berghaus Announce They're Divorcing, Despite Recently Sharing Plans for a Vow Renewal Ceremony
(Photos: Instagram)