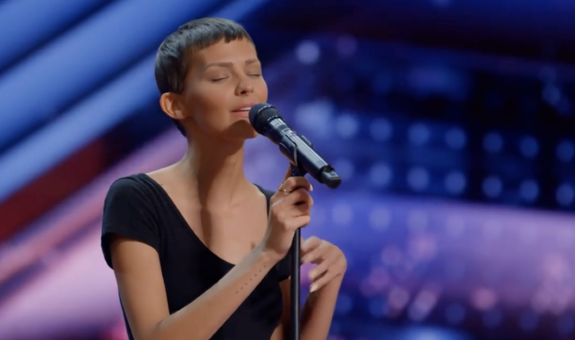 America's Got Talent star Nightbirde updated fans about her cancer diagnosis this week, days after announcing she was leaving the singing competition to focus on her health.
Nightbirde– whose real name is Jane Marczewski– revealed on Cuomo Prime Time that she has been "curled up in a ball like a cocktail shrimp, having an A-plus pity party" for herself, The Sun reports. Jane went on to tell host Chris Cuomo that it has "been a bad, bad month."
"It's been really, pretty devastating," she added.
The Golden Buzzer recipient announced this week that she would be leaving the 'AGT' competition because her health had "taken a turn for the worse and the fight with cancer is demanding all of my energy and attention."
Though she didn't go into details at the time, Jane revealed this week that she made the difficult decision to exit the show after receiving news that cancer has "taken over" her lungs and liver.
"I'm not a quitter," she said. "So it was really, really hard for me to say that I couldn't finish the show. I got shocking news less than a week ago about cancer regrowth that has taken over my lungs and liver. So my liver right now is mostly cancer. More cancer than liver in there right now."
Still, the three-time cancer survivor said she is "planning my future, not my legacy."
"Some people would call that blind denial," she said. "I prefer to call it rebellious hope. And I'm not stopping anytime soon."
Jane encouraged others to have the same mentality.
"Don't you want to see what happens if you don't give up? Don't you want to see what happens? And that's what I keep saying to myself and that's what I say to everyone watching tonight. Don't you want to see what happens if you don't give up?"
Jane credits her "rebellious hope" to the "many blows to the gut in a row" she's faced over the past several years.
" … you find out what you're made of in a sense, and you're given the opportunity to choose what you want to become," she said.
Jane reposted her interview on Instagram, thanking fans for their generosity and belief in her.
"The juxtaposition of all the miracles and tragedy is truly astounding, but I think this is what it feels like to be alive," she added. "I love you, everyone."
While 'AGT' judges Heidi Klum and Sofia Vergara showed their support for Jane on social media after learning she was leaving the show, Simon Cowell– the judge that honored Jane with the coveted Gold Buzzer this season– reportedly reached out to the singer after hearing the news.
"She made a big impact on him, he thought her audition was amazing and from the heart," a source told The Sun. "He was genuinely really upset to hear about her cancer, it really affected him and anyone watching could see he was close to tears.
"They spoke on the phone for a while and Simon offered her any help and support that he and his team can give and told her that the door is open when and if she feels ready to come back," they added. "He just hopes she can beat this and make a full recovery, he thinks she's very talented and an amazing person and was incredibly moved by her audition."
RELATED STORY: 'America's Got Talent' Contestant Nightbirde Quits Show to Focus on Her Health: "The Fight with Cancer is Demanding All of My Energy & Attention"
(Photos: NBC; Instagram)