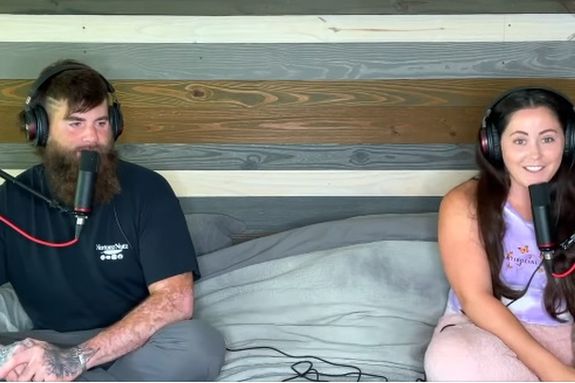 Jenelle Evans released the second episode of her Jenelle Evans Podcast this week and it is quite the treat.
The former Teen Mom 2 star, who brags on the podcast that this is the one place she "can't be cancelled…no matter how hard they try!", has a VERY SPECIAL GUEST on Episode 2. She has brought her husband, David Eason, on to discuss very important topics such as Britney Spears' boobies, dogs pooping on the carpet and his sweat output.
(The Ashley isn't even being funny here; this actually all happened.)
In case you don't have 44 minutes that you can spare so that you can listen to these troglodytes yammer on, The Ashley is breaking down some of the most-ridiculous things discussed during the episode.
After the cringeworthy intro (which contains Jenelle doing a pretend evil laugh), we get an idea of what we can expect from this episode.
Well, I'm workin' out on the boat out in this heat, drippin' buckets of sweat all day," David tells us.
JESUS GOD LEAH. HELP.
The painful 44-minute podcast is full of random pauses. At one point, David even calls Jenelle out for looking at her phone instead of talking.
"I know this is Jenelle's podcast but this is not the silence podcast!" David tells her. "Because Jenelle talks a lot!"
Let's get started before The Ashley starts "seeing molecules" from all this ridiculousness and has to go get an orbital MRI and an eyepatch!
On Britney Spears' & her battle to end her conservatorship:
David and Jenelle got down to business, chatting about some "hot" topics. (Thankfully, David didn't talk any more about how sweaty he is.) The first topic was Britney Spears and her conservatorship…or, according to the Easons, her "conservative-ship."
Sigh.
"I think she deserves freedom," David grunted. "Obviously she wants it, 'cause she posted pictures of her boobies yesterday!"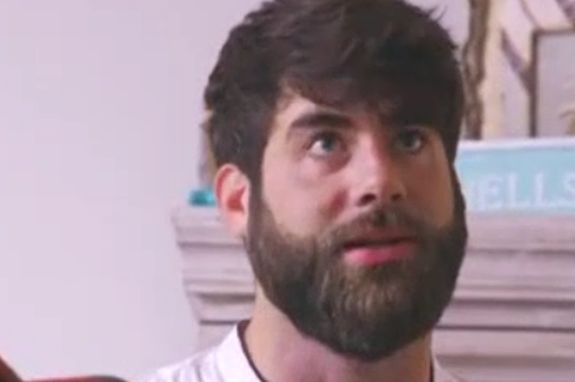 "She wasn't allowed to drive, she had to eat certain things, she couldn't hang out with people, she couldn't have friends," Jenelle said. "Yeah, it's really crazy how she got stripped of her simple, civil liberties."
David— still drooling from the thought of watching Brit's "boobie" video on Instagram— managed to become coherent enough to offer that Britney, "at least deserves to have an attorney…"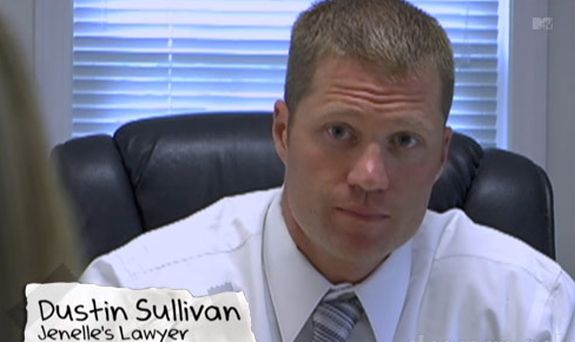 Jenelle then brings up the fact that Britney's dad is in charge of letting Britney see her kids.
"He kept her away from her kids…I know how that feels!" Jenelle snorts, obviously referencing the actions of her own mother, Barbara, who has custody of Jenelle's son Jace, and has since Jenelle was getting "HIGH! HIGH!" with Kieffer on a broken porch swing when Jace was a baby.
Jenelle reveals when Brit's next court date is and then David decides to turn things political, muttering that he'd like to know when Hilary Clinton's next court date is. Jenelle giggles nervously, most likely afraid her super cool podcast will lose the dozen or so listeners it has if David is allowed to rant on about politics.
On the bare-bones lifestyle they're livin' out on The Land: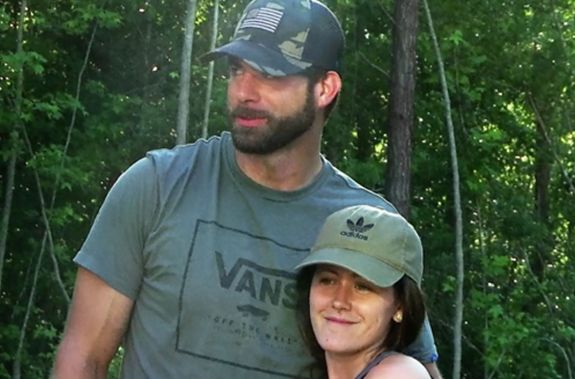 Jenelle and David discussed how there isn't a pizza man within 40 minutes willing to drive to their Swampy Oasis, The Land. David tells the listeners that if he wants to slop some pizza into his gullet, he has to "pay someone" to drive to Wilmington to get the pies.
Jenelle then throws it back, using a phrase that hasn't been uttered by many people (other than the occasional swamp-dweller) since 2001.
"I hope we can get the Internet here soon!" she says.
Currently, Mr. and Mrs. Jenelle Evans are using a hotspot for all of their online needs, but they are hoping to get that spiffy dial-up AOL sometime in the future! While the hotspot from Walmart provides enough Interwebs for the important things, like Twitter and posting videos of Jenelle shaking her cooter and tooter on TikTok, she can't do the things she really wants to do, like stream or game.
David, ever the conspiracy theorist, starts ranting about how if he gets the Internet, the city is going to start doing things like attaching them to the city water. (We can assume that, currently, they just send one of the kids down to the swamp's edge to fill up a couple of giant TGI Friday's margarita glasses a few times a day for their hydration needs?)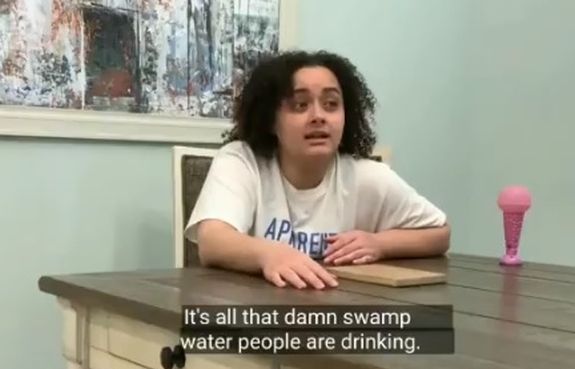 David's not about to pay for water he "don't even wanna drink."
"We can drink water right outta the ground!" he protests. "You ask for certain amounts of help, and then they start helpin' more than you actually want them to!"
David says he's scared that soon there will be "stoplights everywhere" (the horror!)
"You gotta be careful askin' for too much progress!" he says.
On things that are unfair about the Olympics: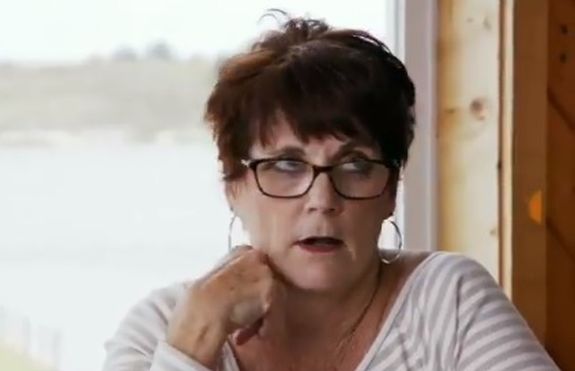 Jenelle and David keep hitting those "hot" topics hard. They discuss how Sha'Carri Richardson was not allowed to compete at the Olympics because she tested positive for THC.
Jenelle and David believe that she should have been allowed to run, despite having smoked the weeeeeed. David says he feels angry that such a big deal was made out of someone getting HIGH! HIGH! when other more pressing issues should be dealt with first, in his opinion. He made it clear that he did not approve of transgendered athletes participating in the Olympics.
"What I don't understand is they allow men to compete as women and that's not considered any sort of enhancement? Like, come on! That's an enhancement but you can't smoke weed? It's a friggin plant!"
They also state that they believe energy drinks should be banned because the artificial sweeteners in them are "really bad."
"It causes cancer, and the government knows it!" David hoots. "You know, the aspartame!"
"Isn't that like…sugar?" Jenelle responds.
Jenelle— who, mind you, used to shoot up heroin in a moldy bathroom with moldy Kieffer— says that energy drinks should be banned because they're so dangerous.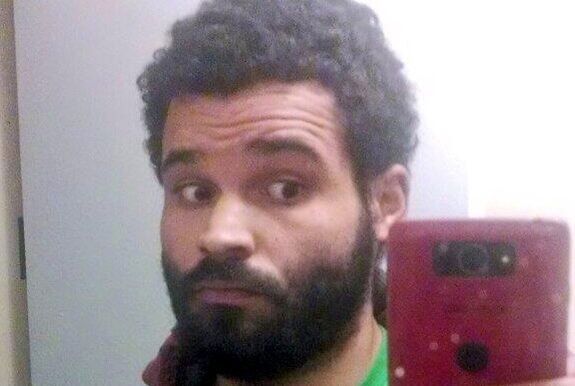 On making the TikToks:
Jenelle informs/warns us that she has a bunch of TikToks she's about to post and "they're all really great."
She also talks about how she's making a bunch of money Tokking Her Tik on the Interwebs.
"The Creator Fund definitely helps out as an extra way of income," she says…without explaining what an "extra way of income" is.
She then gives tips for how YOU can shake your ham hock on TikTok for cash.
"A lot of people post themselves at work!" she says. "Like, it's so easy!"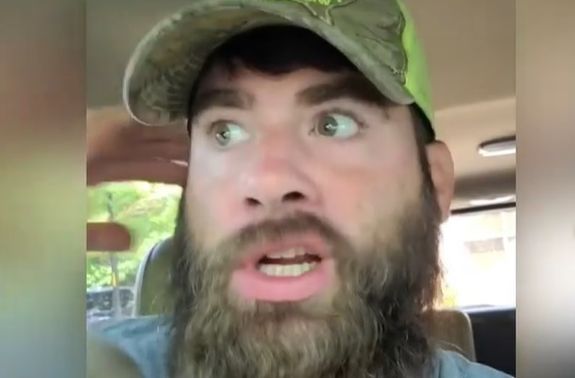 On Jace:
Jenelle and David talk about how Jace is about to turn 12. She then marvels at the fact that we have been watching Jace on TV since he was born.)
"It's pretty crazy because, you guys, everybody has saw me give birth to Jace on TV."
Um…yes…everybody "has saw you."
(Jenelle squeezing Jace from her underage penis fly trap is something that still haunts my nightmares…)
"Now he's 12. It's crazy, 12 years ago. It's a long time but it feels like a blink of an eye. It feels like yesterday he was just, like, turning two."
Various boring/racist topics:
By this point, Jenelle and David are really struggling to find stuff to talk about. In fact, they keep resorting to the classic stalling mechanism, "Ummmmm….?"
To fill the painfully long airtime, David just starts singing (Jesus God Leah…) Jenelle says she wishes she had asked people on Instagram what they want to hear.
Umm…the sound of you putting your podcast equipment away and torpedoing this horrible podcast idea?
Naturally, David keeps things cringy by doing some weird stereotypical Asian accent. (I think that's what he was trying to do? Regardless, it was terrible, not to mention reeking of racism…)
On her haters trying to cancel her & how she's different now.
Jenelle and David agree that Instagram is "evil" and that people are always trying to use it to get rid of Jenelle and stop her from making money by hawking crappy products on The 'Gram.
"I post one thing and they go cancelling me!" Jenelle cries. "Trying to contact the company and being like 'She did this, she did that!'
"Y'all can keep bringing up my past, but I've changed and everyone sees it!" Jenelle insists.
"I think the hate dying down somewhat on our part. We've been through so much s**t; I've been so raw and public about everything. I told everyone 'I'm leaving David' and then 'I'm getting back with him.' I swallowed my pride and I didn't really give a f**k about what people would think.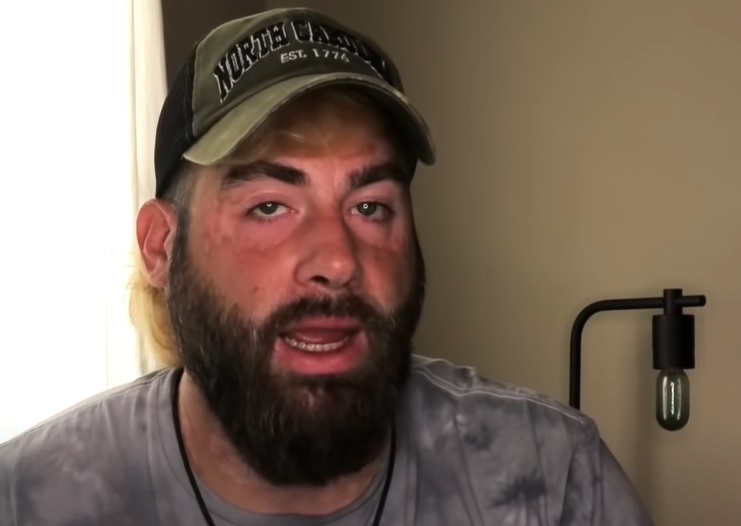 On the state of their relationship:
Things are swell on The Land, Jenelle says.
"Now that we're over all that bulls**t, I just feel like we're where we wanna be, at peace and we're happy," she said.
"They wouldn't take that away from us!" David pipes in.
"You know, they try but when people look up how long ago everything's been, they're like, 'This is nothing new, and y'all are trying to bring up something she's already spoke on.'"
"Everyone tries to bring up the past because they don't got anything else to live for," David says.
They continue to ramble on about the important topics: beef jerky, how "lit" they got last year on their anniversary and how David broke her She-Shed and she can't podcast there yet.
Riveting.
On the perks of "working" at home: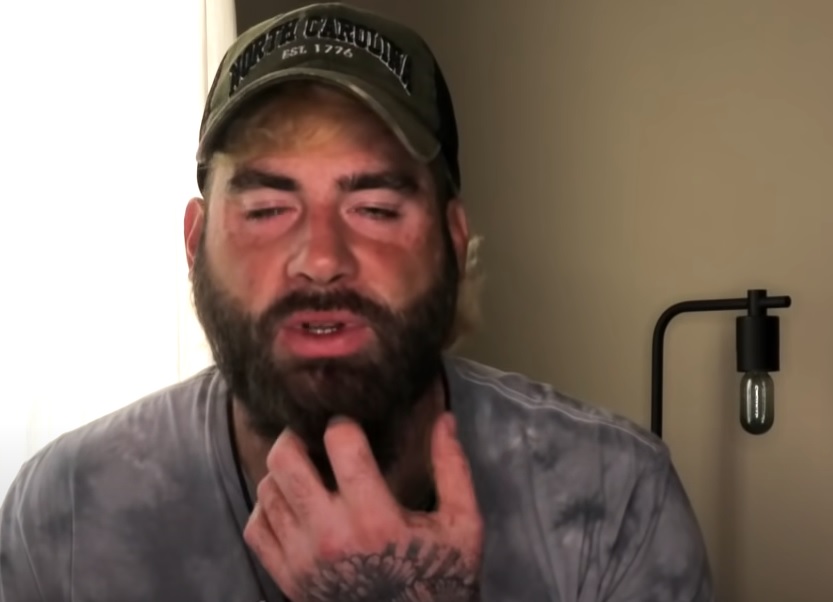 "I can do what I want, and that's what the haters hate!" Jenelle says gleefully. "That's why I like working at home, you can do whatever you want.
"You have your own schedule, you're your own boss. No one's telling you what to do. You just…do it…if I don't feel good, I take a mental break and watch TikTok all day."
"Well you do that most days," David offers.
They then argue about who is lazier and who looks at TikTok more.
"That's another thing I do—I sit down a lot," Jenelle says. "I have to tell myself, 'OK you've been doing this all day, sitting here editing or sitting here doin' s**t on the computer. You need to go outside…yeah, that's my day."
On doing the drug ayahuasca:
Jenelle straight-up burps into the mic as David is rambling about their dogs pooping on the carpet.
(The Ashley isn't even being funny; they literally did this.)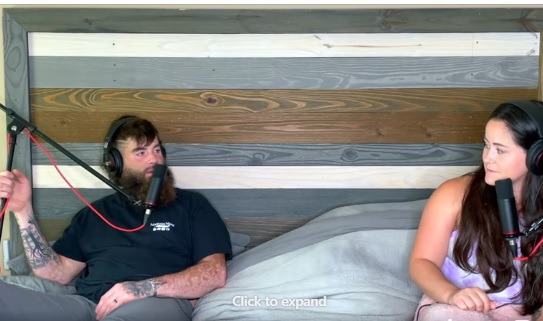 David then struggles to say the word "absinthe" (even though no one brings it up at all.) Jenelle changes the subject to Megan Fox tripping in the jungle. They say she does "the stuff that makes you trip that you do with the Indians."
I need a minute, guys…
David is still rambling on about "ab-a-nthe" but is distracted when he's told to look up Megan Fox.
WE ARE LITERALLY LISTENING TO THEM GOOGLE CRAP, GUYS!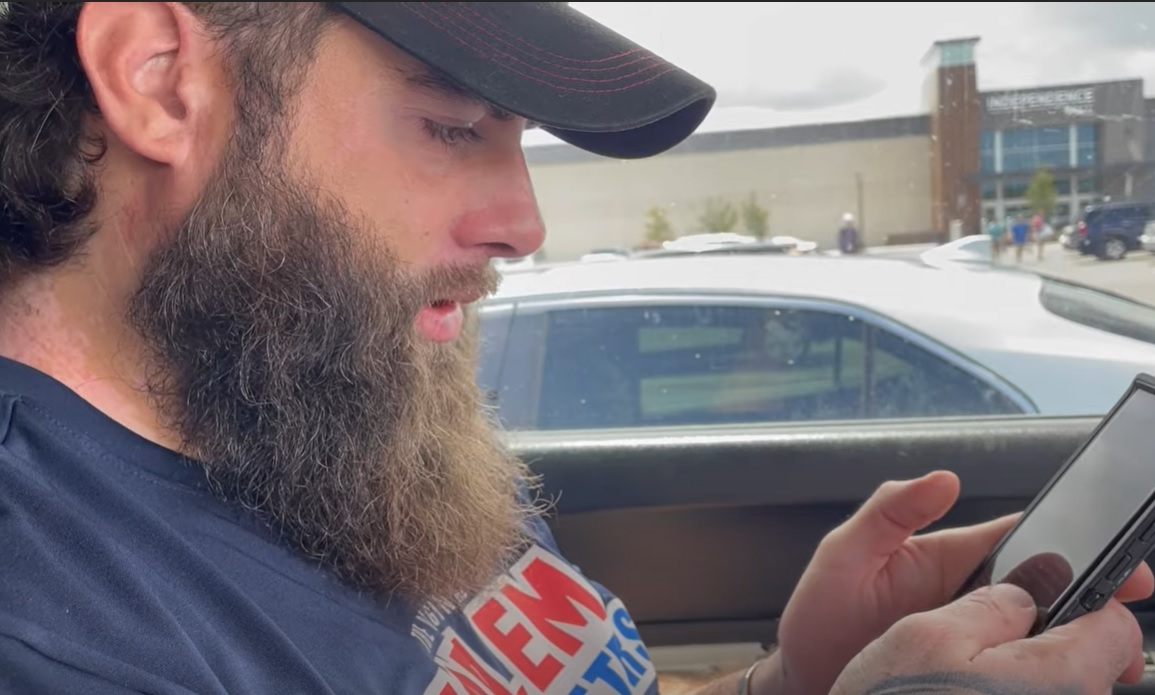 They discover that what she took in Costa Rica is a drug called "ayahuasca."
Jenelle and David ponder about whether or not they'd get HIGH! HIGH! on it.
"I want to try that one day, but I would probably have too much anxiety to," Jenelle says, adding, "I feel like I was more carefree when I was younger than I am now. I feel like if I do it now, I'll be really scared. Like, you're thinking about your children back at home and you're on vacation. I don't think I could do it."
That's all for this episode of Jenelle's podcast. If you'll excuse The Ashley, she's going to go put on an eye patch and cry in her She-Shed to get over the trauma she experienced listening to this episode.
RELATED STORY: RECAP: Jenelle Evans Makes Health Update Video About Her Cysty Brain, Sweaty Face & Her Desire to Wear an Eye Patch
(Photos: Facebook; YouTube; Instagram; MTV)