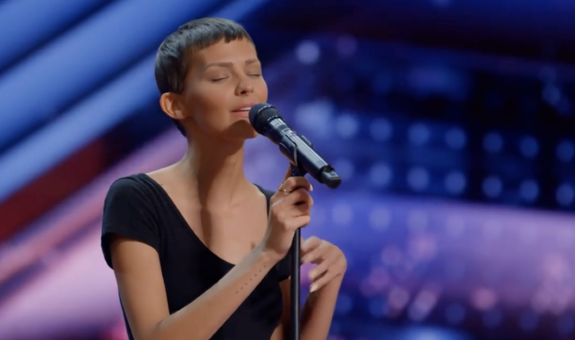 America's Got Talent contestant Nightbirde announced on Monday that she will not be moving on in the competition in order to focus on her battle with cancer.
As fans of the show recall, Nightbirde– whose real name is Jane Marczewski— received the Golden Buzzer from 'AGT' judge Simon Cowell this season following an emotional audition in which she sang her original song "It's Okay." While introducing herself to the judges (and the world), Jane explained that the song was inspired by the previous year of her life, revealing she was currently dealing with cancer in her lungs, spine and liver.
"I have a two percent chance of survival, but two percent is not zero percent," she said on the episode. "Two percent is something and I wish people knew how amazing it is."
In January 2020, Jane told her Instagram followers she had "innumerable tumors" in her liver, nodes, lungs and spine. She documented her cancer fight on Instagram throughout 2020 and in July 2020, announced she was cancer free. However, in January, Jane reported that "it turns out that my journey wasn't quite over."
She explained that, after being declared cancer-free in July 2020, she suffered what she called a "catatonic mental breakdown," stating she "barely spoke, ate, or moved from bed for several months." Her doctors later discovered that she had a physical head trauma caused by the events of the last year. She also reported that, unfortunately, "some of the cancer has grown back."
This week, Jane told fans she would be exiting the competition to focus on her health.
"Sharing my heart with the world on AGT has been an honor and a dream come true," Jane wrote. "My point of view this summer has been astounding. What a miracle that the pain I've walked through can be reworked into beauty that makes people all over the world open their eyes wider.
"Since my audition, my health has taken a turn for the worse and the fight with cancer is demanding all of my energy and attention," she continued. "I am so sad to announce that I won't be able to continue on this season of AGT. Life doesn't always give breaks to those that deserve it–but we knew that already. Thank you for all your support, it means the world to me. Stay with me, I'll be better soon. I'm planning my future, not my legacy. Pretty beat up, but I've still got dreams."
Following the news of Jane's departure, 'AGT' judge Heidi Klum posted a tribute to the singer on Instagram.
"@_nightbirde we will miss your energy, your passion, and your beautiful voice at the live shows," she wrote. "The entire #AGT family loves you and we're all rooting for you."
Judge Sofia Vegara reposted Jane's announcement on Instagram, writing "Here's to planning a bright future."
" … Your energy, your smile, and your amazing voice will be missed at the #agt live shows, but we're rooting for you and your big dreams," she added.
A GoFundMe was created prior to Jane's 'AGT' appearance to help fund the singer's cancer treatment and the page remains active today. To date, more than $245,000 has been raised on Jane's behalf.
RELATED STORY: 'Dance Moms' & 'America's Got Talent' Dancer Kevin Cosculluela Arrested for Sexual Battery on Two Underage Dance Students
(Photos: NBC/Instagram)