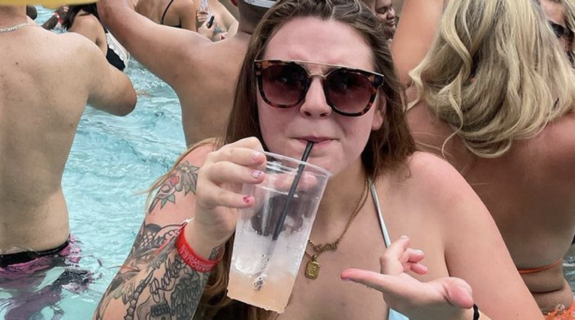 We are the company we keep… which is why no one should be surprised by the headline of this story.
Gabbie Egan, friend and almost/former co-host of the doomed-from-the-start Girl S#!t Podcast featuring Jenelle Evans of Teen Mom 2, hit the jackpot in Las Vegas last week… that is, if you consider getting kicked out of a hotel pool, arrested and (allegedly) attempted to assault law enforcement officers to be hitting the jackpot.
After the arrest, Gabbie posted on Instagram, hinting that she may have had something slipped into her drink. However, a few days later, Gabbie admitted in another Instagram post that her "vibe has definitely been off this past week" and that she's taking "a step back" to work on herself.
Gabbie– a famous TikToker— was in Sin City to celebrate her third wedding anniversary just a couple of weeks after visiting Jenelle & Co. on The Land.
KLAS News reports that the former Girl S#!t-er was being removed from the Cosmopolitan hotel in Las Vegas July 24 after causing a disturbance when she decided to (literally) kick things up to another level by trying to kick a Las Vegas police officer and security guard in the testicles.
According to the police report, Gabbie was yelling at patrons at the hotel's Marquee pool club when law enforcement was called to remove her from the property. Once Gabbie star was told she was trespassing and asked to leave, Gabbie reportedly told the police officers to "F**k off" and asked, "Why do I have to leave you f**king b*tch?"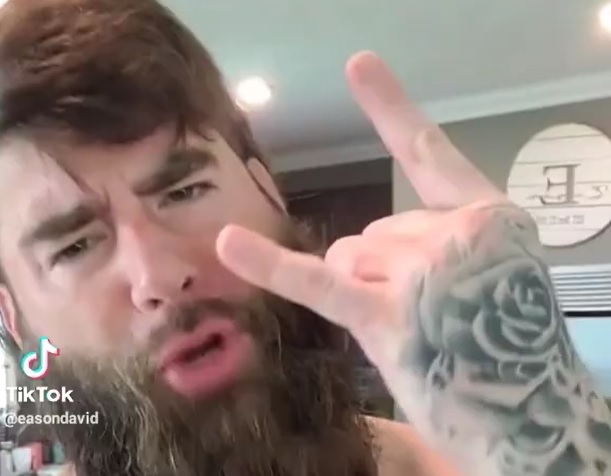 It was at this point that Gabbie "tried to kick [him] in the testicles," the report states, though fortunately for the security guard (and his testicles), he was able to deflect the kick with his leg. However, while switching out Gabbie's handcuffs, she reportedly tried the testicle kick once more, this time on an officer. Gabbie's testicle target was off yet again, though she did manage to kick the officer in the knee and he claimed to have felt pain for "roughly an hour" after the incident occurred.
"Gabrielle tried several times to break our grip and run away from us," officers said.
Once officers began searching Gabbie at the patrol car, Gabbie allegedly "head-butted" an officer in the nose with the back of her head. That particular officer said in a statement that she did not have any signs of injury, though her nose was "tender to the touch."
When she wasn't actually fighting back against the officers, Gabbie was reportedly threatening to, telling the officers she was going to "F**k [them] up," saying "watch what would happen if [they] were not in uniform and on the street," and threatening to stab one of the officers.
Her threats and screaming continued once she arrived at the Clark County Detention Center, where she was booked and charged with two counts of battery by a prisoner on a first responder and interference with a public officer by threat.
ASSAULT DURING ARREST: A woman who was being removed from The Cosmopolitan last month after causing a disturbance tried to kick a Las Vegas police officer and security guard in the testicles, according to her arrest report #8NN https://t.co/XgbLBoZDwa

— 8 News NOW (@8NewsNow) August 2, 2021
Gabbie was released July 25 on her "own recognizance with intensive supervision," Starcasm reports. She was scheduled to report to Pretrial Services July 26 and one time per week thereafter (via phone). Gabbie's next court hearing is set for August 25.
Gabbie's attorney, Jack E. Buchanan told TMZ no formal charges have been filed against his client, whom he called "a proud veteran of our military, a loving mother to her children, and a successful business owner."
He also pointed out that Gabbie has had no run-ins with the law prior to this incident.
" … The preceding 21 years of life prior to this incident have been void of any sort of contact with law enforcement or any participation or association with anything criminal in nature," the statement added. "As to date, no formal charges have been filed against her, and no official discovery has been turned over regarding this matter. Ms. Egan looks forward to addressing the allegations in a fair, criminal proceeding, where we are hopeful her name will be cleared and restored to the exemplary individual she is and who individuals closest to her will also unequivocally attest to."
At first, it seemed like Gabbie was blaming the Sin City s#!t show on someone slipping something in her drink.
"Las Vegas photo dump–reminder to keep your drinks close to you at all times and never let them out of your sight when drinking anywhere," she cautioned her followers. "We live in a scary world. Xoxo."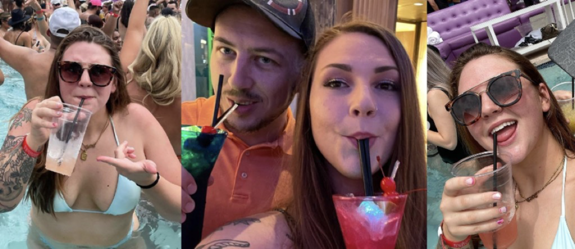 She later admitted that her "vibe has definitely been off this past week" in an oddly upbeat TikTok video she reposted on Instagram.
" … I've been taking a step back and working on myself," Gabbie added in the video. "Seems like there is always some sort of set back in my life, but just gotta keep pushing through it! Sending good vibes to everyone."
Many of Gabbie's followers didn't seem to be as forgiving of the TikTok star as she appears to be of herself, suggesting she instead "be accountable and apologize to the police officer."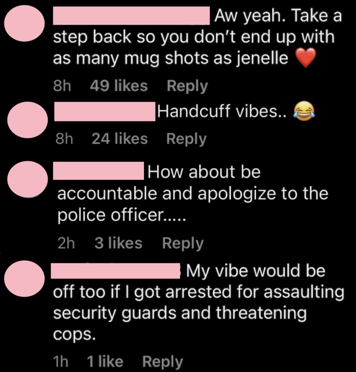 "Aw yeah," another wrote. "Take a step back so you don't end up with as many mug shots as Jenelle."
Jenelle has yet to comment on her gal pal's arrest.
RELATED STORY: RECAP: Jenelle Evans Makes Health Update Video About Her Cysty Brain, Sweaty Face & Her Desire to Wear an Eye Patch
(Photos: Instagram; Twitter)