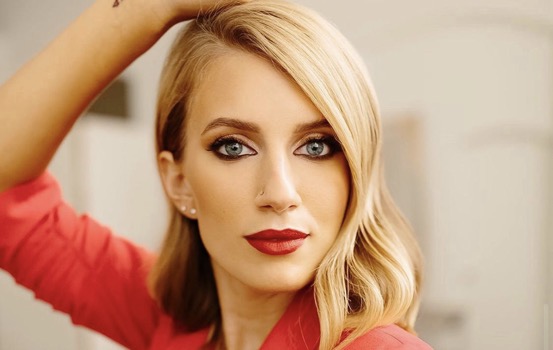 Trigger Warning: Disordered eating, suicidal thoughts
Olivia Plath revealed in an Instagram reel posted on Friday everything from disordered eating to thoughts of suicide, both worrying fans and receiving their support for her willingness to open up about her struggles.
Olivia stars in the reality show Welcome to Plathville, which in its third season is still seeing her at odds with her mother-in-law, Kim Plath. According to Us Weekly, there is some trouble brewing in her marriage to husband Ethan Plath, as well.
While Olivia didn't reveal any specific reason for sharing the photos on Friday, many fans suspect family troubles may have something to do with it. Regardless, Olivia has shown incredible bravery in her frank discussion of what she has been going through, with images in the reel ranging from glamour shots to extremely vulnerable images of Olivia crying, and burns induced from a panic attack.
"This posed portrait where I'm sucking my stomach in can also look like… side rolls when I lay down because I'm human," the reel began.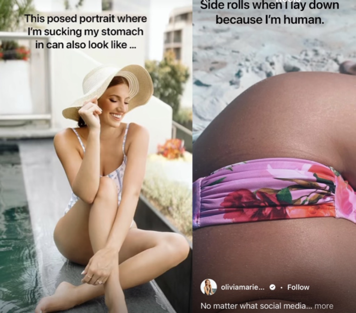 What followed was the most concerning to fans, as Olivia captioned an image with "This seemingly confident person… " and then switched to a phone shot of her crying with "felt like committing suicide in this moment."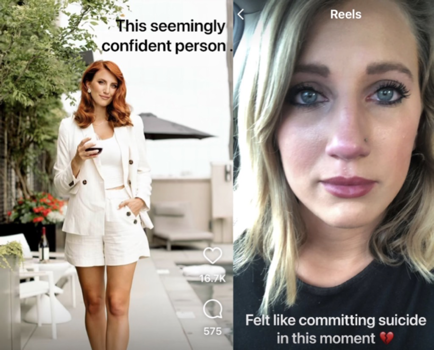 (On New Year's Day this year, Olivia revealed on Instagram that she had contemplated suicide a year ago.)
"I spent last New Year's Eve feeling scared, alone, sobbing and contemplating suicide," she wrote. "I woke up on New Year's Day and knew I needed to get help and surround myself with good people if I was going to make it."
The reel continued with another professional photo of Olivia, this time on a bed, which she captioned, "I have a beautiful sexy body and yet… " She followed the image with, "I have an unhealthy relationship with food where I always feel 'fat' and starve myself," captioned on a mirror shot.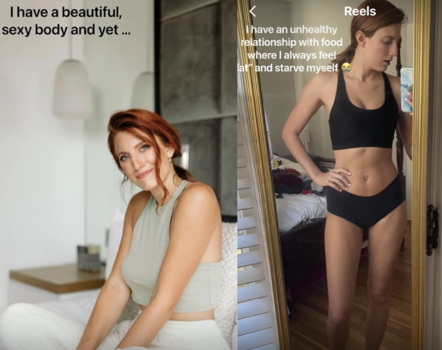 While she has admitted to going to therapy in the past, according to People, this is the first time Olivia has admitted to disordered eating.
"I look like a badass who has my life together… ," Olivia's next caption stated, followed with "but I gave myself this burn in a panic attack induced car accident." The photo revealed a burn on Olivia's forearm.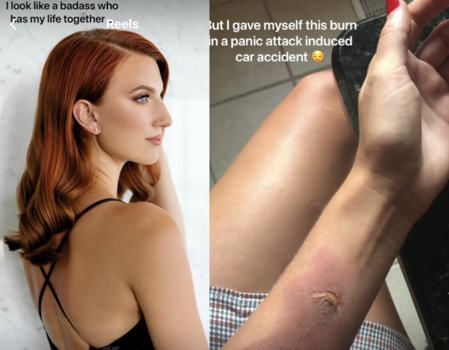 "I'm often happy and full of laughter… " was the next caption, followed by another photo of Olivia crying, captioned "But there are a lot of times I lose it when I'm overwhelmed."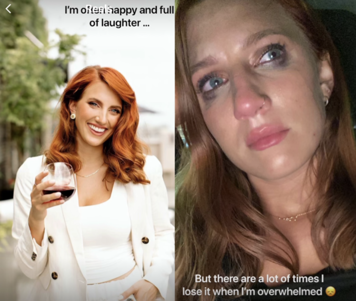 On the topic of body image, the next two images and captions were pertinent. "I have a lot of photos taken from good angles… " and "But not all angles are flattering, and that's okay."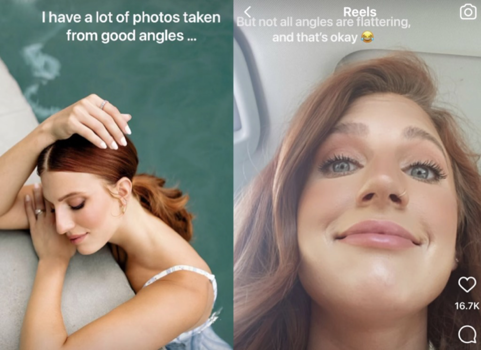 The final image in the reel was Olivia smiling in front of a waterfall, along with text overlaying the photo that read, "I'm human. Social media is often a highlight reel, but just know that you aren't alone. We all cry, we all break sometimes, we all have imperfect bodies and are doing the best we can."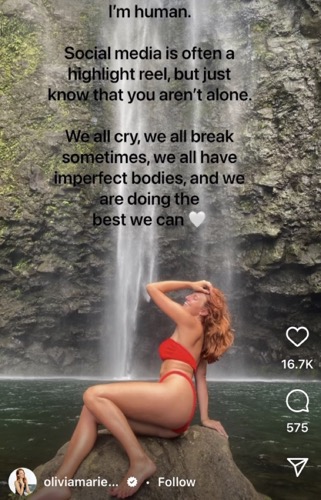 "No matter what social media leads us to believe, we are all imperfect people trying to figure life out as we go," she captioned her post. "You are not alone. I'm human too."
Comments of support included praise for using her platform to speak about what so many are too afraid to reveal, with one fan writing, "Thanks for using your platform for intentional purposes."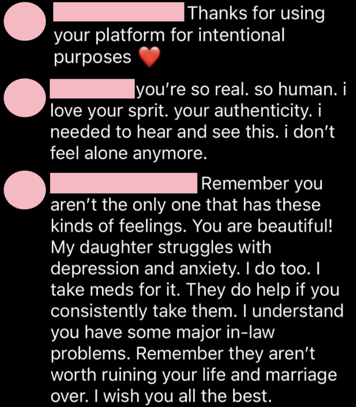 Another praised Olivia and thanked her for speaking her truth.
"You're so real. So human. I love your spirit. Your authenticity. I needed to hear and see this. I don't feel alone anymore."
"Remember you aren't the only one that has these kind of feelings," another person commented on Olivia's post. "You are beautiful! My daughter struggles with depression and anxiety. I do too. I take meds for it. They do help if you consistently take them. I understand you have some major in-law problems. Remember they aren't worth ruining your life and marriage over. I wish you all the best."
If you or someone you know if affected by any of the issues discussed in this story, call the National Suicide Prevention Lifeline at 800-273-TALK (8255) or text Crisis Text Line at 741741.
RELATED STORY: Micah & Moriah Plath Talk About the Ongoing Plath Family Feud & Reveal Why Older Sister Hosanna Isn't on 'Welcome to Plathville'
(Photos: Instagram)