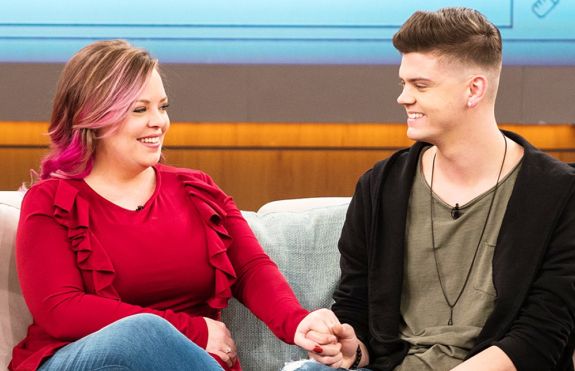 Catelynn Lowell and her husband Tyler Baltierra recently welcomed their fourth child— another daughter—into the world but in the time since the baby's birth, have refused to reveal her name. Instead, Catelynn (who has earned the nickname "Clickbait Cate" from annoyed fans) posted numerous links teasing– but not revealing– her daughter's name.
On Thursday, however, the Teen Mom OG star finally finally revealed the baby's name, along with details of her birth and how Cate and Ty's older daughters, Nova and Vaeda, are reacting to their new sister. (Catelynn and Tyler are also the biological parents of 12-year-old Carly, whom they placed for adoption shortly after her birth.)
Luckily (for the baby), the 'Teen Mom OG' stars didn't bust out Tezlee, the name they had originally planned to give to Vaeda, for Baby No. 4.
View this post on Instagram
In an interview with Celebuzz, Catelynn revealed the baby's name.
"We are proud to announce our fourth and final little princess Rya Rose Baltierra!" she told the site.
Unlike Novalee and Vaeda (who were named after characters in 1990s movies), Rya appears to have avoided being saddled with a movie-inspired moniker. (In case you are wondering, Novalee was named after the main character in the movie "Where The Heart Is," while Vaeda was named after protagonist in the movie "My Girl.")
According to dictionary.com, a "Rya" is a "handwoven Scandinavian rug with a thick pile and usually a strong, colorful design." Nameberry states that, as a name, Rya means "dream" in Arabic.
View this post on Instagram
Catelynn gave the site an update on how she and the baby are doing now that they're home from the hospital.
"Mom, baby, and dad are doing well and Rya is adored by all that meets her," she said. "Novalee and Vaeda are over the moon! We are blessed beyond belief."
Cate also revealed details of Rya's birth, stating that the baby was born at 1:07 a.m. and weighed in at 6 lbs. 12 oz. She measured 20 inches long at birth.
Tyler recently posted a photo of himself (shirtless, natch) holding Baby Rya. Although he had been outspoken about wanting a boy, he proudly proclaimed himself as a "Girl Dad" on Instagram.
View this post on Instagram
"There is no better feeling in the world than hearing your baby's little breathing sync with yours as both of your heartbeats do the same through the warmth of your skin as it touches theirs," he wrote. "I'm head over heels in love! #DaddysGirl #GirlDad"
Catelynn has stated that Rya will be their final baby, despite the fact that she and Tyler never had a boy.
"While we wanted a boy since this is our last, as long as she's healthy though that really is all that matters," she told Celebuzz during a previous interview. "This is our last and final but we know one day we will have a grandson and adore him! Although Tyler's been vocal about wanting a boy he's not disappointed at all…All in all we are just excited to be completing our family regardless of gender."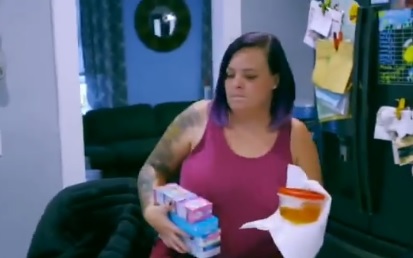 RELATED STORY: It's (Another) Girl! 'Teen Mom OG' Stars Catelynn Lowell & Tyler Baltierra Welcome Their Fourth Child
(Photos: MTV; Instagram)