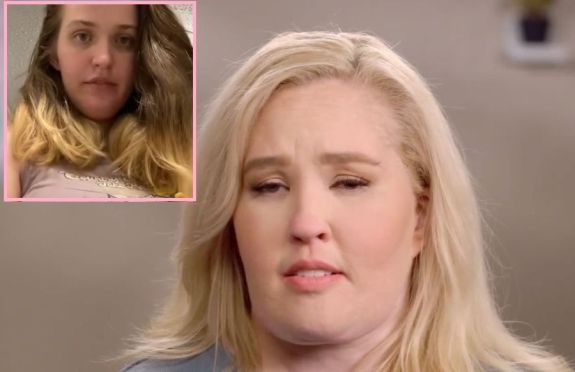 Mama June Shannon is setting the record straight about her relationship with Jordan McCollum, claiming the 24-year-old is only a friend and not a threat to her sobriety.
June defended her alleged friendship with Jordan after her daughter Anna Cardwell, from whom she is somewhat estranged, expressed concern about the new relationship given that Jordan, like June, has struggled with substance abuse issues in the past and, according to Anna, may be using June for her money.
June celebrated one-year of sobriety in January; however, Anna recently expressed her fears that Jordan's influence may lead to June relapsing and ultimately going to jail, due to June currently being on probation.
Anna also accused Jordan of using June for her money, as June reportedly purchased a vehicle for her "friend," rented him a home and paid for the home to be furnished.
In response to her daughter's concerns, June took to Facebook, claiming Anna "really doesn't know anything" about her addiction, nor her "clean time."
" … Jordan is only my best friend … it's not somebody that is my boy toy or I'm not his sugar mama we r friends," she wrote.
June went on to say that she loves her best friend and would do anything for him; however they do not have a "romantic connection."
"Jordan is a amazing person n yes we bonded over recovery but there is no romantic connection whatsoever and now it time to talk about something else," she added.
As The Ashley previously reported, June avoided jail time in May after being charged with possession of crack cocaine by agreeing to community service and one year of probation. The Mama June: Road to Redemption star was arrested back in March 2019 along with then-boyfriend Geno Doak following a domestic dispute at a gas station. When searched by police, drugs and drug paraphernalia were found on June and Geno– that latter of whom was sentenced last month to 16 months in jail for the charges.
June confirmed last month that she and Geno had gone their separate ways, telling followers on TikTok "Single life ain't so bad!"
Though June insists Jordan is nothing more than a friend, he may soon face the same fate as Geno, as he revealed Tuesday that he could be heading to the slammer as well.
In a video posted to TikTok, Jordan told followers he had just met with the lawyer who will be representing him in his "felony case for a gun charge and all of that."
Jordan said his court date is set for September 7 and that he's optimistic about the outcome.
"It feels good to know that I'm actually taking care of this stuff, we're getting this stuff behind me," he said. "I don't know what I'm looking at. The case in itself, you know, it carries a prison sentence but it being my first felony, they are most likely going to give me probation, that's the hopes of everything. I'm not even nervous anymore because I'm just happy to be taking care of my past so it can stay in my past … ."
RELATED STORY: Mama June Shannon's Estranged Daughter Anna Cardwell Says She's Worried About Her Mom's Relationship with 24-Year-Old Jordan McCollum: "It Looks Like He Just Wants Money!"
(Photos: Instagram; WeTV; TikTok)