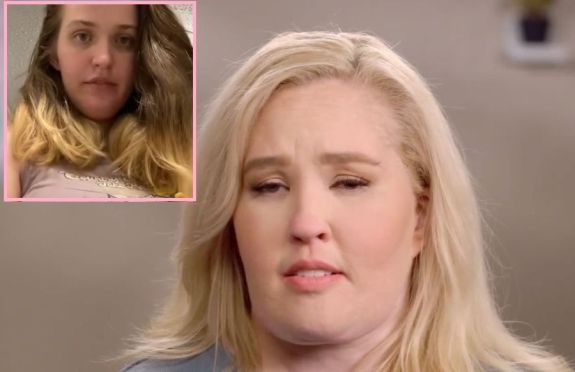 Mama June Shannon's oldest daughter is worried that Mama June's new "relationship" with 24-year-old TikToker Jordan McCollum will lead her to breaking her sobriety, messing up her relationship with her daughters (again) and possibly going to jail!
Anna Cardwell— who has been somewhat estranged from the WEtv star for years— told The Sun that she is concerned about her mother hanging out with Jordan, due to the fact that, like Mama June, he has struggled with substance abuse issues in the past. She also stated that she's worried Jordan is just hanging out with June to get his mitts on her reality TV cash!
Mama June has sworn Jordan is just a "friend" and not a romantic partner, but Anna has her doubts.
"Mama needs to calm down and focus on herself," Anna told the site, adding that Jordan hasn't been sober for very long. "If he starts using again, that's not healthy for Mama and he's only 24 years old. If he relapses, I hope he at least does it away from her. She's on probation, and if she fails a drug test at any time she will go back to jail."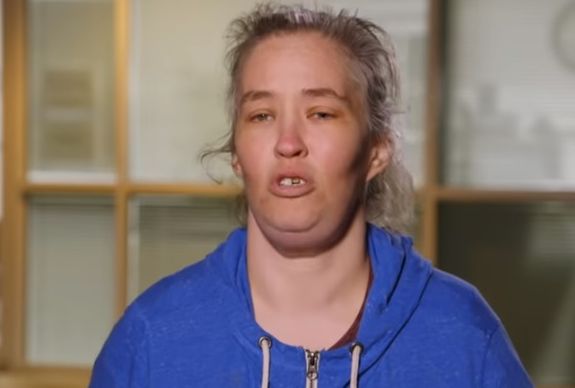 As The Ashley previously reported, June avoided jail time after being charged with possession of crack cocaine following her arrest in March 2019. After a a domestic dispute at a gas station with her then-boyfriend Geno Doak, the cops were called and, when searched, drugs and drug paraphernalia were found on Mama June and Geno.
In May, the Mama June: Road to Redemption star agreed to complete community service and be on one year of probation. (June's now ex-boyfriend Geno wasn't so lucky; he was sentenced to 16 months in the slammer earlier this month for a felony drug possession charge; however, he doesn't actually have to be behind bars during his sentence.)
Anyway, Anna— who only recently saw Mama June for the first time in several years— stated that she thinks June's new "friend" Jordan is only hanging out with June because she spends money on him.
"It looks like he just wants money. He's been begging for money all over TikTok," Anna said, adding that she thinks her mother is looking for more than just a friendship from Jordan.
The Sun previously reported that June recently shelled out cash to buy two cars for Jordan. The TikToker later bragged about the "gifts" on social media, writing, that "someone very special to me bought me a car today!"
In one TikTok post, Jordan boasted: "So someone very special to me bought me a car today!"
Earlier this month, Jordan revealed that the first car June bought him didn't work properly so a newer model was purchased. When Jordan posted about his new car, Mama responded in the post's comment section, "You deserve it, and that's a sexy car."
The Sun also reports that June rented Jordan a home to live in, and paid for his furniture.
View this post on Instagram
Anna is worried that June's new "friendship" with Jordan will mirror her relationship with Geno, which ended up driving a wedge between June and her daughters (which include Jessica aka "Chubbs", Lauryn aka "Pumpkin" and Alana, who currently lives with Pumpkin and her family.)
"She just got back with seeing Pumpkin again and Pumpkin's new baby. I just don't want it to mess up Pumpkin again. Alana was upset when Mama was messed up, but Pumpkin was pissed."
View this post on Instagram
June gave birth to Anna when she was only 15 years old, and Anna was raised mostly by June's mother. According to Anna, her relationship with June became strained due to the fact that June never apologized for dating the man who was convicted of molesting Anna as a child.
(Fans may remember that TLC cancelled the family's first show, Here Comes Honey Boo Boo once word got out that June was dating Mark McDaniel, after he was released from prison in 2014.)
"I've never had a conversation with her where she was like 'Oh I'm sorry for what happened or, I'm sorry for this,'" Anna said of the Mama June: From Not to Hot star. "It's like she is always brushing everything off and like acting like everything is fine and nothing happened."
RELATED STORY: Alana Thompson Talks About Her Future Career Goals, Her Lack of Friends & Why She Hates 'Honey Boo Boo': 5 Interesting Things From Alana's Latest Interview
(Photos: WEtv; Instagram; TikTok)