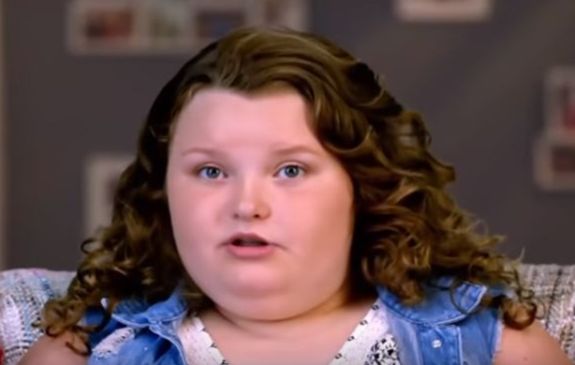 Alana Thompson is getting ready to celebrate her 16th birthday, planning for her future, and letting fans know she's not the same girl they met on Toddlers & Tiaras in 2012.
The former pageant queen– who went on to star on Here Comes Honey Boo Boo and Mama June: From Not to Hot– sat down with Teen Vogue to talk about her future career plans, why she doesn't have many friends, and the difficulties of growing up under the microscope of television.
Throw back some Go-Go Juice as The Ashley breaks down the 5 most interesting things from Alana's interview below!
1. Honey Boo Boo and Alana "are completely two different people."
While some may still refer to Alana as "Honey Boo Boo," her childhood nickname, she wants everyone– including her high school peers– to know it's not the name she prefers.
"My mama did not name me Honey Boo Boo," she said. "My name is Alana."
Alana said she tries her hardest and just wants to be the best she can be, make money, and make straight A's.
"I would say that I do like this Alana now, rather than the younger Alana," she said of her more grownup identity.
2. Alana says she doesn't have many friends, because most people want to use her.
Despite having nearly 1 million followers on Instagram, Alana revealed that, aside from her boyfriend, she doesn't have many real life pals.
"To be honest, I do not have many friends. At all," she said. "Because I feel like folks are so much like, 'Oh, my God, I'm friends with Honey Boo Boo.' I don't trust nobody really, so I don't have friends."
Alana explained that she is on the lookout for certain things when she meets someone new—whether they call her "Honey Boo Boo," and whether they offer to pay for things, or just assume she will because they thinks she is rich.
3. She is heavily scrutinized by fans & often criticized for how she looks.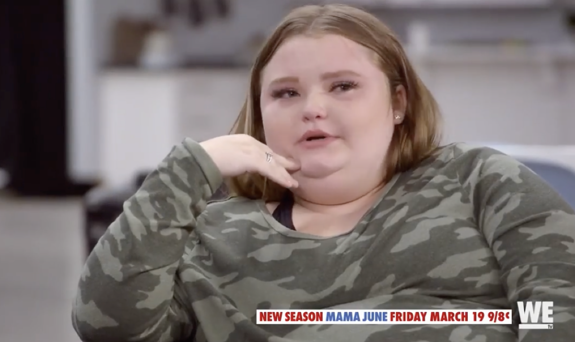 Alana spoke about her appearance– specifically her long lashes and long nails– and the fact that some people have recently deemed her new look "too grown." Alana believes people still expect her to look and act the way she did on 'Here Comes Honey Boo Boo,' noting the stereotypes that come with being from the south may have contributed to the criticism as well.
" … people expect me to be all country bumpkin, out riding four wheelers all the time, but that's not really how it is," she said. "There are so many folks on my Instagram that do not like my nails or my eyelashes. But I do not care. As long as I like myself, I'm good."
Alana's older sister Lauryn "Pumpkin" Shannon has also come forward to defend the teen's evolving look, though Alana is confident in who she is, despite what body shamers on social media or anyone else have to say.
" … Just because I got a little bit of extra meat on my bones, you want to hate me? I'll never get body shaming," she said. "Like, I know I'm beautiful, and I know I got a banging body, so…I don't care."
4. Alana wants to go to college, have a family, become a neonatal nurse & get off TV someday.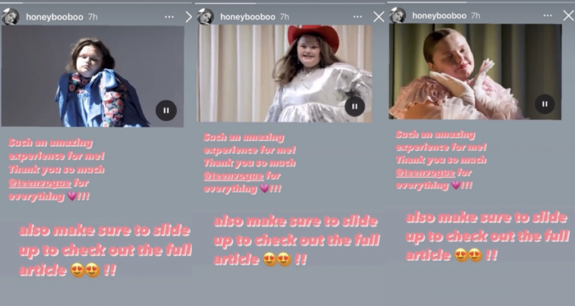 Alana admits being on reality TV has been a smart financial decision, but she knows eventually she and her family will stop filming.
"I want to have a life, you know? I want to be able to support my kids when I do have kids and stuff like that," she said. "It's definitely something that is good for the time being, [and] good for later on in life."
When she finally does say goodbye to reality TV, Alana plans to work as a neonatal nurse. Before then, however, she plans to buy a car, graduate high school, move out when she turns 18, purchase a home, and go to college– while continuing to work, as she's already started thinking about student debt.
"I don't know what future Alana's like," she noted. "I haven't met her yet."
5. She says her sister Pumpkin took her in when she had nowhere to go.
Shortly after Alana's mom, June Shannon, was arrested in 2019 for possession of crack cocaine, Alana began living with Pumpkin, Pumpkin's husband, Josh Efird, and the couple's daughter, where she still resides today. Though her mom is sober now, Alana said having a parent who is dealing with substance abuse is something she'd "wish on nobody."
"A lot of folks in this world do not realize how many people are actually really affected by drug and alcohol [use]," she said. "It's very, very hard. It's something I'd wish on nobody, for real."
"[My sister] stepped up when I had nobody," Alana said. "But I know it's stressful on her, because she has another person to take care of."
As she and her mom continue working to get "back on track" to where they used to be, Alana said she's proud of her mom for working on herself.
"I'm proud of myself for how far I've come," she added.
RELATED STORY: 'Mama June: From Not to Hot' Star Geno Doak Sentenced to 16 Months in Jail for Crack Cocaine Charges; June Shannon Hints That They've Split
(Photos: TLC; Teen Vogue; Instagram)