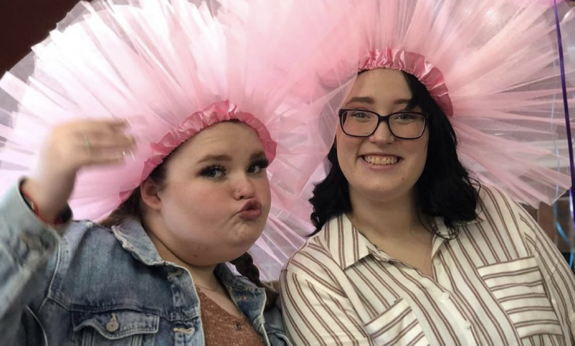 Lauryn "Pumpkin" Shannon has a message for anyone who has something rude to say about her sister Alana "Honey Boo Boo" Thompson's new look.
Lauryn took to Instagram Wednesday to share a collage of her sis and explain to her followers that Alana is 15 now and "likes the long lashes and long nails but that doesn't make her "'ghetto, ratchet, poor, or grown.'"
"At 15 I'm glad the only things she worries about is her nails and lashes because as people most of her age she could definitely be involved in much worse," Lauryn wrote, who later in the post reminded people that even though her sister is famous, she's "still a child."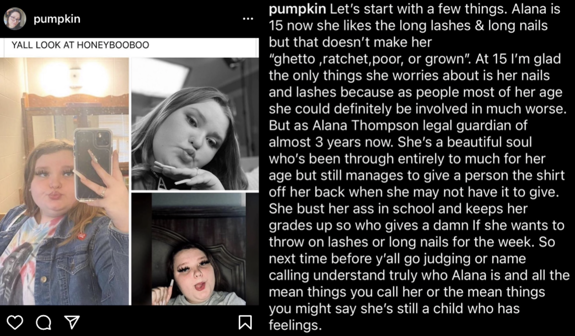 The 21-year-old has remained the legal guardian of her sister since early 2019 after their mother, Mama June Shannon, was arrested (along with June's boyfriend Geno Doak) on drug-related charges. Lauryn mentioned her guardianship of Alana on social media while reminding people that her sister has been through a lot.
"She's a beautiful soul who's been through entirely [too] much for her age but still manages to give a person the shirt off her back when she may not have it to give," Lauryn said. "She busts her ass in school and keeps her grades up so who gives a damn if she wants to throw on lashes or long nails for the week.
"So next time before y'all go judging or name calling understand truly who Alana is and all the mean things you call her or the mean things you might say, she's still a child who has feelings," she added.
Fans applauded Lauryn in the comments for being "such a great big sister and a great role model for Alana" and for stepping up when her sister needed her.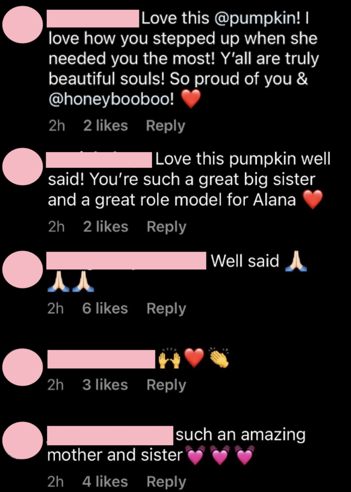 "Love this @pumpkin," one person wrote. "I love how you stepped up when she needed you the most! Y'all are truly beautiful souls! So proud of you & @honeyboo!"
Alana's new look also received some positive feedback, as many left kind comments while encouraging others to "stop judging."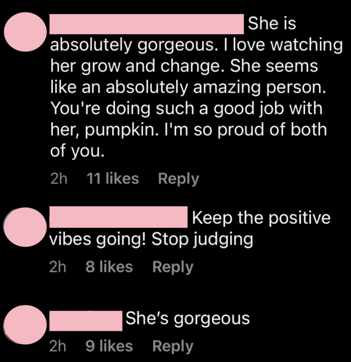 "She is absolutely gorgeous," one comment read. "I love watching her grow and change. She seems like an absolutely amazing person. … "
On the Mama June: Road to Redemption premiere, viewers saw Lauryn debut her 40-pound weight loss and talk about some of the changes she's made to get healthier.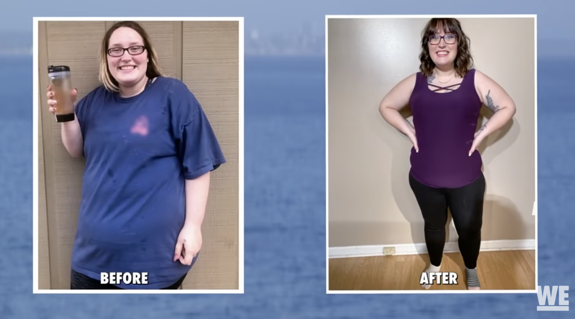 During the episode, Lauryn also suggested that Alana start "watching her figure" as well, but Alana quickly shut down her sister's comment, despite having dealt with numerous incidents of body-shaming in the past.
After a clip from 'Road to Redemption' featuring Alana hitting the runway garnered some nasty comments online about the former Here Comes Honey Boo Boo star's weight, Alana shared a message of her own in the form of a mirror-selfie.
"Folks will hate about anything," she captioned her post.
RELATED STORY: Mama June Shannon Says She & Boyfriend Geno Doak Have to Pass Drug Tests In Order to Keep Filming 'Mama June: Road to Redemption': "Production Holds Me Accountable"
(Photos: Instagram; WEtv)