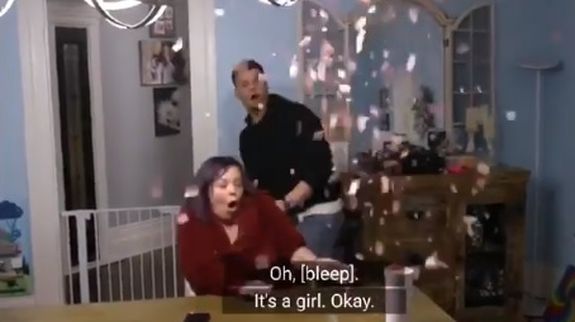 Oh, hello there! It's been over a decade and you're still here? It's good to know The Ashley isn't the only one who has no life and is still watching these spawn-shooters complain about finding maternity pants with pockets big enough to stuff all their MTV cash into.
It's time for yet another season of Teen Mom OG!
The wombs are stuffed, the producers have been coached into what to ask and Amber has been properly turned in order to prevent her from getting couch sores, so let's get started!
We kick things off in Indiana at Amber's house. (I love how they make sure to let us know that it's "Amber's RENTAL" and not her "house" every time they show it. I mean, duh, guys, we know that's not Amber's house. After all, there are no machete whack marks on the doors!)
Producer Anne Marie arrives and seems surprised to see Amber upright. She says she's making an Easter basket for "Bubby." (We can assume this is not the OG "Bubby," who is Amber's brother Shawn, but Bubby 2, who is Amber's son James.)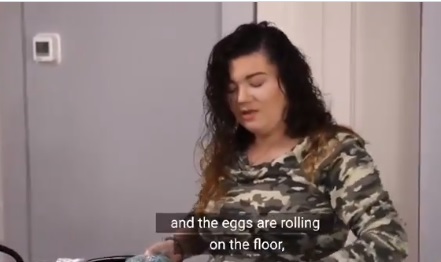 While Amber will be seeing James Bubby, she says she most likely won't get to see her other kid, Leah BooBoo, who wants nothing to do with Amber (or her annoying nicknames) right now. Amber says it's no fair that Leah BooBoo thinks she's a bad mom. To prove that she used to do "Mom things" with Leah (when she wasn't on drugs, shoving Gary down the stairs or hanging with her cellies in gel), Amber busts out the Ye Olde Photo Album to show Producer Anne Marie some photos of Baby Leah BooBoo with the Easter Bunny.
"She doesn't remember this I guess," Amber says snarkily.
Amber then gives us a recap to explain why her relationship with Leah BooBoo is currently in the driveway crapper. She says that, after spending 17 months in gel, she "tried to make up for lost time." (Of course, she did this in between giving her soulmates lie-detector tests, getting knocked up and trying to bitch-slap Farrah for making fun of Matt "Don't Slip In My Hair Grease" Baier.)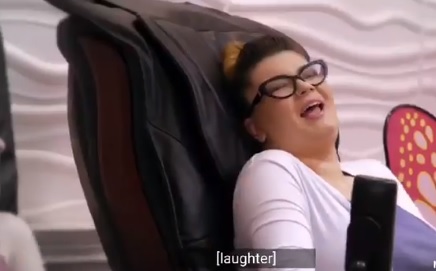 We also get to see the clip from last season of Leah BooBoo telling her dad Gary that all Amber did "was give birth to me." (The Ashley is still trying to get over watching that birth. If she sleeps with the light on and drinks enough, she doesn't see Ambie yakking up Taco Bell while in the birthing stirrups.)
Just then, Amber's own mom, Tonya, calls to inform Ambie that she's got everything set up for Sunday's Easter festivities. Amber, true to form, then launches into a talk about how hurt she was about what Leah said about her. Tonya tries to comfort Amber as Amber insists that Leah's being brainwashed by somebody.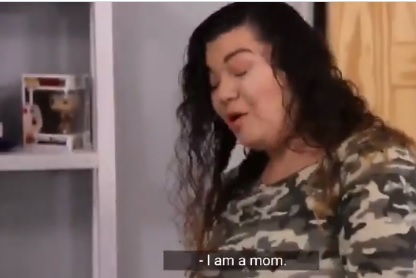 Next, we swing over to Michigan to see what Catelynn has been up to. As you may remember, the last time we saw Cate, she was pissing in Tupperware containers, trying to get pregnant with The Spawn of Tyler. She's now pregnant with Baby No. 4, and they're all pretending like they don't know if it will be a boy or a girl. (We all know that, no matter how many protein shakes he downs or Batman tattoos he gets, Tyler only shoots girl sperm.)
Producer Kerthy is feeling quite randy, and asks Cate and Tyler how they're gonna bang when they have an infant sleeping in their room. Ty and Cate insist that Ty will keep giving Cate that [7 point] Hot Beef Injection all the live-long day because babies don't know when you're banging.
I think that's nice….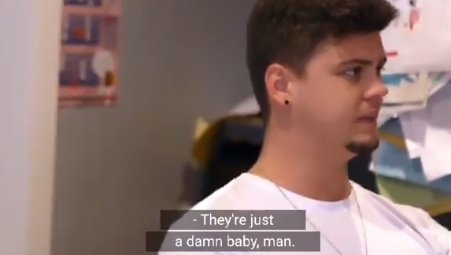 We then rehash Tyler's obsession to have a male spawn. (I suppose he wants a boy so badly because he wants a male heir to that Tierra Reign kids clothes fashion empire?) They talk about how they considered doing gender selection for their next kid, but Catelynn wasn't willing to shell out the dough it would cost to pick through Tyler's sea of female swimmers to find a male one.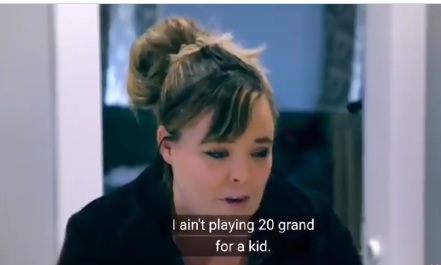 Tyler and Cate assure Producer Kerthy that, even if this baby is another girl, they will not keep trying. Catelynn says she is going to do a test to find out the baby's gender the next day. Tyler, meanwhile, is off drooling in the corner of the kitchen, dreaming of finally getting a boy.
The next day, Cate goes to her appointment (and is doing a bit of foreshadowing by literally wearing a "Girl Mom" sweatshirt).
"Hopefully it's a boy!" she says.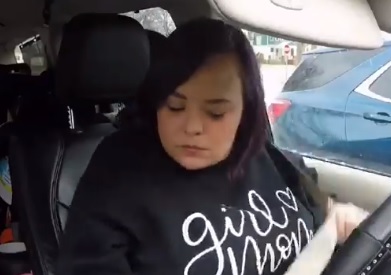 Umm…let's just say don't throw that "Girl Mom" sweatshirt away, Cate…
Over in California, Cheyenne and her (newest) baby daddy Zach are preparing to welcome their first kid together. Cheyenne– now six months pregnant– says she and her growing family are (still) allowing her sister R You Ever Going To Move Out? to crash at their place, along with R's son, Baaz.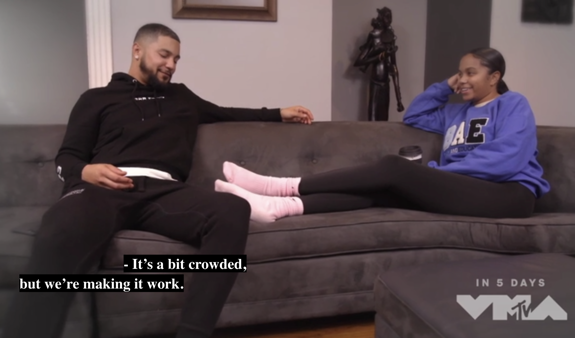 Cheyenne isn't thrilled about being pregnant in the middle of a pandemic (if only there were some way to prevent pregnancy!) but with the help of FaceTime, she's able to keep her family involved as much as she can in her doctor's appointments, while they sit at home waiting for her cue to start planning another over-the-top party.
Due to pandemic safety protocols, Zach is also banned from Cheyenne's appointments, but he's trying like hell to get in on that family video chat in order to feel like he's somewhat a part of this whole pregnancy thing.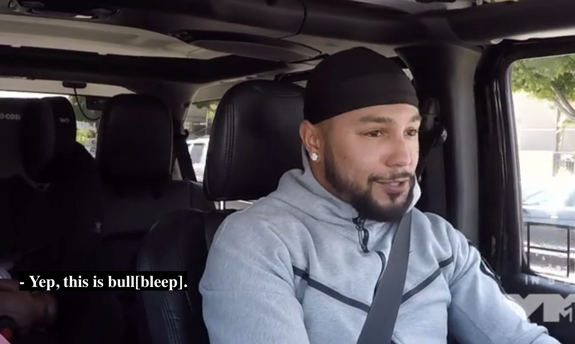 Once Cheyenne and Zach arrive at the doctor's office, Cheyenne heads inside and Zach runs to the bathroom. While Zach is off flexing in the mirror and whatnot, Cheyenne's producer JC hears the baby's heartbeat, as Cheyenne is still mic'ed up. By the time Zach and his tracksuit make it back to the car, Cheyenne's appointment is nearly over, and Zach realizes Cheyenne didn't FaceTime him during the appointment as she told him she would.
When Cheyenne gets into the car, Zach starts grilling her, while grinning, and trying his absolute hardest to not lose his cool on camera. Cheyenne tells Zach she didn't FaceTime him because her doctor was talking and because they didn't end up doing an ultrasound. Zach– still attempting to hold his smile– isn't satisfied with Cheyenne's explanation and the two begin arguing.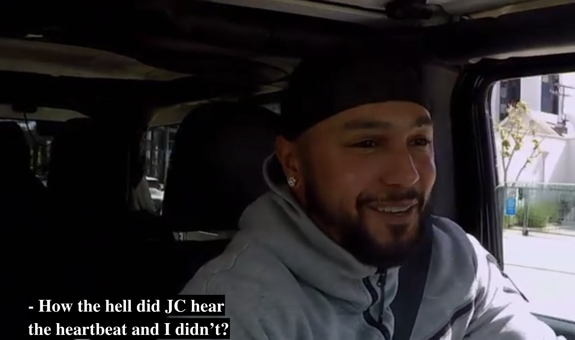 Cheyenne accuses Zach of not supporting her, while Zach can't let go of the FOMO he's experiencing. He does, however, let go of that smile he was trying so hard to maintain throughout this argument. (Is anyone else confused as to what they're both mad about? Just me? Ok…)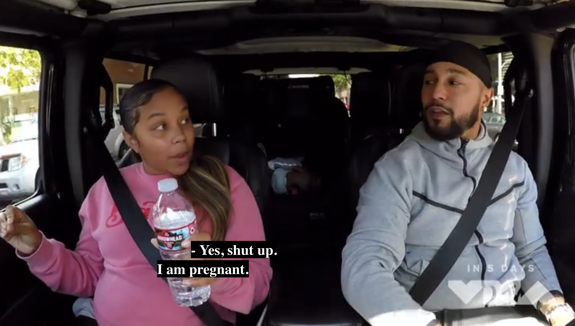 As things escalate– and by "things" we mean the volume of Cheyenne's voice– Cheyenne tells Zach to pull the car over so she can kick him to the curb (literally). Cheyenne then hops into the driver's seat and leaves Zach on the sidewalk.
AS.YOU.DO.
Cheyenne turns off the cameras in her car, but the mics continue to pick up sound as she calls her mom to vent about Zach and the fact that she's currently "carrying the weight of the world."
UM…it sounds like Chey's been hanging out with Ambie a bit too much…
Meanwhile, Zach is forced to hitch a ride with JC, who is clearly dealing with a guilty conscience over the argument that just transpired over the fact that his ears work…or something…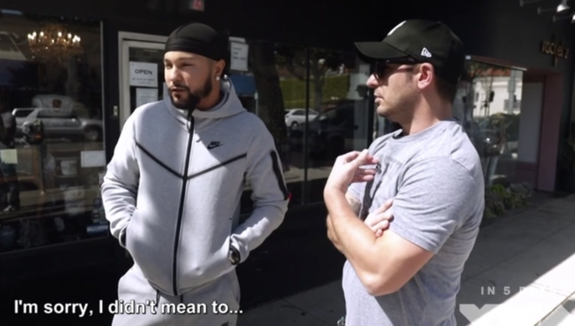 Zach instructs JC to take him to Cheyenne's mom's house so he can get his keys out of Cheyenne's car, but when they arrive in JC's super-fly minivan, Zach realizes Cheyenne's car is locked, which forces him to tuck his tail between his tracksuit and ring the doorbell.
Cheyenne's mom and stepdad come outside to hear Zach's version of what went down, after just listening to Cheyenne scream her own version of the story inside. (Seriously, WHAT went down? Can someone create a flowchart or something?)
Zach tries to get Chey's family to see his side of things, but Cheyenne's mom, Margaret, argues (and mimes, for some reason) that Cheyenne is pregnant, therefore she gets a pass to do whatever she pleases, including leaving her baby daddy on the side of the road.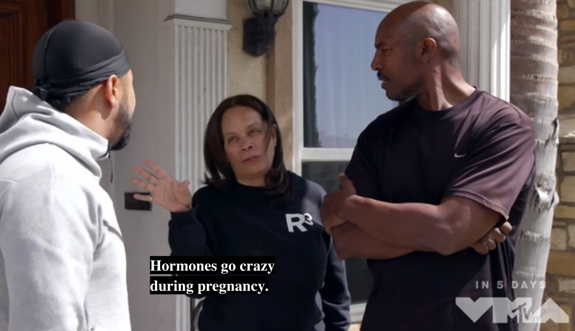 Almost on cue, Cheyenne storms out of the house to show just how "crazy" her hormones can get. After launching some F-bombs directly at JC and his working ears, Cheyenne throws some more at the crew, demanding they stop filming.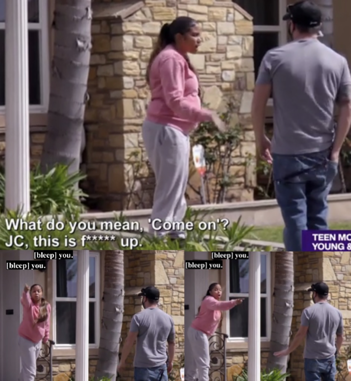 Next we go over to Tennessee. At House of Oopsie Babies and Open Bud Lights, we find Maci & Co. celebrating Easter as all families do– with a room full of strangers and a film crew.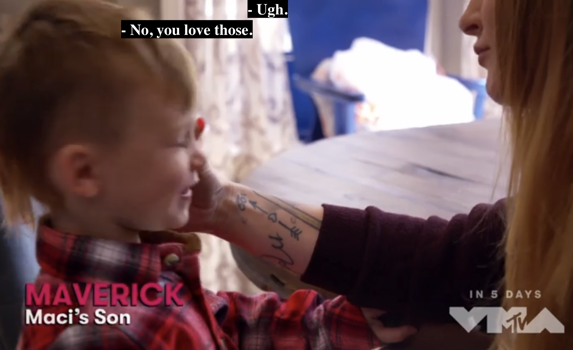 Maci and Taylor mark the holiday by inviting a masked bunny into their home to toss some candy to the kids and force hugs upon them. While Maci and Taylor show little to no enthusiasm during this scene, we'll give them some credit for not making the bunny hand out "Things That Matter" gear via t-shirt cannon.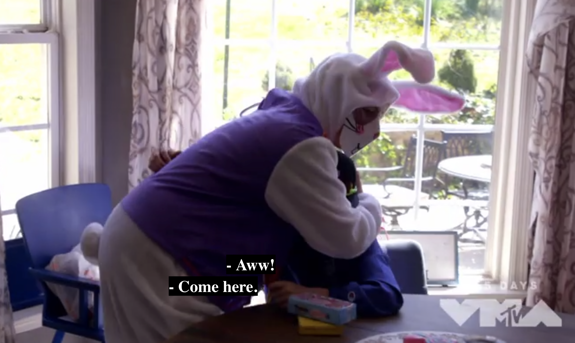 Maci reminds viewers at this point that things are always still a hot mess between her and Ryan, as well as Ryan's parents, Jen and Larry. We then get a fun flashback of the reunion face-off between Ryan's parents and Maci and Taylor, and yes, it's just as awkward as we all remember. There's Taylor, all red-faced and shouting, and here's Larry, balling up his fists and getting ready to charge Taylor like a raging geriatric bull.
We also get to hear Maci's version of the reunion sh*t show-down when she recounts the mess to her friend Ashley.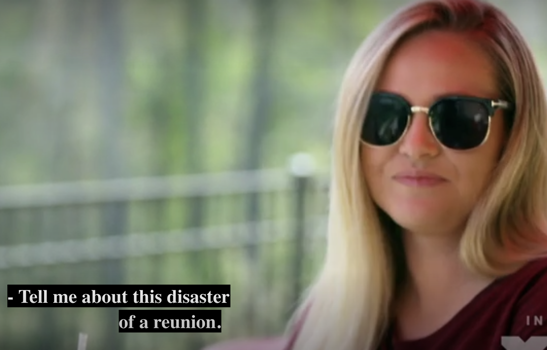 Maci tells Ashley about all the finger-pointing, teeth-gritting and shouting that Larry did, and how Taylor "didn't do anything wrong"– besides allowing his son and stepson to continue rocking those unfortunate haircuts, of course. Ashley asks Maci if Bentley knows how to read and use the Internet what happened at the reunion, to which Maci admits she and Taylor told him.
Maci claims Bentley probably "knew it was coming," and that she isn't worried about what Ryan or Ryan's parents think, because she and Taylor were only looking out for Bentley's best interest.
After pulling off such a hoppin' Easter celebration, Maci and Taylor keep the festivities going by organizing a dinner for Taylor's friend, who is getting ready to become a new dad.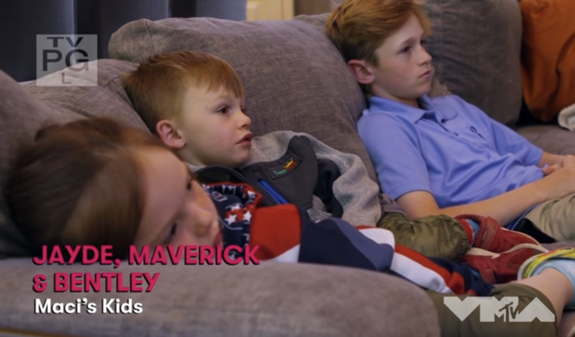 Naturally, Taylor hypes his buddy up for fatherhood by talking about himself and the fact that he didn't conduct himself the way he planned to at the reunion. Taylor tells his friend– who is undoubtedly regretting his decision to come over for a free meal– that he's planning to talk to Bentley to explain his side of the reunion debacle.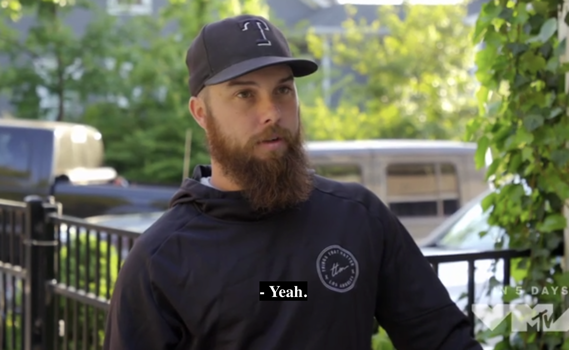 We next head over to Florida, where Mackenzie is still living and working on her fitness career, and hoping people have forgotten about her son taking a crap in her boss's garage last year. (Spoiler alert: they haven't.) Things with Mackenzie and her former rodeoing husband Josh are going well; however, Mackenzie says it's hard being in Florida and not getting to see her dad, Brad, often.
Mackenzie calls her dad to find out why she isn't able to randomly spy on him through his Alexa anymore, to which Brad insists he doesn't need his Mackenzie or his other kids to meddle so much.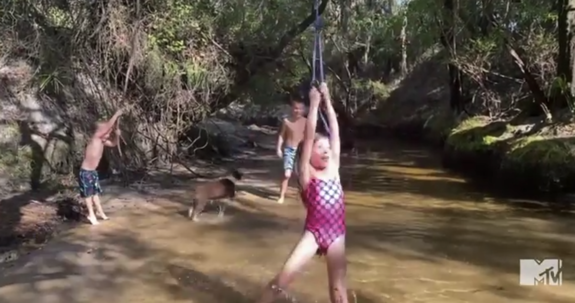 Brad says he's "filling" alright, but doesn't "fill" complete– and hasn't– since Mackenzie's mom passed away. Mackenzie tells her dad she's coming to Oklahoma for the weekend to visit him without her energy-suck of a husband or her wild and crazy kids… or so Brad thinks. Mackenzie actually plans to surprise Brad by bringing the whole crew– a bold choice, given Brad's history of heart issues.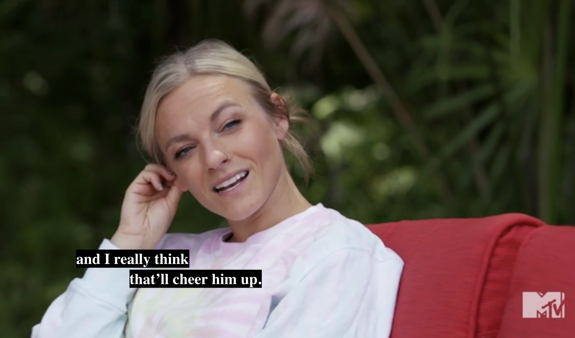 When the McKee Circus arrives in Oklahoma, they– except Josh, of course– make a mad dash to the front door to greet the family while completely terrifying all witnesses in the process.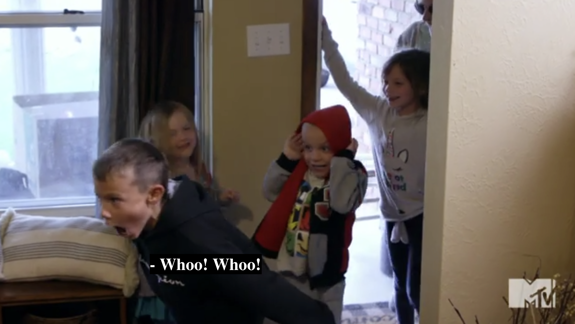 Before Brad arrives, Mackenzie gets to meet her new niece and gets overcome with Baby Fever. This makes everyone panic at the thought of more McKees making their way into the world to poop in the carports of America.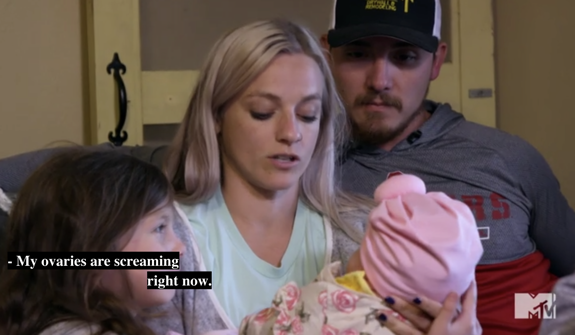 Brad soon arrives at the house and is nearly tackled to the ground by his grandkids.
Later on, Mackenzie and her siblings sit down to talk about their dad's house and how concerned they are that he isn't monitoring his diabetes and instead, is sneaking food from his snack-stash in the bedroom. Mackenzie's sister decides they should stage an intervention, and naturally, they decide this should go down 1) on-camera and 2) while Josh and the kids are away… stuffing their faces with donuts.
When Brad comes in to talk to his kids, they explain how concerned they are that he isn't eating healthy or exercising. The kids propose having prepped meals delivered to him each week, to which Brad says he just wants to eat something that tastes good. He also reminds them how much he misses their mom, revealing that he cries at least once or twice a day.
Mackenzie tells Brad eating healthy helps her with her depression but Brad says he isn't sure he's actually depressed. He also admits that his doctor has recommended he start talking to someone about his grief.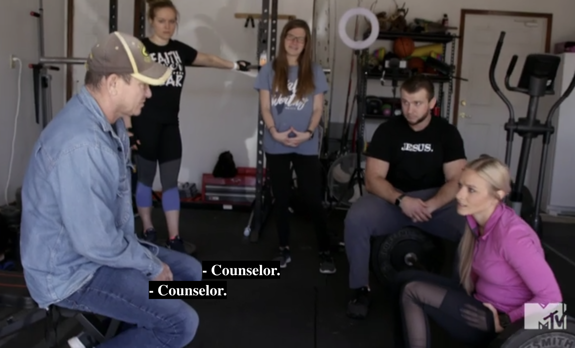 Back in Indiana, Amber is angry that Gary won't respond to her about making Leah BooBoo come over for Easter. Instead of just taking the "L" on this one, Amber decides to "help" the matter by throwing on her "ranting robe" and jumping on The Instagram. She begins to rant about how awful Gary and Kristina are, how Kristina doesn't do anything for Leah (I think I just peed myself from laughing, guys), and how that harlot Kristina stole GarBear away from her while she was in "gel."
"When you're a wh0re, you're a wh0re!" Amber declares.
(All in favor of changing the name of this show to that, say "I"…)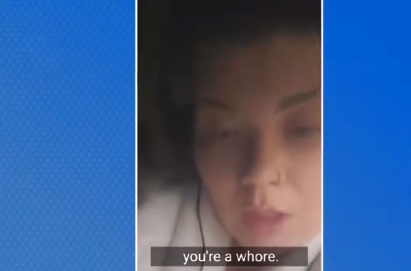 (Remember, these are the people who wanted to literally move Amber onto their property so she could be closer to Leah. These are the people who always called Amber and asked her to come on family outings so Leah could be with her mom more often.)
Amber seems quite pleased with her rant, but, surprisingly, Gary and Kristina are not thrilled. The next day, Kristina informs Gary that Ambie "has went on Instagram rants again."
I mean, nothing says Easter Time Fun quite like your baby mama screaming on The Instagram that your wife is a wh0re, am I right? That's a Resurrection Day to remember!
Kristina rattles off all the rotten things Rantin' Ambie said about her, and says that, so far, she's ignored it.
KRISTINA IS A SAINT AND YOU'LL NEVER CONVINCE ME OTHERWISE!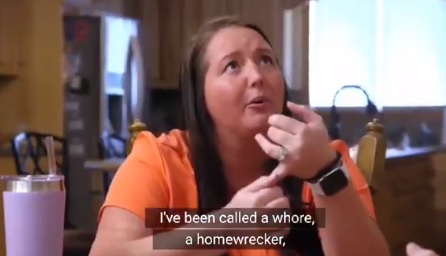 Gary assures Kristina that she's neither a wh0re or a homewrecker, because Gary says he told Amber six months before she was released from the clink that he was going to the boneyard with Kristina.
Gary assures Kristina that Amber only hates her because Leah hates Amber and likes Kristina. Got all that?
Gary and Kristina realize that Leah now has access to The Interwebs and will likely see Amber in all her rantin' glory and be embarrassed.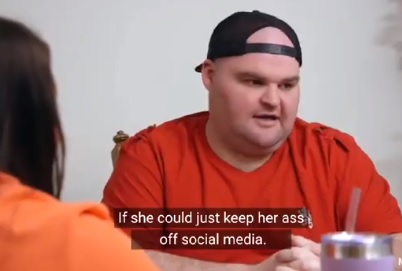 Later, Amber decides all that rantin' and screamin' has worn her (and her trusty couch) out, so she books a hotel downtown for a "change of scenery." As you do…
She gets herself all nestled in that rented bed and tells the Producer that she's very stressed so she deserved this "vacation."
(Apparently, when you're Amber any day not spent in your own bed is a "vacation" day? I guess how you categorize days when you don't have a job?)
Personally, I think Ambie ran away from home because she was afraid GarBear was gonna come over angrier than a prison cellie who had her Top Ramen stolen, and tell Amber to cut the crap.
Producer Anne Marie slyly mentions that she saw Amber on Instagram the night before.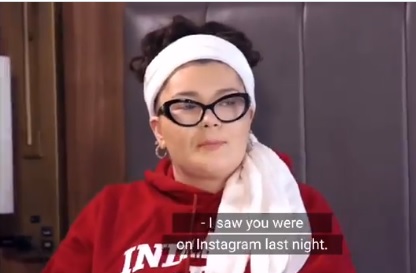 Amber admits she may have "overdone" it a little. She says she deleted the video, and is mad that it still got "f**king blasted everywhere!"
THE NERVE OF THE MEDIA, Y'ALL!
Does she not realize that people like The Ashley are literally just sitting there, waiting for someone on one of these crap shows to do something like this?! (Yes, I know I'm pathetic and no, I do not care.)
Not surprisingly, Gary and Leah have been ignoring Ambie's phone calls and texts. This broad is actually mad at them for ignoring her.
I can't….
Amber complains that she texts Leah all the time and never gets a response. (That's a hard head underneath all that toilet paper, guys.) Again, she blames "other people" for getting into Leah's head to make her hate Amber.
I can NOT….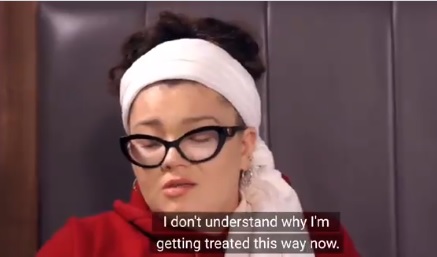 Bless Producer Anne Marie, though. She's sitting there in Amber's sad "vacation" hotel room, and not pointing out that Amber caused all of this on her own by ranting about Leah's loved ones, choosing men over Leah for most of Leah's life and being selfish. She tells Amber she'd like to come up with a way for Amber and Leah to become close again.
"We are close!" Amber shoots back.
Um… you've been left on "read" for months, girl. You ain't close…
Over at the Edwards' house, Jen and Larry are still in shock over the "hostile situation" they walked into at the reunion. (By the way, this footage was filmed before the Edwards Gang was fired. The Reunion was filmed in February, and this scene was filmed shortly after that. The firing happened in March.)
Jen says getting called out for babying and making excuses for her grown ass son did nothing but make things worse for everyone.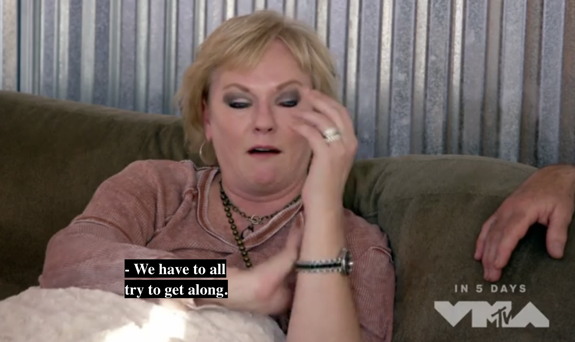 Later on, Maci picks up the Oopsie Babies from school while Taylor picks up Bentley so he can apologize for yelling at his grandparents on TV about how much their son sucks.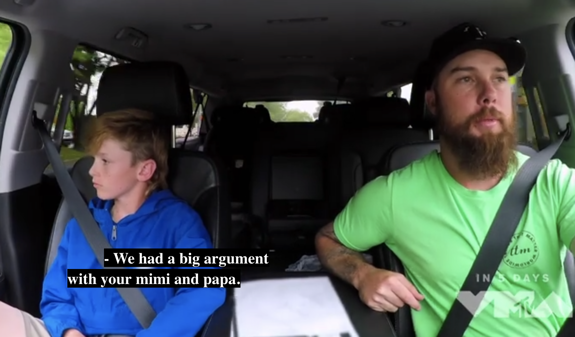 Taylor tells Bentley (who looks like he'd rather eat his own mullet than be part of this convo) that he didn't intend to lose his cool, but at the same time he felt like he needed to defend Maci against Ryan's enablers– whom Bentley can still visit, if he wishes.
Later on, Taylor tells Maci he apologized for making things a bigger mess for Bentley than they already were, to which Maci admits they all "lost their crap." Taylor then starts disputing all of the claims Jen and Larry made on the reunion, while a nearly-coherent Maci tells him she feels no pressure to have a relationship with the Edwards fam, at least not any time soon.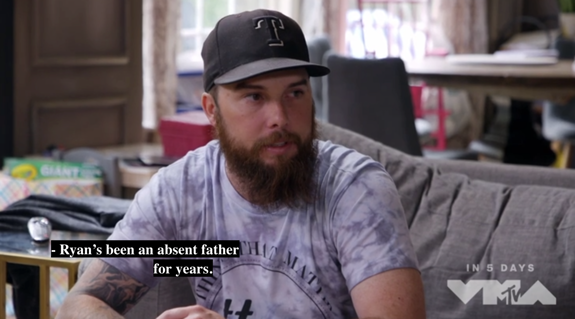 Back in Michigan, Catelynn and Tyler's gender kit has arrived. Thankfully, it doesn't require Catelynn to pee, so there's no need to break out the family's good Tupperware for the occasion. She pricks her finger and has the results emailed to Producer Kerthy.
Later, as one of their many girl spawns are just gnawing Fruit-by-the-Foot in bed (as you do), Cate tells us that Producer Kerthy got their test results back. She brings in a "gender reveal popper" for them to pull and find out if their baby is a prized boy or just another girl to throw on the double-X-chromosome heap.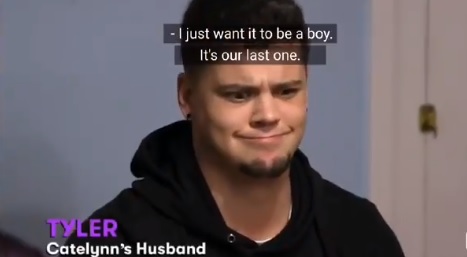 They finally pull the buzzer popper thing, screaming "Don't be a girl! Don't be a girl!" They think it's broken because no colored confetti pops out. All of a sudden, though, it begins to spew. Pink confetti sprays everywhere.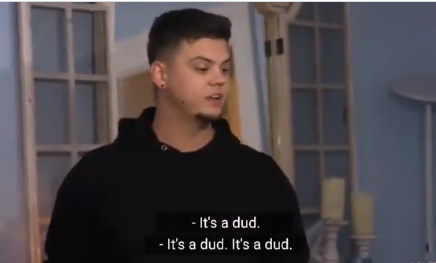 "It's another girl," they both say disappointedly.
(Um…maybe don't show Baby Tylerella this episode when she's older…)
Tyler's over there, deep breathing in the corner, trying not to freak out. They're both super-disappointed, and Cate even asks, "What are we gonna do?" (I mean, they could always dump it on Cate's mom April to raise, like they did their therapy pig?)
They decide they'll just have to add another girl to their family.
"Who knows, maybe it might grow a penis?" Cate suggests hopefully.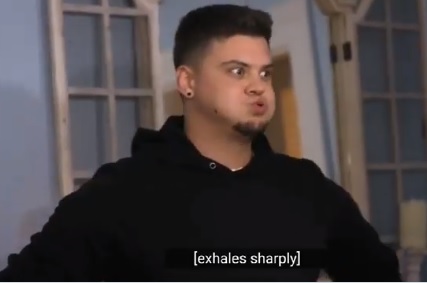 Tyler just keeps staring at the pink confetti, almost like he's willing it to magically turn blue.
That's all for this episode of 'Teen Mom OG!" Click here to read The Ashley's other reality show recaps!
(Photos: MTV)