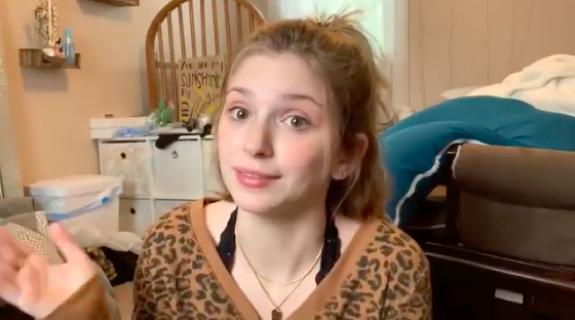 Former and current Unexpected stars are speaking out after McKayla Adkins of Seasons 1-3 recently opened up about the allegedly inappropriate treatment she received from show producers and TLC, with some cast members claiming the behind-the-scenes treatment was "way worse" than McKayla revealed, and others denying the mistreatment all together.
As The Ashley told you last week, McKayla–- who was 16 when she began filming the first season of 'Unexpected'–- posted a series of TikToks calling TLC and show producers "evil" for allegedly sexualizing her, other underage cast members and their children.
While McKayla's TikTok videos have since been taken down from the platform, many 'Unexpected' stars responded to the claims including Lexus Scheller, Chloe Mendoza and Laura Barron.
In her videos, McKayla stated that her Season 3 costar Rilah Ferrer felt similarly in regard to what she experienced behind-the-scenes of the show, which included producers forcing the cast to discuss how they lost their virginity and where/who they had sex with, among other questionable topics for underage teens to be discussing on TV.
McKayla also claimed that she was forced to allow an editor into the delivery room when she gave birth at age 17, resulting in that person seeing McKayla naked. In addition, McKayla claimed that producers aired "one of the kids' private parts on TV" and asked McKayla to breastfeed her son on-camera with a producer right there.
"They're evil. Like, literally, it's the most f***ed up network," McKayla said. "And who knows what other networks are like, but the fact that they did this to us — and it's just, in the dark.
Several former 'Unexpected' cast members seemed to agree with McKayla that the producers'/networks' alleged actions were inappropriate.
"Def feel this… I was literally 15 & just a baby myself, they pushed the f**king limits," Lexus responded.
Laura Barron of Season 2 also commented on the content discussed in McKayla's video, stating that she "10000% agreed" with everything McKayla said.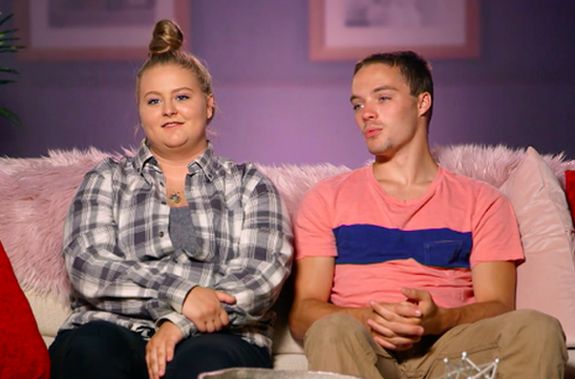 " … The show definitely f**ked me up too with all the things they asked me," she added. "Made me so uncomfortable in so many ways."
In another comment, Laura said she and her family "had a horrible experience" and though they did sign up for the show, she believes they "were naïve thinking it wouldn't be so bad."
While Rilah said the way she was treated behind-the-scenes made her feel "uncomfortable af," Myrka Cantu of Season 4 said the experience was "WAY worse" than what McKayla described.
"I'm counting down the days till I can say how they really are," Season 4's Reanna Cline wrote on social media, with her mother Jessica adding, "we didn't know how things were [going to] go when we signed up." (We can assume Reanna and Jessica are still under contract for the show, which probably prevents them from speaking negatively about their experience.)
As for Chloe Mendoza, who appeared on Seasons 2-3, she took to YouTube to address the "drama going on," noting that some cast members are likely unable to speak about the mistreatment they experienced as they still appear on the show and remain under contract. Still, she admitted that due to her age at the time– 16 to 17 years old– she didn't realize there was an issue with what was being asked of her on-camera.
" … But now, as like, a 20-year-old, I'm like, 'Oh, maybe that wasn't OK,'" she said.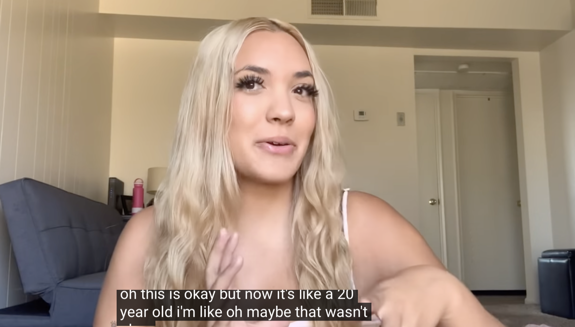 Tiarra Boisseau, whose sister Tyra appeared on Seasons 3 and 4, said she understood "why some girls felt weird talking about their sex life in front of several people" and noted how awkward it could be to talk about some of these topics in front of your parents. (Both Tiarra and Tyra are slated to appear on Season 5 of 'Unexpected,' along with their cousin.)
During a Q&A on Instagram, Lilly Bennett– the only 'Unexpected' OG set to appear on Season 5– said she didn't want to "invalidate any one's experience or feelings" but that she personally "never felt that the questions asked about sex were inappropriate or made me feel sexualized or uncomfortable as it pertained to the story of how we all got pregnant young."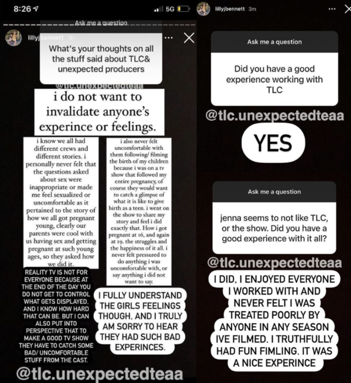 " … clearly our parents were cool with us having sex and getting pregnant at such young ages, so they asked us how we did it," she continued.
Lilly told followers her time working with TLC has been a positive one, even going as far as to call it a "nice experience."
She went on to say that she never felt uncomfortable with the presence of the cameras in the delivery room because she "was on a TV show that followed my entire pregnancy, of course they would want to catch a glimpse of what it is like to give birth as a teen."
While Jenna Ronan of Season 4 (and Season 5) said she didn't feel like her son was ever sexualized on the show, she did express concern over certain cast members "doing pregnancy content" on OnlyFans, which she believes "is bringing predators to watch the show."
(Both McKayla and Laura have been active on OnlyFans in the past; however, Jenna's comments were seemingly directed at Lexus, who later told Jenna she "should've never commented on it in her public f**king platform." Lexus went on to call Jenna a "f**king shady b*tch," to which Jenna replied, "If worrying about pedos and protecting my son makes me a b*tch then I guess I'm a b*tch.")
Like Lilly, Season 2's Emiley Noack didn't speak negatively of her time on the show, though she did point out that she "wasn't a minor while filming," therefore couldn't speak to the underage aspect of the experience.
In response to the claims being made against the show, a former show producer messaged the @everything_TLC_Unexpected Instagram page, Starcasm reports, denying that the cast was ever forced to say or do things that made them feel uncomfortable. According to the former producer, the questions asked "are valid to the entire topic of the show."
While the individual said they were not "victim shaming at all," they insisted the cast was never forced at any point and "it's a shame that some were made to feel otherwise."
" … I am not saying that the production team is perfect but I just don't feel it is as horrific as some are making it out to be I just feel a lot don't understand that this is how the business goes," they added.
McKayla claims she wasn't privy to what would be asked of her before appearing on the show, and was initially told she was signing up "for an educational program." She said it seems as though "most of the [cast] had a way different signing on experience" than she did, and while she liked the crew and has even kept in touch with one of the producers, it doesn't excuse how she was treated.
" …it doesn't excuse the fact that the questions were extremely uncomfortable and I was talking about inappropriate topics in front of grown adults I didn't know," she said.
McKayla told fans she deleted the TikToks she had posted about what happened to her (and other cast members) because "no one is going to believe us & people keep blaming us for the situation."
"Honestly opening up about it was more stressful than helpful," she added. "I will always stand by what I said, though."
RELATED STORY: Former 'Unexpected' Star McKayla Adkins Accuses TLC & Show Producers of Inappropriate Actions & Being "Evil": "They Literally Sexualized Us As Minors"
(Photos: YouTube; Instagram; TLC)