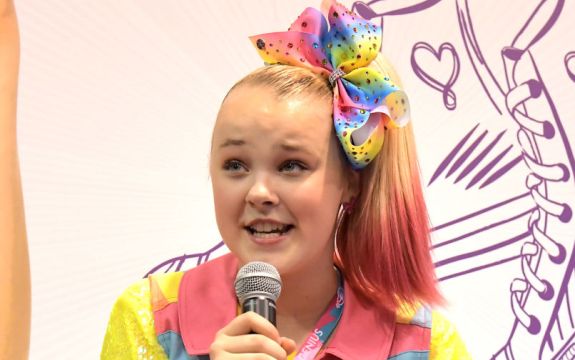 JoJo Siwa has a bow bone to pick with Nickelodeon.
On Tuesday, the former Dance Moms star and Season 30 Dancing with the Stars contestant took to Twitter to call out the company for allegedly not allowing her to perform songs from her new film The J Team at her upcoming tour.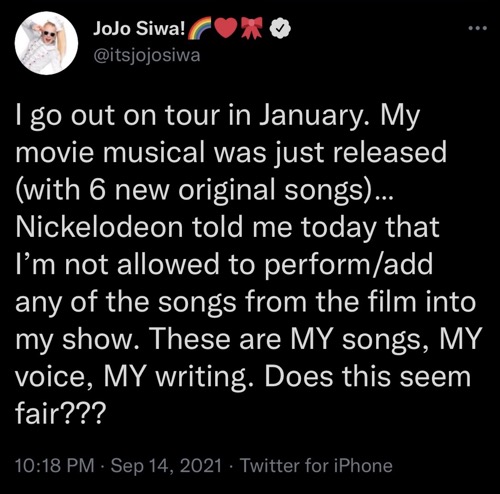 "I go out on tour in January," JoJo told fans. "My movie musical was just released (with 6 new original songs) … Nickelodeon told me today that I'm not allowed to perform/add any of the new songs from the film into my show. These are MY songs, MY voice, MY writing. Does this seem fair???"
(JoJo is, in fact, credited as a songwriter on all of the songs featured on 'The J Team' soundtrack– credited under her real name, Joelle Joanie Siwa– though other songwriters are listed on each of the tunes, as well.)
The 18-year-old went on to argue there "is no reason that this music should not be included," before then accusing Nickelodeon of treating her "only as a brand."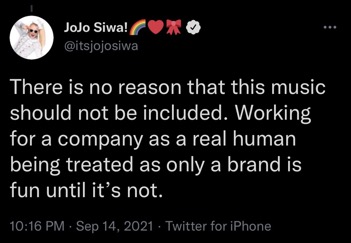 " … Working for a company as a real human being treated as only a brand is fun until it's not," she wrote.
JoJo continue expressing her frustrations on Wednesday, telling fans she wanted her upcoming concert to be "the best it can possibly be," and again, calling out Nickelodeon for not treating her like a human being.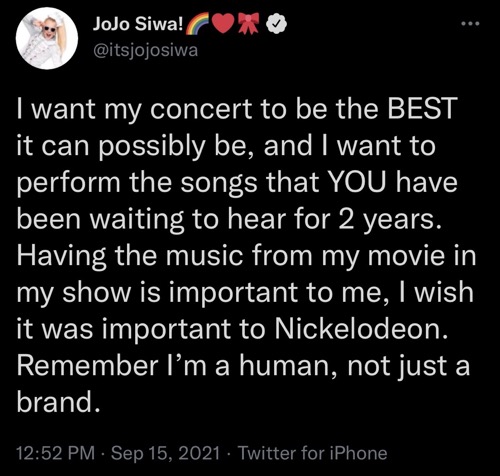 "I want my concert to be the BEST it can possibly be, and I want to perform the songs that YOU have been waiting to hear for 2 years," she said. "Having the music from my movie in my show is important to me, I wish it was important to Nickelodeon. Remember, I'm a human, not just a brand."
A number of JoJo's fans– and even some celebrities– showed their support for JoJo on social media, including JoJo's former dance coach Abby Lee Miller of 'Dance Moms.'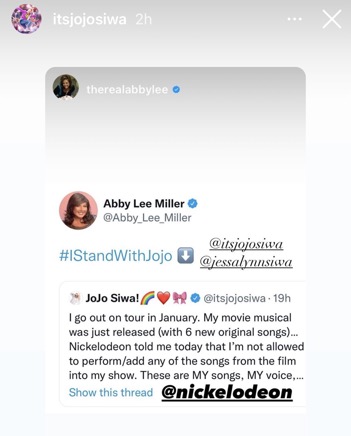 Abby reposted JoJo's original tweet on Instagram, adding "#IStandWithJojo."
Nickelodeon has yet to respond to JoJo's statement, however, the company is currently still promoting 'The J Team' soundtrack on social media.

RELATED STORY: JoJo Siwa & Paris Hilton Are Returning to Reality TV With New Shows on Peacock: Get Details on JoJo's New Dance Competition & Paris' Wedding Docuseries
(Photos: Charley Gallay/Getty Images; Twitter; Instagram)