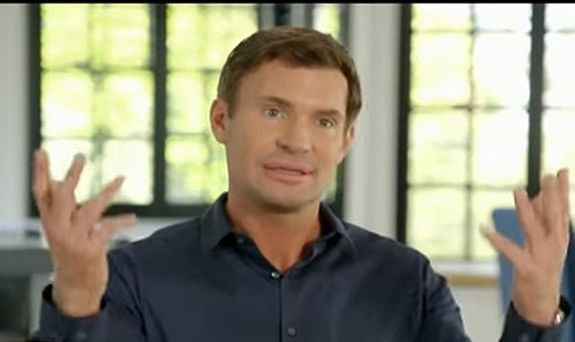 Jeff Lewis is planning to give his four-year-old daughter Monroe Christine a new brother or sister, or maybe both, he revealed on his SiriusXM radio show Jeff Lewis Live, People is reporting. The former Flipping Out star— who used a surrogate to carry his daughter in 2016– reported that he has found the woman he'd like to use as his next surrogate.
"I matched with a new surrogate. I like her a lot. We're actually in the contract phase," he said on Thursday's show.
Jeff's decision to once again use a surrogate is somewhat surprising, given the negative experience he had with his previous surrogate.
Jeff and former partner Gage Edward used surrogate Alexandra Trent to carry Monroe in 2016. The pregnancy and birth — as well as disparaging comments Jeff and Gage made about Alexandra's anatomy during the birth— were featured on 'Flipping Out.'
Alexandra later sued the couple and Bravo for "publicly humiliating" her by filming the birth without her knowledge. The suit was dropped in 2019 with Alexandra reportedly receiving a small payout from Bravo/NBCUniversal. All sides also reportedly agreed not to discuss the suit or settlement publicly.
Jeff's SiriusXM co-host Doug Budin alluded to the saga by asking Jeff if he was "going to do things differently" this time around.
Jeff responded, "Yes, I have learned from my past mistakes…I'm not allowed to talk about that kind of stuff, but yeah."
A few months before the settlement was reached with Alexandra, Jeff and Gage split after 10 years together and were embroiled in a bitter custody dispute that went on for more than two years. Jeff announced in May that the two had reached an agreement to have joint custody of their daughter.
Jeff stated that, if all goes well with his surrogate, he could have another child by next fall. He sought advice from his SiriusXM cohost Megan Weaver on how to proceed with growing his family.
"I was like, 'This is what's happening. We could potentially do a transfer in December or January, that gives us a September or October baby…'" Jeff shared from their conversations on the radio show. "And then I said, 'I have two embryos: the boy or the girl.' We really were seriously talking about, 'What do I do? Do I put in the boy or the girl?'"
"So Megan was giving me really serious advice — she's a mother of three. She gave me some really good sound advice and I said, 'To be honest with you, Megan, I really want both of them.'"
RELATED STORY: Former 'Flipping Out' Stars Jeff Lewis & Gage Edward Finally Settle Custody Battle for Daughter Monroe After 26 Months