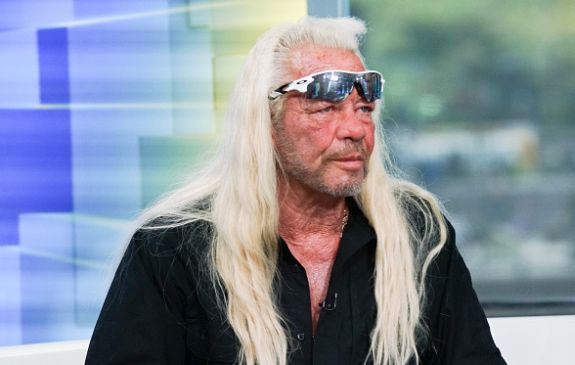 As Duane "Dog" Chapman continues to search for fugitive Brian Laundrie, he is being called out–- and hit with a lawsuit–- for some of his own alleged actions.
Footage obtained by The Sun shows the former Dog the Bounty Hunter star being served a $1.3 million lawsuit while at a Florida park on Thursday.
The lawsuit, which was filed on October 5, reportedly accuses Dog of breaching contract, claiming he was fired from axed reality series Dog Unleashed for racist outbursts and carrying an illegal taser in Virginia. It is illegal for Dog to possess a taser, as he has previously having been convicted of a violent crime. (Dog spent 18 months in prison after being convicted of first degree murder back in 1976. He drove the getaway car for a friend who shot and killed a man over a drug deal.)
"Defendant is a disgraced reality TV star who was fired by Plaintiff after his company discovered that the Defendant had used racial epithets to attack Black teenage Black Lives Matter Activists," the legal papers state. "Plaintiff's investigation into the allegations of racial epithets also uncovered illegal activity."
The suit goes on to allege Dog used the illegal taser to "intimidate his way into someone's home." He's also being accused of using homophobic language.
Dog, who recently joined the search for Brian– a person of interest in the murder of 22-year-old Gabby Petito– has denied the allegations made against him in the suit.
'Dog Unleashed' was canceled weeks before its scheduled premiere in April, and according to Unleashed Entertainment President and CEO Michael Donovan, the show was pulled because of "actions taken by Mr. Chapman during the show's production that breach contractual agreements."
Michael is now suing Dog for defamation, The Sun reports, for engaging "in a course of conduct to lash out at Plaintiff for terminating his contract and this conduct has led to Defendant committing the tort of defamation."
The lawsuit claims Dog "used racial epithets to attack Black teenage Black Lives Matter activists" and "resorts to tired homophobic tropes, calling one of the openly gay Plaintiffs 'daddy' in a mocking manner and a making a vile and disgusting implication using the words 'little boys' and 'daddy' together."
Earlier this year, Michael took to Twitter to explain why 'Dog Unleashed' never aired.
"Dog the Bounty Hunter told me he wasn't a bigot," he wrote. "He swore he had changed and I believe in 2nd chances. Turns out, he hadn't changed. Unleashed stands for equality and we can't put shows on the air that are incongruent with out values."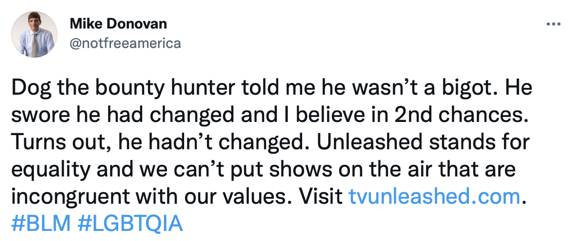 Over the past month or so, Michael has engaged in a Twitter war of words with Dog. On September 16, he had some choice words for the reality TV star.
"You're broke and destitute," Michael wrote on Twitter. "And the entire world is laughing at you. Honestly if you weren't such a subhuman jerk to Beth and her daughters I might actually feel sorry for you. But I don't. Have a nice life and we'll be seeing you in court soon."
Michael is reportedly requesting that Dog pay $1.3 million, as well as attorney fees and court costs.
Allegations made in the lawsuit against Dog are similar to statements made by Dog's daughter Bonnie, who recently claimed she was excluded from her father's wedding to Francie Frane due to her support of the Black Lives Matter movement.
At the time, Bonnie went on to allege that her father is homophobic and racist– the latter accusation referring to a 2007 phone call in which Dog used the N-word six times while arguing with his son.
Dog denied Bonnie's claims and in turn, accused her of being "brainwashed." As for his use of the N-word, Dog said the racial slur was "used back and forth" in prison "as maybe a compliment," and while he acknowledged the word is not acceptable to use, he doesn't believe his use of it in 2007 makes him a racist.
"My pass expired for using it, but no one told me that," he said. "To say a racist name doesn't qualify to make you a racist."
After Dog's quotes about getting a "pass" to say the N-word went public last month, Michael shared his thoughts on the situation.
"Have you been paying attention? No one thinks you have an n word pass," Michael tweeted to Dog. "No one buys your bogus excuses. Everyone knows you're a pathetic racist and you're literally a national joke. You're broken and sad and lashing out. Is it drugs again? Get help man. You're embarrassing yourself."
RELATED STORY: Duane "Dog" Chapman Marries Francie Frane; 'Dog the Bounty Hunter' Star Explains Why His Daughters Were Excluded From the Wedding
(Photos: Bennett Raglin/Getty Images; Instagram; Twitter)