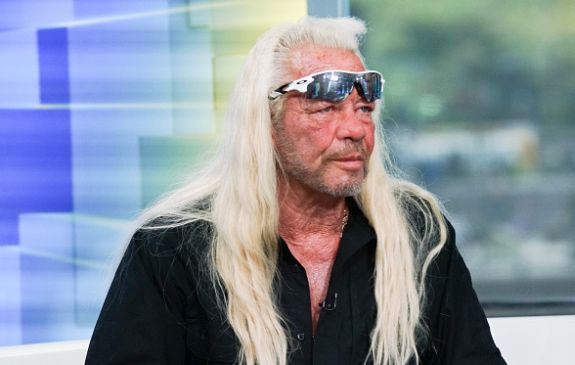 Duane "Dog" Chapman– better known as Dog the Bounty Hunter– was planning to leave Florida and head home to Colorado after suffering an injury during his well-publicized search for fugitive Brian Laundrie. However, the former reality TV star can't bring himself to abandon the search and has decided to stay
According to TMZ, after two weeks of searching for Brian–- a person of interest in the murder of 22-year-old Gabby Petito–- Dog inured his ankle in the rugged Florida terrain and was planning to return to Colorado so he could see his regular doctor.
However, after announcing he was heading home, the former reality star told WFLA-TV that he had a "change of plans and couldn't bring himself to leave [Florida]." It's unknown to what role he will play in the search for Brian now that he is injured; however, he gave the news station an interview on Tuesday, after it was revealed that Gabby died via strangulation.
"Strangulation is not an accident," Dog said, later imploring Brian to come out of hiding.
"Brian, make a deal and turn yourself in, now!" Dog said to the camera.
"Strangulation is not an accident. It looks very bad right now for the Laundrie family." Dog The Bounty Hunter's response when I asked him what he thought of today's update from the coroner. (1/2) #GabbyPetito #BrianLaundrie @DogBountyHunter @BabyLyssaC #JusticeForGabby @WFLA pic.twitter.com/oEAMhXrIGl

— Josh Benson (@WFLAJosh) October 12, 2021
Dog will reportedly keep raising funds for the team of "talented" Florida locals he put together as they continue searching for Brian, who was reported missing in September.
(Shortly after joining the search for Brian, Dog set up his own tip hotline, through which he claimed to have received more than 1,000 leads within a week.)
Dog & team are still searching an island near Fort De Soto Park in Pinellas County, FL. K-9 teams have been brought in to assist. The search will continue into the evening.

Dog is grateful to everyone assisting & for the thousands of tips. Keep them coming in to 833-TELL-DOG. pic.twitter.com/TNEm8XM80f

— Duane Dog Chapman (@DogBountyHunter) September 29, 2021
Dog's ankle injury isn't the first issue he's faced during the ongoing manhunt for Brian; just last week, he was hit with a $1.3 million lawsuit while searching a Florida park. Filed October 5, the lawsuit reportedly accuses Dog of racist and homophobic behavior that contributed to his series Dog Unleashed being pulled before it was set to premiere in April.
In the wake of the 'Dog Unleashed' controversy, Dog has reportedly set his sights on scoring another series, and is working with production company ThinkFactory to pitch a new reality show about his "day-to-day life and his exploits."
RELATED STORY: Dog the Bounty Hunter Reportedly Sued for $1.3M for Alleged Racist & Homophobic Behavior That Contributed to His 'Dog Unleashed' Show Getting Pulled
(Photos: Bennett Raglin/Getty Images; Instagram; Twitter)